Doctor Who Dalek Prologue: Sven Examines a Very Familiar Scarf
Doctor Who fans have had a lot of very cool things to distract them during this time of self-quarantining and social distancing. From global rewatches and live-tweets to the creative teams behind favorite episodes releasing original content bookending the adventures, there have definitely been some silver linings to pull from the not-so-great situation that millions find themselves in. Thursday was no exception, with Doctor Who Magazine's own Emily Cook coordinating a global rewatch and live-tweet of 2005's "Dalek".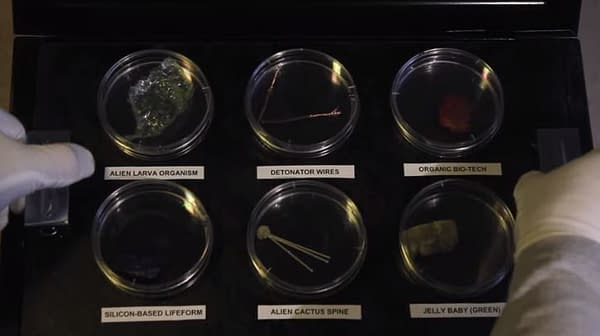 Serving as a kick-off to showrunner Russell T. Davies' debut season, the episode reintroduced the Daleks to a whole new generation of viewers. Helping out with today's event are episode writer Robert Shearman as well as Dalek voice actor Nicholas Briggs and Dalek performer Barnaby Edwards. To mark the occasion, Andrew Ireland wrote and directed a prequel to the episode that introduces us to alien researcher Sven (Leo Flanagan), Adam Mitchell's predecessor at GeoComTex. In "Sven and the Scarf", Sven examines a new arrival at Henry van Statten's museum: certain colorful neckwear worn by the Fourth Doctor, one with a lot of history (and the occasional Jelly Baby):
Speaking with RadioTimes.com earlier this week, series star Mandip Gill confirmed that holiday special "Revolution of the Daleks" was filmed at the end of production on Series 12 and that it should be in fine shape for its end-of-the-year or start-of-the-year debut. Filming the episode early gave it a major advantage over series that film their holiday specials the summer prior, meaning that this year's UK holiday programming schedule could end up being lighter than usual (or with a greater emphasis on live events or reality-based events): "So yeah, Doctor Who's special is something to really look forward to this year –especially considering the amazing series we've just had as well."
As for the production timeline on Series 13, it was rumored to begin production this fall so the BBC is continuing to take a wait-and-see approach to final decision-making. For Gill, it's a matter of waiting until the guidelines get communicated from the top: "The conversations are probably happening somewhere else, and everyone is affected, so I guess we're just going to have to wait for guidelines. I've kind of not even asked, because I know that I'll get told when I'm supposed to. I'm quite laid back in that sense, it's going to come to me when it's supposed to come to me. As soon as they say yeah or no, I'm going to know too. And as soon as they know, they're going to want to tell us."