Doctor Who: Flux Nearly Shelved, Whittaker Turned Down Jobs: Chibnall
Previous Doctor Who showrunner Chris Chibnall discusses how close the BBC came to pulling the plug on "Flux" during the pandemic and more.
---
Between celebrating the long-running series' 60th anniversary with David Tennant & Catherine Tate and preparing for the next 60 years with Ncuti Gatwa & Millie Gibson, showrunner Russell T. Davies definitely has his hand full when it comes to the BBC & Disney+'s Doctor Who. So for this go-around, we're taking a look back to the immediate past with previous showrunner Chris Chibnall, who exited the show along with then-Doctor Jodie Whittaker with the special, "The Power of The Doctor." But before that, there was the six-part, serialized Series 13, and now we're learning from Chibnall that the series was in "Flux" over whether or not it was even going to happen because of the global COVID pandemic.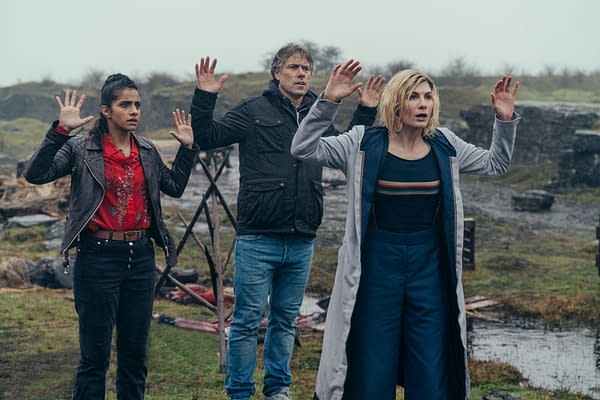 "There was a week where it was not going to be made… there was a week where I was, I'd been offered another job. And because the BBC was just like… 'where's the money coming from? How are we going to do this? Is it too difficult?'" Chibnall revealed during an interview with Radio Free Skaro – adding that there was a brief moment when the series was not going to happen. "And it literally went down to the wire of like, yeah, there was an hour on one day when it's like: it was done. And yeah, we had to do — there are certain things I had to do to get that season made. Because they couldn't find a way to do it."
As for Whittaker, Chibnall added that the show's star turned down a number of offers to be able to accommodate the ever-shifting production timeline. "Jodie [Whittaker] had a thousand job offers… I know what jobs she gave up to do the third season, which, obviously, because it had moved in the schedule, you know," Chibnall shared. "She had stuff lined up for when we were supposed to finish shooting but then was delayed by the pandemic. And you know, she's in demand, and so she sacrificed a lot. Everybody sacrificed a lot." Here's a look at the episode in its entirety: