We're sure by now you've heard all about Jodie Whittaker joining long-running BBC series Doctor Who as the 13th to carry the moniker for [modern] season 11 of the show. What you maybe DON'T know is that she really is as outrageously incandescent in person as she is on camera.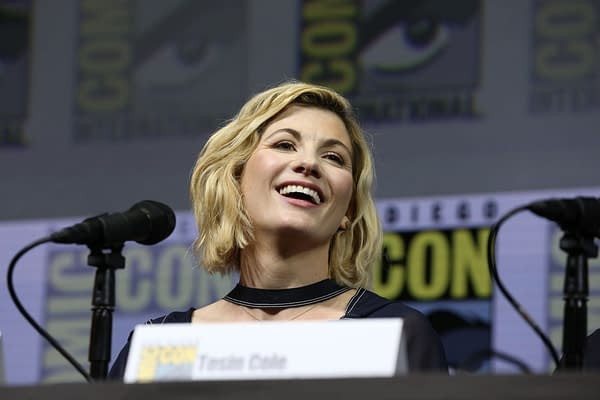 We were lucky enough to take part in the press conference for Doctor Who before the cast and creators took to the Hall H stage during San Diego Comic-Con (SDCC). While they were very careful about what things they could and could NOT say, the overwhelming sense of the upcoming 11th season of the series is one of hope and joy.
Whittaker spoke about her costume, specially that during the early production process of the show, she sent showrunner/executive producer Chris Chibnall a black-and-white photo featuring a woman wearing "short trousers and boots, a t-shirt and bracers, and a short bob, sort of like my hair." She called the photo timeless, that the outfit and look was iconic, and the woman was "walking with purpose". This could very well be the direct influence for the new signature outfit.
There was talk of the new companions — nee, mates, as Chibnall says "you don't introduce your friends as 'companions', right? You say, 'these are me mates'." Mandip Gill (Yasmin) and Tosin Cole (Ryan) were also on hand, and they remarked on filming scenes without knowing what they were supposed to be cowering/running from until finally someone showed them an early sfx graphic image to say "this thing!"
We'll have additional highlights for you from the pressroom and panel soon. For now, enjoy the new almost a minute-long trailer for season 11 of the series, which is set to air simultaneously on BBC and BBC America this fall.
First look at brand new #DoctorWho pic.twitter.com/UFAHhZEWAx

— Doctor Who Official (@bbcdoctorwho) July 19, 2018
Enjoyed this article? Share it!