Doctor Who Lockdown Canceled: "Doesn't Seem Appropriate at This Time"
In light of protests taking place around the world against police brutality towards the Black community that was inflamed by the U.S. killing of George Floyd at the hands of Minneapolis, Minnesota, police officers, Doctor Who Magazine writer and BBC Radio editor Emily Cook announced via Twitter that this Saturday's final Doctor Who Lockdown global rewatch has been canceled. In her statement, Cook stated that the decision was made "out of respect for the feelings of Doctor Who fans around the world." As Cook reasons, "It doesn't seem appropriate at this time." Peter Capaldi's final two regular episodes ("The Ends of the Earth" and "The Doctor Falls") were to be the two-episode focus of the Lockdown's final rewatch run. Showrunner and writer Steven Moffat, companions Pearl Mackie (Bill Potts) and Matt Lucas (Nardoe), and director Rachel Talalay were set to live-tweet. The day will not go without something for Doctor Who fans, with Cook revealing "The Best of Days," written by Moffat and starring Mackie and Lucas, that has us fascinated: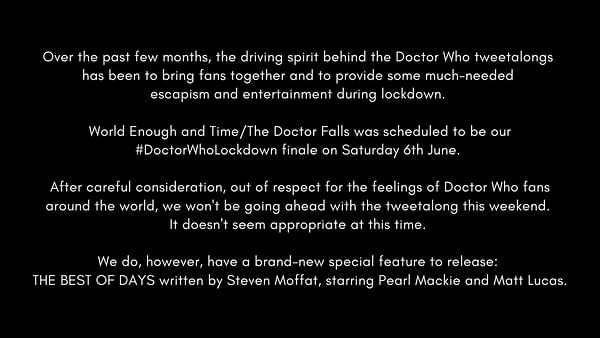 On Monday, May 25, George Floyd, an African-American Minneapolis man, was confronted by police officers over an accusation of using a counterfeit $20 bill at a local market. While details on what happened next are still being pieced together, what we do know is that Floyd was handcuffed and lying face down as police officer Derek Chauvin kept his knee on Floyd's neck for the previously mentioned 8 minutes and 46 seconds. Officers Tou Thao, J. Alexander Kueng, and Thomas K. Lane were the other three officers involved, with Kueng and Lane assisting Chauvin in holding Floyd to the ground and Thao looking on from nearby.
In the week since, protests in cities across the country and around the world have grown as more and more call out the United States' long history of racist violence towards the black community by law enforcement as well as President Trump's threatening, adversarial response to the protests. Familiar faces from across the pop culture landscape have been taking to social media to voice their support, to donate to protest funding/support organizations, and to use their influence to share resources. On June 2, "BlackOut Tuesday" was held to allow people to disconnect and educate themselves on the injustices that still exist to this day, with several studios and networks doing dark to honor Floyd and the protests.