Doctor Who Lockdown Locks In Russell T. Davies for Penultimate Rewatch
Nothing lasts forever, not even lockdowns. Doctor Who Magazine writer and BBC Radio editor Emily Cook announced today that the next Doctor Who Lockdown rewatch would be the penultimate one. So it's going to be another epic two-episode rewatch, this time of episodes "New Earth" and "Gridlock". Showrunner Russell T. Davies has already confirmed he would be live-tweeting and writing a new sequel as a bonus. The rewatch will take place on Saturday May 30th at 7 pm and 8 pm British Standard Time, which are 2 pm and 3 pm East Coast Time in the US.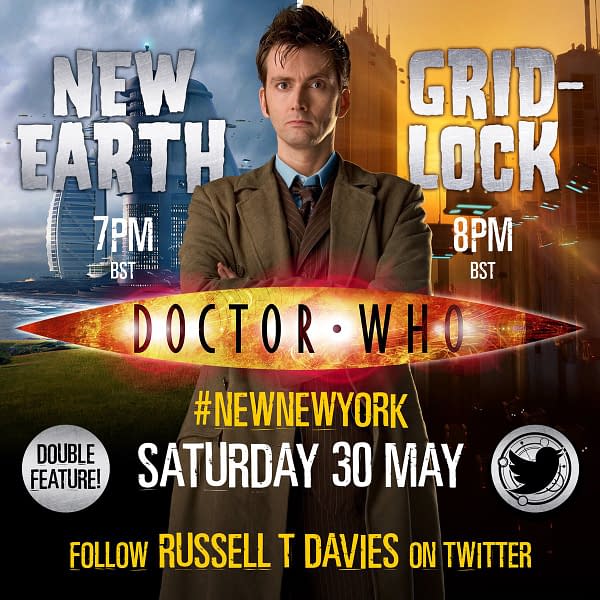 "New Earth" is the first episode of Russell T. Davies and Billie Piper's second series on the show and David Tennant's first regular episode as the new Doctor after his debut in the special "The Christmas Invasion". "Gridlock" is the second regular episode from the third series in 2007. It was Freema Agyeman's second regular episode as the Doctor's new companion. The two episodes form a loose trilogy, along with the first series' second episode "The End of the World", that featured the appearance of the Face of Boe, an interesting fan-favorite character who may or may not be the future fate of Captain Jack Harkness (John Barrowman).
All three episodes were milestones in their own way. "The End of the World" introduced new viewers to how far the show was willing to go with Science Fiction concepts, and also with wild and exotic alien characters. It also introduced The Face of Boe. The other two episodes continued the show's tradition of episodes depicting a far-out future Science Fiction scenario with a satirical bent. "New Earth" was a satire on cosmetic surgery and Medical Sciences as camp villainess Lady Cassandra (introduced in "The End of the World") steals Rose Tyler's body, giving Billie Piper a chance to play comedy. "Gridlock" takes place in an overcrowded future New York City where everyone lives in their car and the world is in permanent rush hour. Davies promises there is one last secret in these stories to be revealed, and that will be in his bonus story to be released at the rewatch.