"Doctor Who" Series 12 "Ascension of the Cybermen": She's The Doctor. She's Here to Help. You Should Probably Let Her… [PREVIEW]
Showrunner Chris Chibnall did tell us that Doctor Who Series 12 was going to have much more of a "summer blockbuster" feel to it, and he definitely hasn't disappointed in that department. The Doctor (Jodie Whittaker), Graham (Bradley Walsh), Yaz (Mandip Gill), and Ryan (Tosin Cole) have had to face threats old and new – with dangers coming from every direction… and every corner of time and space.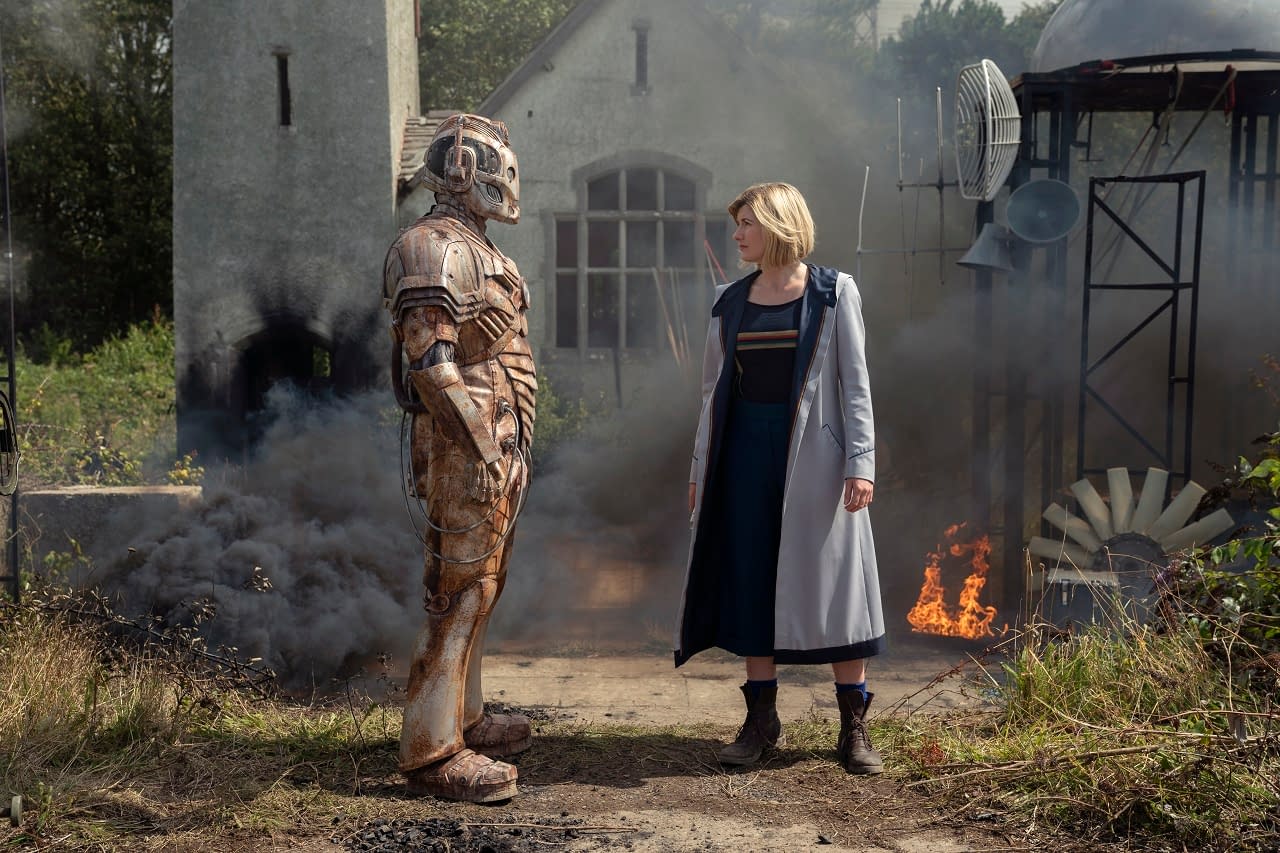 Which is why this weekend's "Ascension of the Cybermen" (the first of a two-part finale that culminates in the extended 65-minute wrap-up "The Timeless Children") has such a "big event" feel to it – and the following preview adds to that "action movie" momentum. With the "cyber war" between the Cyberman and humanity coming to a desperate end, both sides are looking to tip the scales in their favor – and it looks like humanity has "Team TARDIS" on its side:
"Doctor Who" series 12, episode 9 "Ascension of the Cybermen": The Doctor and her friends must protect the last of the human race against the Cybermen. Written by Chris Chibnall and directed by Jamie Magnus Stone.
Earlier this month, Chibnall announced details on the two-part season finale, and offered viewers some background on the episode:
● "Ascension of the Cybermen" takes place at the end of the "great cyber war" between the Cybermen and mankind, at a point where things are getting desperate – for both sides. What that means for humanity? A more brutal and relentless form of Cybermen than ever before:
"This is a conflict that's reduced both the Cybermen and humanity to barely anything. It's the last remnants of the Cybermen against the last refugees of humanity in this corner of the universe. These refugees are on the run from the particularly relentless and ruthless Cybermen who are on their trail. They're relentless, single-minded and brutal. That's the essence of their 'monster personality'. The nightmare is how do you escape them? Because they're around every corner and they just won't stop. The humans are desperate and the Cybermen just keep going."
● "Ascension of the Cybermen" will find the Doctor and "Team TARDIS" on the run from a number of different threats – a situation that will flow over into the finale: "We head into the next episode with the jeopardy of whether they're ever going to meet up again…"