'Doom Patrol': Silver Age, Grant Morrison Influence; New Characters Teased; No DC Film Connection
With "The World's Strangest Heroes" set to hit screens on Friday, February 15, DC Universe brought out the cast of Doom Patrol for the Television Critics Association (TCA)'s Saturday session. Joining executive producers Jeremy Carver and Sarah Schecter on stage were series stars Brendan Fraser (Robotman aka Cliff Steele), Timothy Dalton (Niles Caulder aka The Chief), Alan Tudyk (Eric Morden aka Mr. Nobody), Diane Guerrero (Crazy Jane), April Bowlby (Elasti-Woman aka Rita Farr), and Joivan Wade (Victor Stone/Cyborg).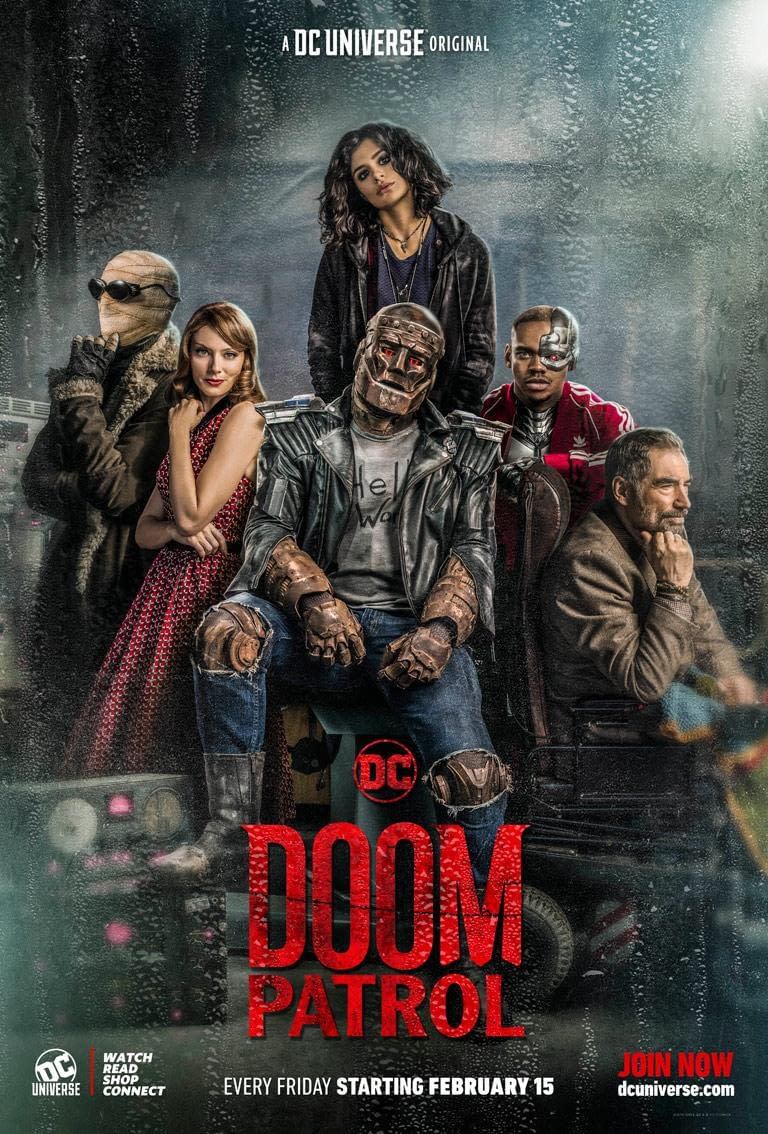 A reimagining of the superhero DC characters originally written and drawn by Arnold Drake, Bob Haney, and Bruno Premiani, DC Universe's Doom Patrol is written by Carver (Supernatural, Being Human), who executive produces alongside Berlanti, Geoff Johns, and Berlanti Prods' Schechter. Warner Bros. Television produces in association with Berlanti Productions. The team was first introduced in the fourth episode of the streaming service's live-action Titans, "Doom Patrol."
Here are some highlights from Saturday's panel:
● Speaking of Titans…while Doom Patrol originated on the streaming service's premier series and will maintain some elements from that, the series will develop its own continuity.
● The reason for the panel being particularly Matt Bomer (Larry Trainor aka Negative Man)-less proved to be a bit of news, as the actor was back in Atlanta filming scenes for the season.
● As for how Doom Patrol will tie into the cinematic DC Universe? Simple: it won't. Citing the fact that there are already multiple versions of different DC, Schecter added: "DC has made a decision, quite smartly, to separate the cinematic world and the television world."
● Appropriately enough, Cyborg is one of those characters–and for Wade, those variations afford him the opportunity to offer his take on the role:
"It's a different version of any other version and an opportunity for me to have my take on it. It's an earlier cyborg — he's coming into his powers and a long way off to the Justice League. There's a distinction between this version others."
● As for connections with the comics, showrunner Carver revealed the Silver Age and Grant Morrison Doom Patrol runs help influence the series: "The show is dipping into different versions of the Doom Patrol over the years."
● So what about other characters from the comics appearing? Carver teased that characters such as Beard Hunter, Celsius, Lodestone, and Danny the Street could be making their way to the series.
Based on DC characters originally written and drawn by Arnold Drake, Bob Haney and Bruno Premiani, DOOM PATROL reimagines one of DC's most beloved groups of Super Heroes: Robotman aka Cliff Steele (BRENDAN FRASER), Negative Man aka Larry Trainor (MATT BOMER), Elasti-Woman aka Rita Farr (APRIL BOWLBY) and Crazy Jane (DIANE GUERRERO), led by modern-day mad scientist Niles Caulder aka The Chief (TIMOTHY DALTON). Each member of the Doom Patrol suffered a horrible accident that gave them superhuman abilities, but also left them scarred and disfigured.

Traumatized and downtrodden, the team found their purpose through The Chief, coming together to investigate the weirdest phenomena in existence. Following the mysterious disappearance of The Chief these reluctant heroes will find themselves in a place they never expected to be, called to action by none other than Cyborg (JOIVAN WADE), who comes to them with a mission hard to refuse. Part support group, part Super Hero team, the Doom Patrol is a band of superpowered freaks who fight for a world that wants nothing to do with them.