Dr. Stone New World: New Season Comes to Crunchyroll on April 6th
Dr. STONE NEW WORLD, the new season of the hit anime, premieres on Crunchyroll on April 6th (with the Engish dub arriving on April 20th).
---
A new season of hit anime Dr. Stone, the saga that insists that science competency will save the world after it ends, is finally coming. Senku and his Kingdom of Science will embark on a new journey across the sea when Dr. STONE New World premieres around the globe on Crunchyroll on April 6, 2023, at 7:30 AM PDT, which will simulcast new episodes every Thursday from Japan.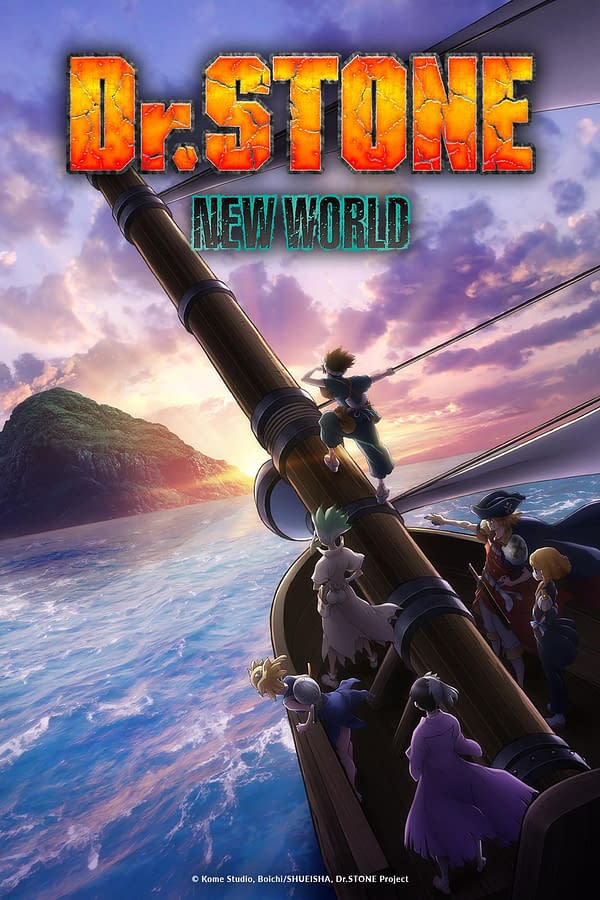 Dr. STONE is based on the popular post-apocalypse manga series of the same name, written by Riichiro Inagaki and illustrated by Boichi, and serialized in Shueisha's Weekly Shonen Jump magazine, Dr. STONE New World is directed by Shuhei Matsushita (Dr. STONE Ryusui) with animation produced by TMS Entertainment, who are known for MEGALOBOX, Fruits Basket (2019), ReLIFE, and Kamisama Kiss.
As the Dr. Stone synopsis goes, "Several thousand years after a mysterious phenomenon that turns all of humanity to stone, the extraordinarily intelligent, science-driven boy, Senku Ishigami, awakens.
Facing a world of stone and the total collapse of civilization, Senku makes up his mind to use science to rebuild the world. Starting with his super strong childhood friend Taiju Oki, who awakened at the same time, they will begin to rebuild civilization from nothing…
Depicting two million years of scientific history from the Stone Age to the present day, the unprecedented crafting adventure story is about to begin!"
Dr. STONE New World's synopsis sums up the continuing story: "With the Stone Wars over, the former members of Tsukasa's Empire of Might join forces with the Kingdom of Science to build a ship capable of sailing across open ocean to seek answers on the mystery of the global petrification. However, before they can begin their voyage Senku and his friends need to find some key resources and push some new scientific advancements to build the type of vessel they need."
Along with a brand new trailer reveal of the upcoming third highly-anticipated season, Crunchyroll can confirm the English dub will premiere on April 20, 2023, at 12:30 PM PDT, with new episodes every week. Additional dubs from Crunchyroll will also include German, French, Latin American Spanish, Brazilian Portuguese, Castilian Spanish, and Italian, with launch dates to be announced at a later date.
Dr. STONE NEW WORLD Japanese voice cast and characters
Yusuke Kobayashi as Senku Ishigami
Gen Sato as Chrome
Manami Numakura as Kohaku
Kengo Kawanishi as Asagiri Gen
Ryota Suzuki as Ryusui Nanami
Makoto Furukawa as Taiju Oki
Kana Ichinose as Yuzuriha Ogawa
Tomoaki Maeno as Kinro
Ayumu Murase as Ginro
Kensho Ono as Ukyo Saionji
Akira Ishida as Hyoga
Yasuhiro Mamiya as Magma
Karin Takahashi as Suika
Maaya Sakamoto as Francois
English voice cast
Aaron Dismuke as Senku Ishigami
Matt Shipman as Chrome
Felecia Angelle as Kohaku
Brandon McInnis as Asagiri Gen
Clifford Chapin as Ryusui Nanami
Ricco Fajardo as Taiju Oki
Brittany Lauda as Yuzuriha Ogawa
Josh Grelle as Kinro
Justin Briner as Ginro
Mark Allen Jr. as Ukyo Saionji
Jerry Jewell as HyogaMichael Tatum as Magma
Sarah Wiedenheft as Suika
Additional staff includes series composition and screenplay by Yuichiro Kido (Star Wars: Visions' "Akakiri" script); character design by Yuko Iwasa (Yowamushi Pedal the Movie); art direction by Shunichiro Yoshihara (Attack on Titan; JoJo's Bizarre Adventure); editing by Kumiko Sakamoto (My Hero Academia; Fullmetal Alchemist: The Sacred Star of Milos); and music composed by Hiroaki Tsutsumi (Tokyo Revengers), Tatsuya Kato (Food Wars! Shokugeki no Soma), and Yuki Kanesaka (Dr. STONE).
You can watch Dr. STONE on Crunchyroll HERE