'DreamWorks She-Ra and the Princesses of Power': Aimee Carrero Has a Message for Fans [VIDEO]
Now that she's survived some righteously major first-year blues, Adora (Aimee Carrero) is ready to embrace her role as legendary warrior princess and leader of the Princess Rebellion: She-Ra. So that's it then, right? End of story. Everyone lives happily ever after…
Not so fast. There's a second season of Netflix's DreamWorks She-Ra and the Princesses of Power for a reason – because even though Adora knows who she is, there's still a ton she needs to learn to take on the growing threat of the Horde. Which is why Carrero is taking a moment to remind fans that the resistance continues on the streaming service starting Friday, April 26th:
Riding the success of a freshman season that was well-received by viewers and critics alike and following up on executive producer and creative force Noelle Stevenson's unveiling of the season's official poster at Emerald City Comic Con (ECCC) in early March, fans were treated to their official first look at Netflix's DreamWorks She-Ra and the Princesses of Power during this past weekend's WonderCon 2019.
Stevenson, Aimee Carrero (Adora/She-Ra), AJ Michalka (Catra), Karen Fukuhara(Glimmer), Marcus Scribner (Bow), Lauren Ash (Scorpia), and Merit Leighton (Frosta) took to the stage Saturday morning to give those in attendance a special sneak preview (has to be some additional perk for being there) of what they can expect when the series returns later this month – and here's your chance to preview it for yourselves, too:
Adora is finally beginning to accept her destiny as the legendary warrior princess, She-Ra, and leader of the Princess Rebellion. Still, there is much to learn as the threat of the Horde grows and Catra sinks deeper into the world of evil. Season 2 of She-Ra and the Princesses of Power begins streaming on Netflix, April 26th!

DreamWorks She-Ra and the Princesses of Power is the story of an orphan named Adora, who leaves behind her former life in the evil Horde when she discovers a magic sword that transforms her into the mythical warrior princess She-Ra. Along the way, she finds a new family in the Rebellion as she unites a group of magical princesses in the ultimate fight against evil.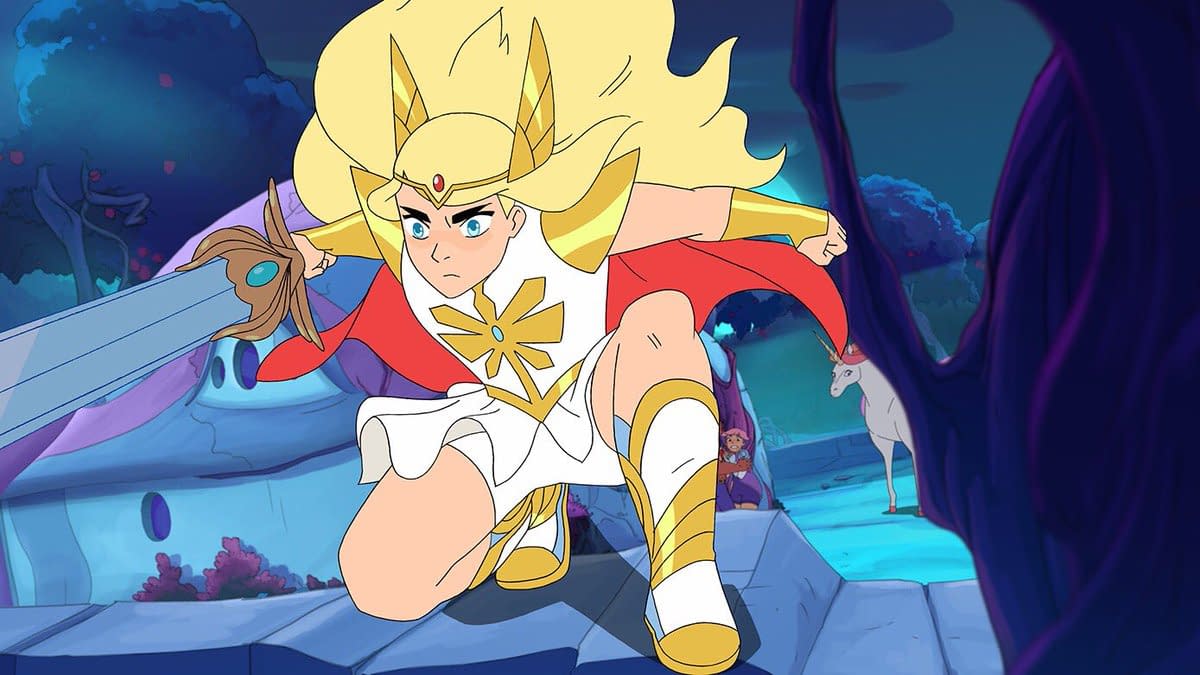 Netflix's DreamWorks She-Ra and the Princesses of Power voice cast features Aimee Carrero as Adora/She-Ra, Karen Fukuhara as Glimmer, AJ Michalka as Catra, Marcus Scribner as Bow, Reshma Shetty as Angella, Lorraine Toussaint as Shadow Weaver, Keston John as Hordak, Lauren Ash as Scorpia, Christine Woodsas Entrapta, Genesis Rodriguez as Perfuma, Jordan Fisher as Seahawk, Vella Lovell as Mermista, Merit Leighton as Frosta, Sandra Oh as Castaspella, and Krystal Joy Brown as Netossa.