Posted in: AMC, Movies, Netflix, Netflix, streaming, Trailer, Trailer, TV | Tagged: badger, bleeding cool, breaking bad, cable, El Camino, Heisenberg, Jesse, Jesse Pinkman, netflix, skinny pete, streaming, television, tv, walter white
---
"El Camino: A Breaking Bad Movie" – Matt Jones' Badger Set to Return
After months of rumors, mindless speculation, and several instances of serious misdirection, Breaking Bad fans finally received the news they were waiting for: Vince Gilligan is returning to tell one more (???) tale with El Camino: A Breaking Bad Movie. Written and directed by Gilligan and set to premiere on Netflix on October 11, the film focuses on what happened to Jesse Pinkman (Aaron Paul) after the credits rolled on "Felina" and asks an important question: will Jesse be a victim of the past, or can he carve out a new future for himself?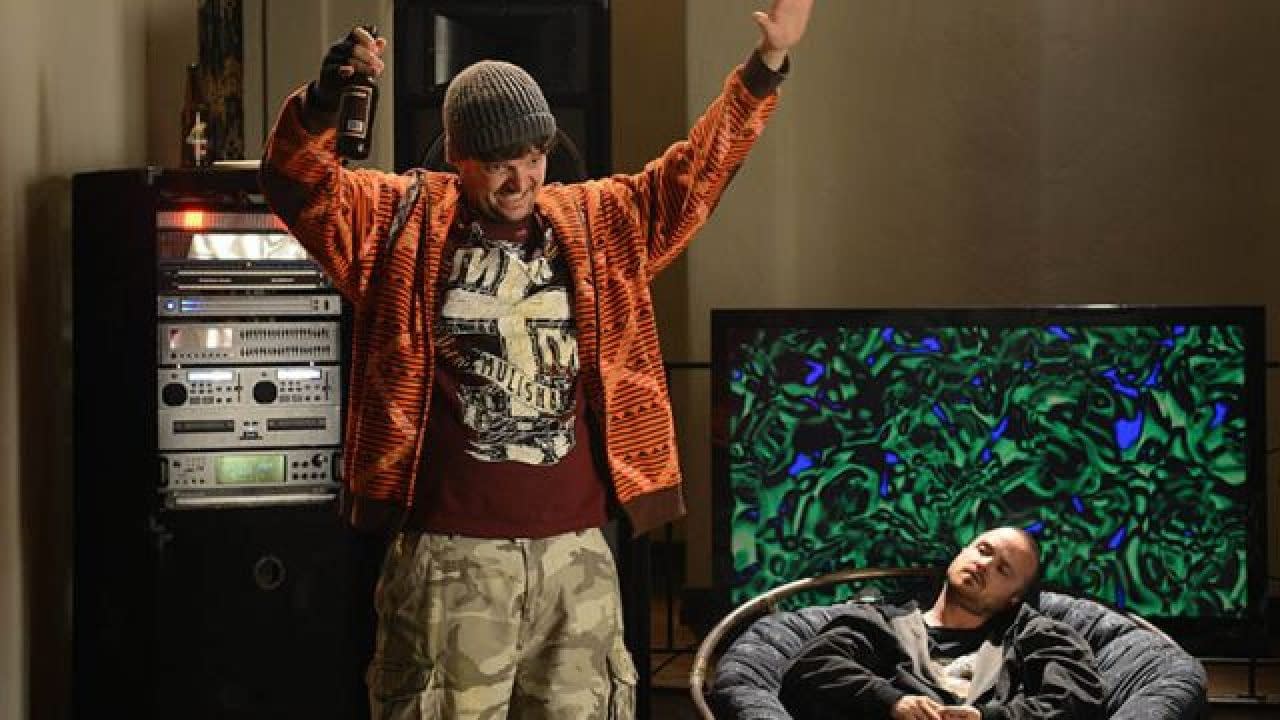 The release of the teaser trailer confirmed the return of Skinny Pete (Charles Baker), and now The Hollywood Reporter confirms Matt Jones will return as Badger, the third member of Jesse and Skinny Pete's screwed up "Three Musketeers." We last saw Badger and Skinny Pete in series finale "Felina," when they help Walter trick Elliott and Gretchen Schwartz into setting up a trust fund for Walt Jr.
With less than a month to go before the series sequel-film makes its way to the streaming service (on October 11th), Paul, Gilligan, and online fundraising site Omaze are giving you a chance to attend the sequel film's premiere and meet the star and Breaking Bad creator – and help out some worthy causes in the process.
Stating today and continuing until September 29, 2019 (at 11:59 p.m. PT), you can head on over to the fundrasier's home page to find out everything you need to know to win a chance for you and a friend to hit the red carpet with Paul and Gilligan, grab a few selfies, and be one of the first to screen El Camino – hotel and flight included.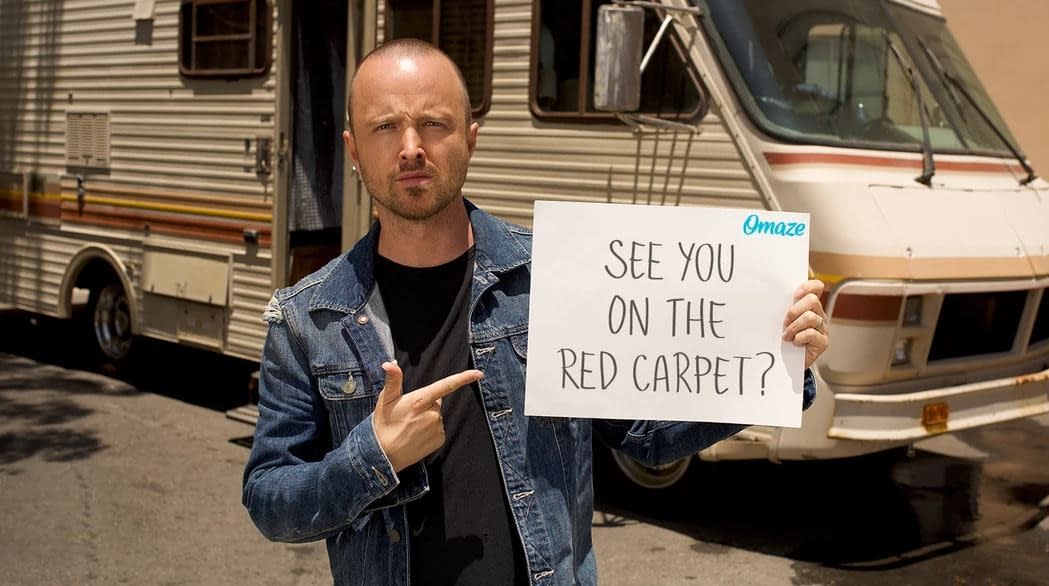 Breaking Bad is back, b*tch! Grab a friend/enemy/science teacher and your favorite beanie, because you're off to Los Angeles for the world premiere of El Camino: A Breaking Bad Movie. But that's not all! You're going to meet Aaron Paul and brilliant Breaking Bad creator Vince Gilligan on the red carpet. You'll snap some pics and ask Aaron and Vince all the burning questions you've cooked up since the show ended six years ago. Then, head inside the theater to find out what happened to Jesse Pinkman after he escaped, screaming into the night, in an El Camino. Flights and hotel included.
Now, while no donation or payment is necessary to either enter or win the sweepstakes, here's a look at who will be benefitting from the funds:
Geffen Playhouse serves high school students with full season in-depth programs that use theater arts to motivate, inspire and improve literacy at a time in their lives that creative motivation is needed the most. The Geffen also serves seniors, veterans and low income community members—bringing creative experiences and artistic excellence to those who need it most. Geffen Playhouse strives to produce original, quality works that inspire thought, evoke conversation and engage the community in the live arts.
Kind Campaign is an internationally recognized nonprofit organization on the forefront of ending girl-against-girl bullying. Founded in 2009 by Lauren Paul and Molly Thompson, Kind Campaign offers in-school assemblies, a documentary film, educational school curricula, Kind Clubs, volunteer programs, online resources and a connected, supportive community all dedicated to raising awareness and providing healing to the negative and lasting effects of bullying. Kind Campaign is proud to share that the money raised will help support their Free To Be Kind initiative, which provides all of their school programming free of charge to communities across the world.

Late last month, Paul assigned fans "homework" in the form of a clip from Breaking Bad he posted on social media via Screenplayed. As Paul puts it, it's "a moment from Breaking Bad to slowly prepare you all for what's to come." From "One Minute" (season 3, episode 7), here's the moment when Jesse turns down Walter's (Bryan Cranston) offer – and Walter:
https://twitter.com/aaronpaul_8/status/1165686413918167040
Here's a better look at Screenplayed's presentation of the scene:
The Netflix Television Event EL CAMINO: A BREAKING BAD MOVIE reunites fans with Jesse Pinkman (Emmy-winner Aaron Paul). In the wake of his dramatic escape from captivity, Jesse must come to terms with his past in order to forge some kind of future.

This gripping thriller is written and directed by Vince Gilligan, the creator of Breaking Bad. The movie is produced by Mark Johnson, Melissa Bernstein, Charles Newirth, Diane Mercer and Aaron Paul, in association with Sony Pictures Television.

A Brief History of the "Breaking Bad" Movie
While the trail of breadcrumbs began much earlier, we're going to pick up in early June 2019, the Tony Award-winning Cranston was quizzed for details on the project by Entertainment Tonight – and it turned out to be just as vague and entertainingly uninformative as he wanted it to be: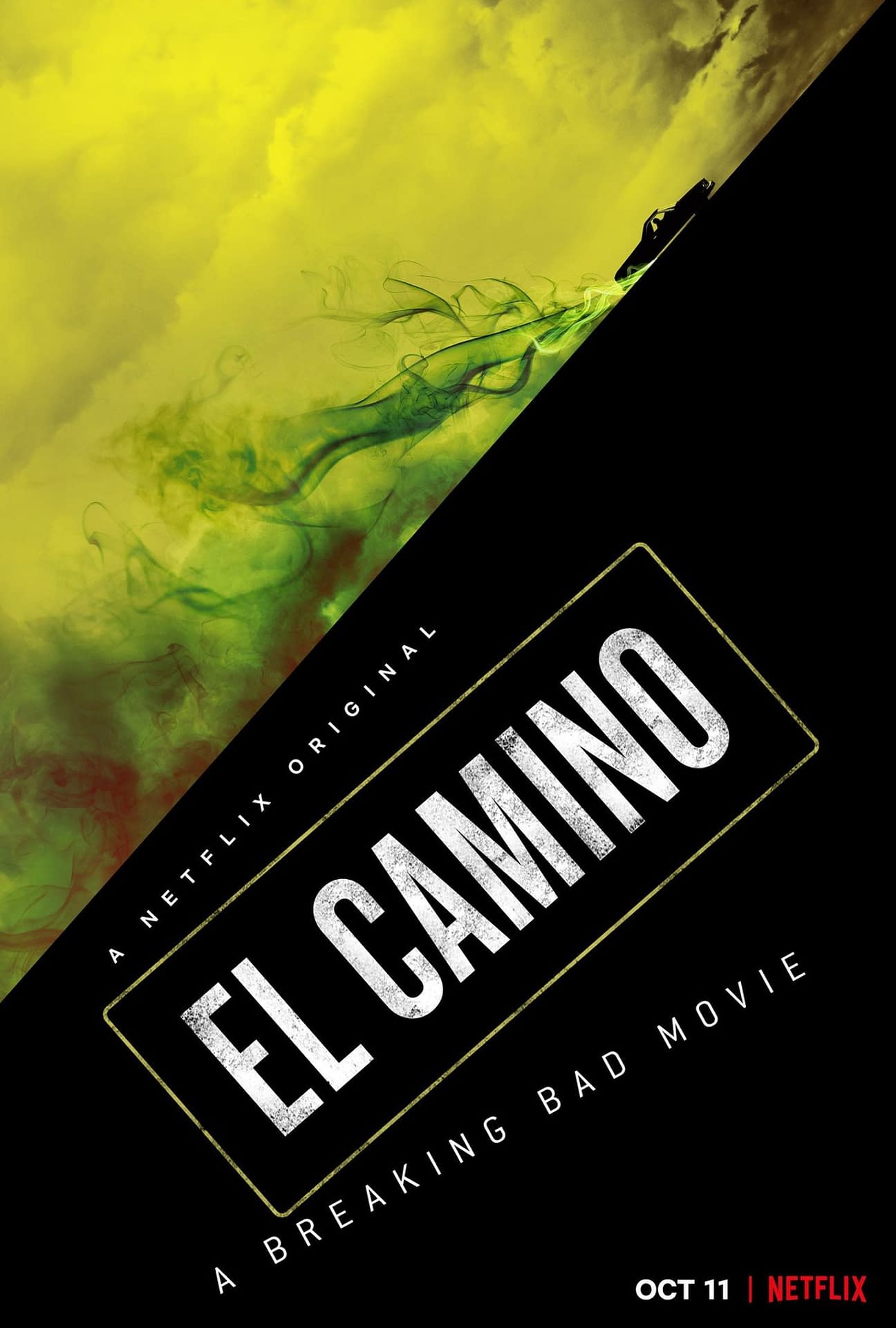 ● On how Walter White could return, considering his current condition ("Well, rigor mortis has a way of allowing that to happen"): "Could be [in] a flashback, or a flash forward. I'm still dead, Walter White, I don't know what [could happen.]"
● With all of this talk about his appearing in it – it turns out Cranston hasn't even read the script yet… just like we have a really sweet bridge leading to Brooklyn that we an let you have on cheap:
"Yes, there appears to be a movie version of Breaking Bad. The new film will apparently focus on Jesse Pinkman's story. But I, honestly have not even read the script. So I couldn't tell you. 'I have not gotten the script. I had not read the script, so there's a question of whether we'd even see Walter White in this movie! Think about that one."
● While having not seen the script… Cranston says the project will ("would"?) bring a number of characters' storylines to their natural conclusion:
"It's a great story, and there's a lot of people who felt that they wanted to see some sort of completion to some of these storylines that were left open."
Cranston's on-screen partner in crime is right on board with him: speaking at the Sun Valley Film Festival in March 2019, the actor wouldn't confirm or deny production on the project – but he did address returning for a Breaking Bad project in broader terms and to Jesse Pinkman specifically at a Variety-sponsored event:
"Rumors are funny — I once heard a rumor that I was being cast as Han Solo. I haven't heard anything about the 'Breaking Bad' movie but if there is one and it comes together I'd love to be a part of it."
To punctuate the point further and to clear up any confusion anyone might still have about his position, Paul reiterated: "If it were to happen, yes, I would love to do it." As for the "why," it's pretty simple: "In case you haven't caught up on the TV series, Walter dies, so….it has to star Jesse."
And let's not forget about Breaking Bad and Better Call Saul star Bob Odenkirk, who seemingly confirmed the film three days before it was announced ("I find it hard to believe you don't know it was shot."); and then there was that Netflix screw-up that revealed the name.

Reports circulated that Gilligan was working on a two-hour movie based on the critically-acclaimed AMC series in November 2018. Earlier reports had El Camino filming under the fake/working title Greenbrier.
Though Cranston had already gone on record (on The Dan Patrick Show) to say he was open to a return:
"I would, I would. Absolutely. If Vince Gilligan asked me to do, sure, absolutely. He's a genius. It's a great story and there's a lot of people who felt that they wanted to see some kind of completion to some of these storylines that were left open and this idea, from what I'm told, gets into at least a couple of the characters who were not completed as far as their journey."
Greenbrier was described as "following the escape of a kidnapped man and his quest for freedom" – which fell directly in line with Jesse's escape from Albuquerque after the violently fatal events of series finale 'Felina.' The road to El Camino began in late 2018 in New Mexico, with The Albuquerque Journal first reporting on the project through documents filed through the New Mexico Film Office. For their part, the office would only confirm that a project with the title Greenbrier is slated to shoot in that area during the time period listed.
"We are happy to welcome 'Greenbrier' and Sony Studios to New Mexico. For years we've built up the film industry in New Mexico and strengthened our film incentives, now we're seeing success after success for the film industry in our state."

– Nick Maniatis, Director, New Mexico State Film Office
---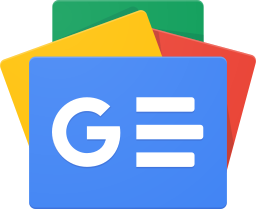 Stay up-to-date and support the site by following Bleeding Cool on Google News today!