"El Camino": Vince Gilligan, Aaron Paul's Tough Love Letter to "Breaking Bad" Fans – Not Fanboys [NON-SPOILER REVIEW]
After months of rumors, mindless speculation, and several instances of serious misdirection, Breaking Bad fans finally received the news they were waiting for: Vince Gilligan is returning to tell one more (???) tale with El Camino: A Breaking Bad Movie.
Written and directed by Gilligan and set to premiere on Netflix on October 11 (and in select movie theaters, with AMC airing the film at a later date), the film focuses on what happened to Jesse Pinkman (Aaron Paul) after the credits rolled on "Felina" and asks an important question: will Jesse be a victim of the past, or can he carve out a new future for himself?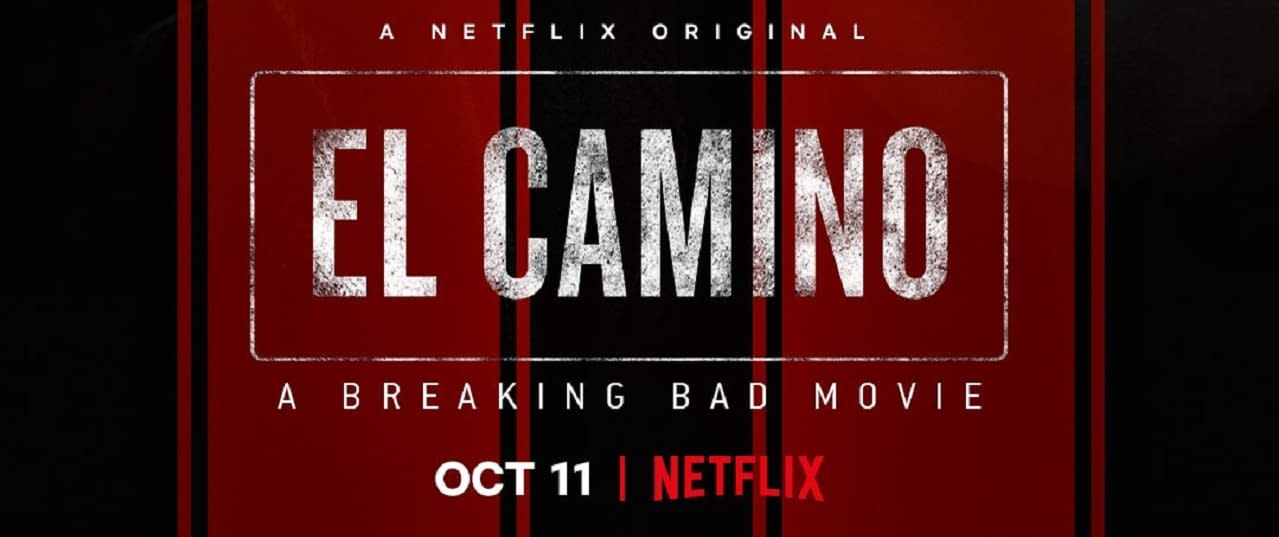 Gilligan was quoted as saying that El Camino was a project that was meant specifically for the Breaking Bad fans – this was not going to be an exercise in getting newbies up-to-speed. For a viewer to get what they needed to get from this film, they needed to do their home work. But we're talking Breaking Bad – not exactly the toughest homework assignment out there.
Having now seen it for myself, I can tell you with complete confidence that all of that studying and cramming was more than worth it. More of a coda than a sequel – as it's been described in the past – Gilligan and Paul have crafted a "tough love" letter for Breaking Bad fans – but not fanboys.
From the moment our next chapter begins, Gilligan's words and direction draw a line in the sand that BB will respect and appreciate: if you're here for "greatest hits" or glorified fan-fic, best haul ass somewhere else. If you're looking for an intense two-hours that pulls off the rare feat of staying true to the original while finding subtle yet effective ways to improve upon it, then you've pulled up to the right house.
Perhaps the greatest compliment I can give the film is that if it was up to me, I would retitle it, Breaking Bad s15e17 "El Camino, Part I" and Breaking Bad s15e18 "El Camino, Part II" – in fact, I would be interested to see how this would work if it was edited into a two-episode format. There's a scene in particular that would make for a great episode break, which reminds me…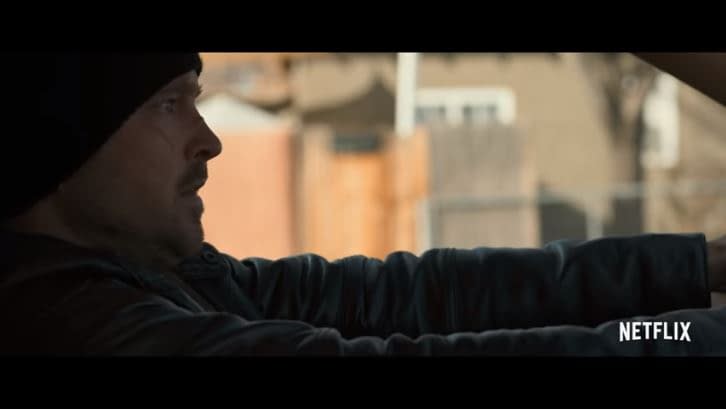 We're going with a fuller review in a few days, but what follows are some spoiler-free highlights / takeaways – which isn't easy considering that almost everything that takes place invovles a spoiler of some type. So if you find some of these a little "vague," we're sure you'll understand after you're screened the film for yourselves:
● Jesse is a man who has almost literally been given a chance at a second life, yet Paul finds a way with just a stare and sigh to convey the inner turmoil he's struggling with. We see a Jesse who is desperate to get out… to start over… to be reborn.
Or do we? Because if Jesse wants that "new life," he's going to have to dig deeper into the "heart of darkness" that was his past – and that's where we see the turmoil. As much as Jesse might want that "new life," there's an ease with which Jesse slips back into his old life – and other instances where it appears Jesse's just charging forward with some unconscious desire for "suicide-by-circumstance". Again, all of these feelings are a testament to Paul, who found his way back to being Jesse without "cosplaying" him (had to let my "geek" flag fly) – while adding texture and nuance to Jesse's action.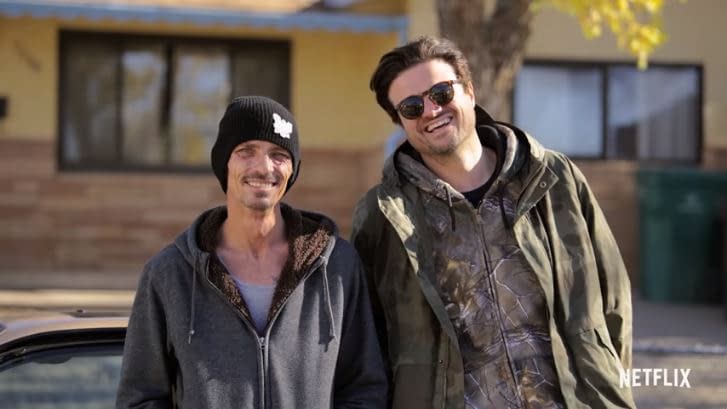 ● Gilligan has also said in the past that he doesn't make hard-n-fast moral judgements on people, and that it is crystal clear here. Even when it's "tough love," Jesse's closest "family members" are some of the shadiest people walking – yet they prove themselves there for Jesse as much as they can. Skinny Pete (Charles Baker) and Badger (Matt Jones) – as goofball as they can be – are two you'd want on your side. In contrast, Jesse's "real" family and those in power that Jesse either admired or whose level he wanted to reach either dismissed or abused him – at one point, literally keeping him in a cage – like some twisted version of a snow globe.
● There are at least 10 past Breaking Bad characters in the film, but how (and when) they're used would require some serious spoilers for most of it. Suffice is to say that no one is there without a reason and meaning – again, Gilligan isn't here to pander. The same goes for the flashback scenes: those moments serve to flesh-out and broaden our understanding of certain time period in Jesse's life. Gilligan deserves bonus points for walking a thin creative highwire: adding to the original storyline in a way that makes it feel "of course, makes sense" and never that "deus ex machina" vibe that scenes were only added to help the film but aren't true to the overall narrative.
● Random Thought: it's amazing how much Walter White had to become like Jesse to find a sense of peace, and how much Jesse has to be "Walter-berg" in the end.
● Random Quote: "You're lucky. You don't have to wait your entire life to do something special."

Here's a look back at the series' sequel film's official trailer, with Jesse reuniting with some familiar faces and places. But is he looking for a fresh start – or to pay for past sins?
The Netflix Television Event EL CAMINO: A BREAKING BAD MOVIE reunites fans with Jesse Pinkman (Emmy-winner Aaron Paul). In the wake of his dramatic escape from captivity, Jesse must come to terms with his past in order to forge some kind of future.

This gripping thriller is written and directed by Vince Gilligan, the creator of Breaking Bad. The movie is produced by Mark Johnson, Melissa Bernstein, Charles Newirth, Diane Mercer and Aaron Paul, in association with Sony Pictures Television.
Earlier this week, Paul, Breaking Bad creator Gilligan, and more are taking fans behind the scenes of the television series' sequel film. Our biggest takeaway? The team didn't seem to need a lot of time to get back into the Breaking Bad vibe…