On tonight's episode of The Magicians, Felicia Day joins the cast as a character straight from the book. Day will be playing Poppy, a dragon expert from Brakebills who meets up with Quentin (Jason Ralph). Quentin is out on the seas looking for the next key, and you have to wonder: will a dragon expert come in handy? Day is scheduled to be in the next three episodes.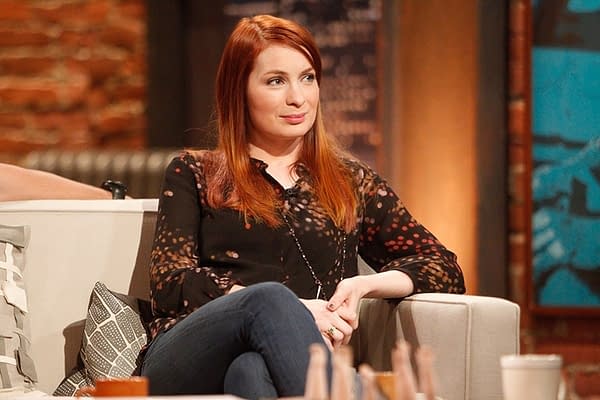 Day spoke with EW.com about her new character, telling them that Poppy appears to be peppy at first, but there is a lot more to her:
"She initially seems like a very upbeat, very frank person, and then as the episode goes on, you peel back layer and layer and she is a little more twisted than you think. She might not be the best person to have on your side in some ways. The twists and turns that she takes during the episode are delightful because she is so eternally upbeat."
Day is a long time fan of the books and friends with author Lev Grossman. She got the part after mentioning her desire to guest to the folks at Syfy. They were looking to cast Poppy at the time, and it reunites Day with executive producer Sera Gamble, who cast Day years ago to play Charlie on Supernatural. The actress compared the characters of Poppy and Charlie.
"Poppy is a really confident character. She's more mature [than Charlie]. She has a lot more going on and she has a lot of agendas. Poppy is definitely out for herself in a way that Charlie would never be. It was very fun playing a much different character.

Poppy's self-centeredness, when combined with her cheerfulness, makes for an interesting dynamic with the broody Quentin. "It was so much fun to play the scenes with Jason because Poppy is a very different sort of character than has been on the show before. She says exactly what's on her mind. She's very upbeat and sort of forces the other person with her [in a scene] to be on her bandwidth. Seeing somebody so positive and chipper on the outside has a really interesting effect on Quentin. Our scenes together were very, very fun to play with because it throws Quentin off in a way that's kind of new to audiences.

As the episode goes on, she definitely steers the ship in very unexpected ways, [which] leads to some emotional stuff for Quentin I think people are really going to enjoy."
The Magicians airs tonight at 9 p.m. ET on Syfy.
Enjoyed this article? Share it!