Flash Season 4: Borrowing a Green Arrow Villain / Lover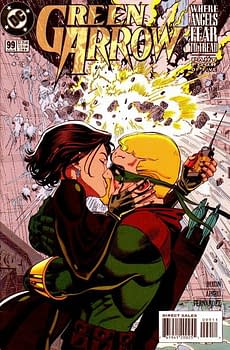 Earlier today I posted a story about the Flash and how the newly released synopsis for episode 15, Enter Flashtime, talked about how Jesse Quick (Violett Beane) and Jay Garrick (John Wesley Shipp) return just in time to help Barry (Grant Gustin) deal with a nuclear bomb going off in Central City. And where recently introduced meta Fallout (Ryan Alexander McDonald) did something similar during the Trial of the Flash, it wasn't a nuclear bomb. The fact it clearly says bomb leans towards possibly being a person from a casting notice a while back… a villain from the Green Arrow comics.
This casting announcement went out a month or so back:
[Veronica Dale] Mid 20s-30s, Female. Environmental Activist (back when she was still sane) turned Animal Liberator turned Domestic Terrorist, who is the leader of the Eden Corps — a cult like organization that proposes to turn back the clock to a pre-industrial age — and if millions of people have to die in the process, well, that's just tough… LARGE PRINCIPAL.
Now THAT sounds like someone who might set of a nuclear bomb in Central City. But who is Veronica Dale? She was introduced in Green Arrow Vol 2 #97 (1995) by Chuck Dixon and Jim Aparo and goes by the alias Hyrax. She's an international eco-terrorist and the leader of Eden Corps. The NSA sent Oliver Queen in to infiltrate her organization… and of course he got romantically involved with her. Her big plan was to use a bomb called Mutjek 9-9 to destroy Metropolis, ridding the world of the corrupting blight. While trying to stop it, Green Arrow ended up being strapped to the bomb, while Hyrax ended up catching a bullet and dying. All of this taking place in an airplane head for the city. Since Oliver couldn't stop the bomb, he forced it to detonate early, saving the city but costing his own life. He would remain dead for six years until Kevin Smith and Phil Hester revived him in 2001.
Hyrax / Veronica Dale was only around for four issues in 1995, but she had a dramatic effect on Oliver Queen. Now she's being brought into an episode of the Flash. Is she the one that detonate's a bomb in Central City? I think its a pretty safe bet.
Flash returns February 27th at 8 PM on the CW.