This article contains spoilers for The Flash season 4 episode 19, 'Fury Rogue'.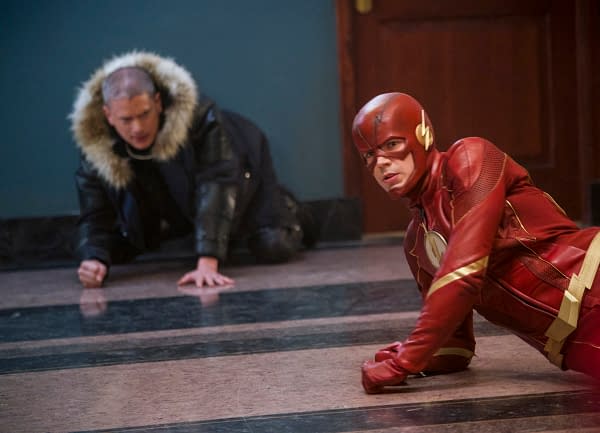 Last night's episode of The Flash reminded me of the things I really like about the series. The premise was pretty straightforward: the team is still reeling about DeVoe (Neil Sandilands) coming into S.T.A.R. Labs and killing the remaining bus metas, including Ralph (Hartley Sawyer), de-powering Caitlin (Danielle Panabaker), and getting away easily. They find out that DeVoe is making a move to get Fallout (Ryan Alexander McDonald) and figure they need to move him. In an attempt to think outside of the norm and to deal with the lack of Killer Frost, they decide to contact ARGUS about taking Fallout, and they go to Earth-X to enlist the aid of Citizen Cold (Wentworth Miller). The heroic version of Leo Snart is willing to help for the day, but has to be home in time to get married to The Ray (Russell Tovey).
However, things go off track when the Earth-X version of Laurel Lance (Katie Cassidy) follows them through the portal, using her sonic powers to keep the portal open and to listen in on their conversations. She is the last of the Nazis still putting up a fight, and going to the other Earth and getting a nuclear bomb seems like a good idea to her.
DeVoe interrupts the transportation of Fallout, but his move to take him is interrupted by Siren-X, who ends up knocking out Cold and Flash and taking the others back to Central City. DeVoe is upset because that wasn't how things were supposed to go. He had thought of everything, including Citizen Cold's involvement and Siren-X — except Flash was supposed to stop her and then DeVoe would beat the Flash… but instead Flash froze when confronted by DeVoe because he is still trying to cope with Ralph's death — and even though he looks like DeVoe, it's Ralph's body.
Siren-X takes Fallout to the police station where she tries to get him to explode, Flash and Cold arrive to stop her, and Barry has to push through his grief to take her out. Two freeze guns cool Fallout down enough to transport him to ARGUS, who then moves him again to a facility off the grid, which is exactly where DeVoe wanted him in the first place.
The Verdict
The main story was good, but it was the other moments that made this episode special. Barry (Grant Gustin) is trying to focus on moving forward and not dealing with the loss of Ralph. He and Iris go see Dr. Finkel (Donna Pescow), and she sees that he's fooling himself. When they bring in Leo, he sees it as well and even calls Barry on it. It's Leo that talks him through it when Barry freezes in the field. And when he finally opens up to Joe (Jesse L. Martin) later on, you feel for him. Barry has been through a lot and lost a lot of people he cared about — this was one too many.
The dynamic that Miller brings to the series has been greatly missed. Even though this version of Snart is different, he shakes up the status quo in a fun way. And being a openly gay hero, he gets to make the jokes about how close Barry and Cisco (Carlos Valdes) are, or comment on Cisco's hair… or poke fun at the name "Elongated Man". But it's also his delivery and cadence in which he speaks — the way he answers a question where you know he is joking but being serious at the same time. The best part of the whole visit was Cisco giving him one of those devices to open portals any time he wants to come visit. A promise of more Wentworth Miller in the future.
We also got to see the fallout from Harry (Tom Cavanagh) using the thinking cap too much and how he has damaged his brain severely. He is losing his intelligence, and he finally told Cisco. Harry has a hard time with not being the smartest one in the room, because that was his contribution to the team. Now he is losing that — but Cisco won't let him give up and promises to help him find a way to reverse it. We also find out that even though there is no dark matter in her system, the basis for Killer Frost is still in Caitlin's genes, and she might be able to find a way to reawaken it.
Then there was the less-than-subtle thing took place between DeVoe and his wife Marlize (Kim Englebrecht). She is happy to have her husband back and wants to rekindle their relationship, but he is even more focused on their plan and pushes her away. He tells her to not think — just do what she is supposed to do. And it seems like he's not using the Weeper's tears anymore on her, which could lead to her switching sides…
And wait… does this mean that there is ANOTHER Laurel Lance evil doppelgänger on Earth-1? Is someone trying to collect the whole set?
What's Next
And we're down to the final four episodes, DeVoe is actively building something and still has everything going his way — except his relationship with Marlize seems to be in trouble. The preview for next week shows us that Gypsy (Jessica Comacho) will be back. The episode will likely focus on Marlize, as the title ('Therefore She Is') seems to tie into an early episode of the season, 'Therefore I Am', which gave us DeVoe's origin. "I think, therefore I am" is the English translation of the Latin philosophical proposition "Cogito ergo sum" by René Descartes. The basic principal of the idea is that the act of doubting one's own existence is proof of that very existence. I bet Descartes was a lot of fun at parties.
https://youtu.be/s6sQzM9xm0g
Enjoyed this article? Share it!