The Flash Season 4: Will Iris Reveal Barry's Secret to the World?
The CW has released an extended trailer for The Trial of the Flash, the episode that marks the return of The Flash from its mid-season hiatus.
Barry Allen (Grant Gustin) has been arrested for the murder of Clifford DeVoe (Neil Sandilands), aka The Thinker. Barry was discovered standing over DeVoe's body, but the Thinker's mind was transferred into that body of a new metahuman named Dominic Lance (Kendrick Sampson). It looks like, from the trailer below, all of Barry's erratic behavior and disappearances are being used against him in the court case by district attorney Anton Slater (Mark Valley), and while Cecile Horton (Danielle Nicolet) recommends Barry tells the court that he's the Flash, Barry refuses as it will put everyone he loves in danger.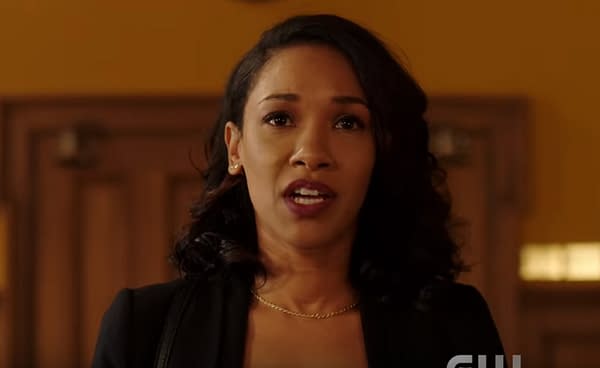 The synopsis for the episode talks about both Joe (Jesse L. Martin) and Iris (Candice Patton) having to decide just how far they are willing to go to save Barry. We see in the trailer that Joe is trying to plant evidence at the DeVoe home with the help of Ralph Dibny (Hartley Sawyer), who had his own life ruined by planting evidence. We also see DeVoe's wife, The Mechanic (Kim Engelbrecht) pushing Iris, who ends the trailer looking like she's going to reveal Barry's secret. This seems to be part of the Thinker's plan to have The Flash's true identity revealed to the world.
The Flash returns January 16th at 8 p.m. on the CW.
https://youtu.be/WNkKNUfK7ew