Flash Season 4: Wrestler Goldberg Plays Rare DC Comics Villain
With the trailer and images released for next week's episode of The Flash, we now know who former wrestler Bill Goldberg will be playing. The character is named Big Sir and is someone who Barry (Grant Gustin) appears to befriend in Iron Heights prison. From the way things look, Barry is going out of his way not to use his powers and being an ex-CSI/Cop, the inmates would likely be rough on him. The images makes it look like Goldberg is protecting Barry a bit.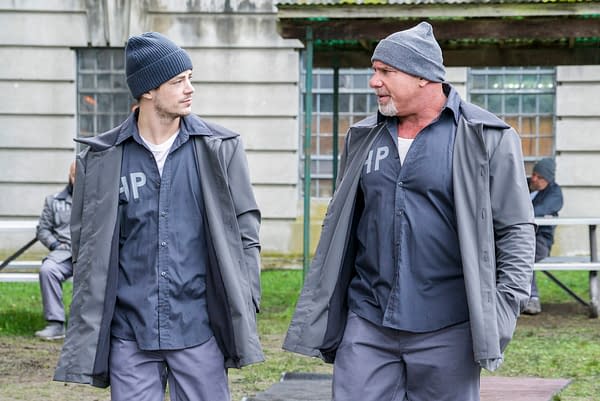 The interesting thing here is, Big Sir is a character from the comics. He was created by Cary Bates and Carmine Infantino in the pages of The Flash #338 (1984), and according to his background he has super strength, powered armor, and the ability to count cards. In the comics his real name is Dufus P. Ratchett… it was the '80s, after all… and was born with a brain gland problem that allowed him to grow very large, but left him mentally handicapped.
He was given a power suit by a group of rogues and sent to attack the Flash. They convinced Big Sir that the Flash had hurt a mouse and that upset the man greatly. This was all happening while the Flash was on trial for the murder of Professor Zoom. Big Sir got a clean hit on the Flash, causing him some serious facial damage, but the speedster escaped to Gorilla City where Solovar healed him. Flash returned, captured Big Sir and took him to Gorilla City where they worked on the man, correcting the damage to his brain and leaving him with a genius-level I.Q.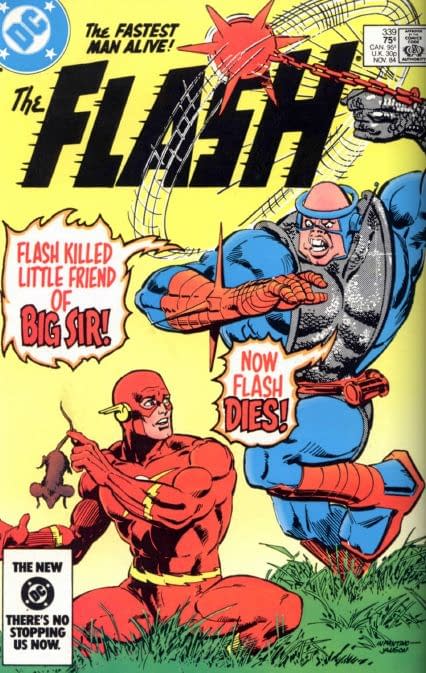 He would appear a few other times, getting involved with the Injustice Gang and his intelligence reverting to his previous low. He then joined up with the Suicide Squad while trying to earn a pardon… it didn't work out so well for him, as he died on the mission.
He was strong, but most of this abilities came from his armor, so I doubt he will be one of the metas from the bus. This feels more like an Easter Egg than the introduction of a new villain/meta. Big Sir was part of the Trial of the Flash, which the series is doing a version of this season. Otherwise they might be getting way to close to Of Mice and Men turf.