The last time The Chadster wrote an article about Disco Inferno's tweets, the former WCW star seemed to take it very personally. So when assigned to write about Disco's latest Twitter escapades, I thought it would be best to write about Disco's antics in a manner befitting a patriot and intellectual such as himself. Thus, with apologies to Henry Wadsworth Longfellow, Bleeding Cool presents to you: The Midnight Tweets of Disco Inferno.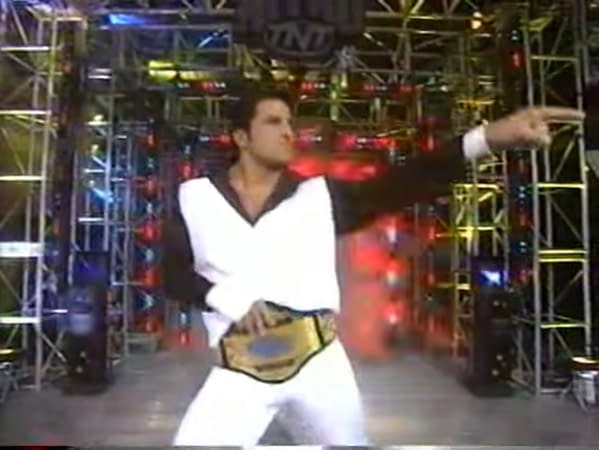 Listen, Jaboronies, and you shall learn-o,
Of the midnight tweets of Disco Inferno,
On the nineteenth of July, in Twenty-Twenty:
Hardly a man is now alive
Who remembers that famous day and year.
He said to his friends, "I am concerned,
If the wrong people get into politics,
The first amendment will be overturned,"
At least that's what Disco predicts.
"Once by a block, and twice by unfriend,
On social media. Where does it end?
It is quite normal; what is next?
Every day, speech is suppressed.
People think I'm out of bounds,
For raising up these warning sounds,
But half of the folk who on Twitter reside,
Would cast the second amendment aside.
I am pragmatic, don't you see?
I look at things pragmatically,
If the second amendment goes,
Why not the first? I mean, who knows?"
So off he went on a Twitter ride,
To warn everyone in the countryside,
To argue, debate, and own the libs,
On social media went Disco Inferno,
For if he dislikes the cut of your jib,
He'll give you a lecture very stern-o.
A voice in the darkness, a knock at the door,
A tweet that shall echo forevermore!
For, borne on the night-wind of the past,
Through all our history, to the last,
In the hour of darkness and peril and need,
The people will forever yearn-o,
For a man whose dancing is righteous indeed,
And the midnight message of Disco Inferno.
Enjoyed this article? Share it!