Fox has cancelled Lucifer after three seasons. The series starred Tom Ellis as Lucifer Morningstar, who leaves Hell and moves to Los Angeles to enjoy life. When one of his favorite humans is killed, he ends up assisting Detective Chloe Decker (Lauren German) in solving the crime. He enjoys working with Decker and surprised his charms fail on her, leading him to become a consultant for the LAPD and working with her on a regular basis. The most recent series introduced Tom Welling (Smallville) as Marcus Pierce, Decker's boss and rival for her affection. The series was based on the Vertigo/DC comic character created by Neil Gaiman, Mike Carey, Sam Kieth, and Mike Dringenberg.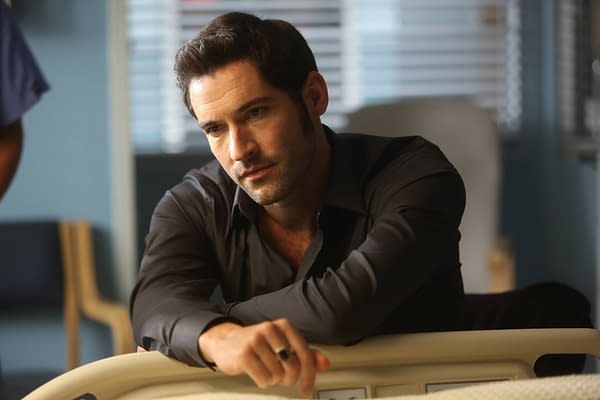 The series debuted as a mid-season replacement in 2016 and then got a pickup for season 2, which ended up not showing all of the episodes. An early season 3 renewal coincided with a move to Los Angeles for production for tax benefits. The extra episodes from season 2 were included in season 3, but the show was moved up an hour with its old lead-in, Gotham, moving to Thursdays.
Showrunner Joe Henderson commented on the cancellation:
So… yeah. #Lucifer has been cancelled. And it fucking HURTS. I loved this show so damn much and everyone put their heart and soul into it. Heartbreaking doesn't begin to describe.

— Joe Henderson (@Henderson_Joe) May 11, 2018
As did star Ellis
It has been the most amazing experience over the past 3 years playing Lucifer and falling in love with you, the fans. It fills me with great sadness to confirm the rumours that some of you have been asking. Fox has indeed cancelled #lucifer I'm so sorry guys. #gutted

— tom ellis (@tomellis17) May 11, 2018
The final episode of Lucifer will air Monday, May 14th at 8 p.m. ET
Enjoyed this article? Share it!