Game of Thrones Star Emilia Clarke: Would Be "Too Weird" to Watch HOTD
Game of Thrones star Emilia Clarke explains why she would find it "too weird" to watch HBO's prequel series House of the Dragon.
---
Not that Emilia Clarke hasn't been put through the wringer of maintaining arguably HBO's most successful show of all time, but the Game of Thrones star might have a unique perspective when it comes to the prequel series House of the Dragon. The star played the last known female surviving Targaryen in Daenarys, who finally ascends to the Iron Throne, killing her way to the top. Despite the shade cast for the eighth and final season, Clarke can't bring herself to see the Ryan Condal series.
Why Game of Thrones Star Emilia Clarke Avoids House of the Dragon
"I just can't do it," Clarke told Variety while promoting her film The Pod Generation at Sundance. "It's so weird. It's so strange." HOTD is set at the prime of the Targaryen dynasty focusing on the reign of King Viserys I (Paddy Considine) and the rivalry between his firstborn daughter and hand-picked successor in Rhaenyra Targaryen (Milly Alcock/Emma D'Arcy) and his wife Queen Alicent Hightower (Emily Carey/Olivia Cooke). Throughout GOT, King Robert Baratheon (Mark Addy) and his Lannister successors deal with their own internal strife in Westeros with an eye on Essos and the rise of Daenerys as she starts to mount an army in her once benevolent campaign to stop the cycle of oppression that dominated their world.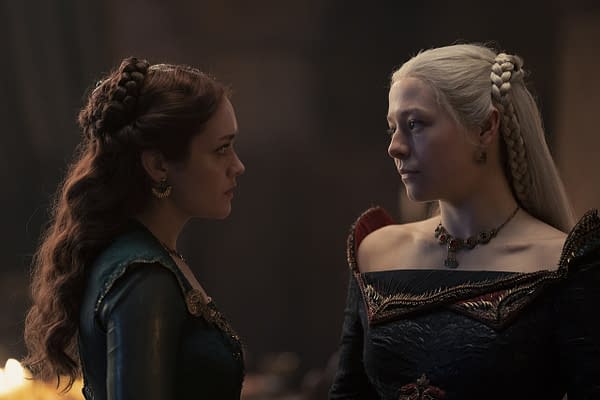 That all changed in the final seasons as Dany's travels finally broke the idealistic queen descending into the very madness, she swore not to succumb to from her ancestors. There are probably some feelings of déjà vu for Clarke. "No! Can you [forgive me]?" she explained. "It's too weird. I'm so happy it's happening. I'm over the moon about all the awards… I just can't do it. It's so weird. It's so strange. It's kind of like someone saying, 'You want to go to this school reunion that's not your year? Want to go to that school reunion?' That's how it feels. I'm avoiding it." Apparently, it isn't "too weird" for her co-star and series love interest in Kit Harington's Jon Snow, who's fronting his own sequel spinoff.