House of the Dragon Season 2 Writer Talks "Blood & Cheese" Arc & More
Fans of Game of Thrones are well familiar with the execution of infamous events from George R. R. Martin's A Song of Ice & Fire novels, especially when it comes to weddings. For anyone who needs any refreshing, the Red Wedding killed two major Stark characters, and a king choked in the Purple Wedding. The biggest House of the Dragon "Holy S**t!" moment so far was the season one finale, "The Black Queen," where Prince Aemond Targaryen (Ewan Mitchell), son of Queen Alicent Hightower (Olivia Cooke), unintentionally kills Princess Rhaenyra Targaryen's (Emma D'Arcy) son Prince Lucerys (Elliot Grihault) in dragon flight. HOTD writer Sara Hess teased what's to come in the second season.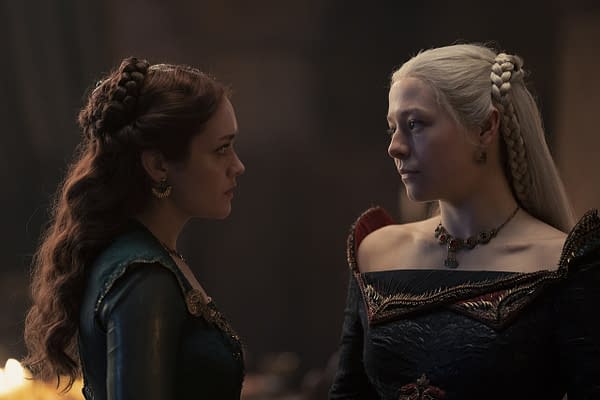 House of the Dragon Season 2 "Blood and Cheese"
"We are currently writing the finale of Season 2," Hess told Variety. "I don't think you will be disappointed." Among other things includes the "Blood and Cheese" plotline, which is a revenge plot involving two characters given nicknames. Without divulging any major spoilers, they're depicted in Martin's Fire & Blood, on which House of the Dragon is based, and play a part in escalating the war between the current King Aegon II Targaryen (Tom Glynn-Carney) and Viserys I's (Paddy Considine) hand-picked successor Rhaenyra.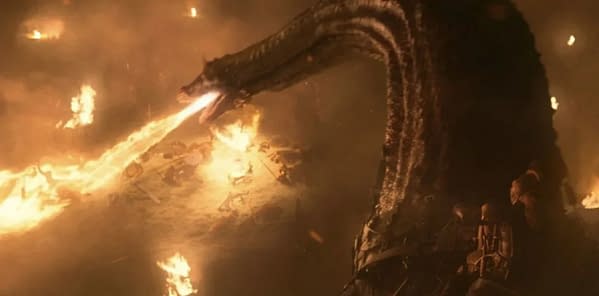 Upon Viserys's death, his widow Alicent declared that upon his "true" final wishes, their son Aegon was to be the true successor of the Iron Throne. As Rhaenyra loyalists are forced to bend the knee or suffer the consequences, Viserys' daughter and her husband (and Viserys' brother) Prince Daemon Targaryen (Matt Smith) find out the news from Princess Rhaenys Targaryen (Eve Best) at Dragonstone. As Rhaenyra attempts tries to confirm which allies are loyal to her claim, she sends one of her sons, Lucerys, not realizing an envoy was already sent on Aegon's behalf in Luc's rival Aemond. Things only went downhill from there as Luc retreats to his dragon after Aemond insists he pays penance for taking out one of his eyes in their younger years before the unfortunate final confrontation in the sky.
---
---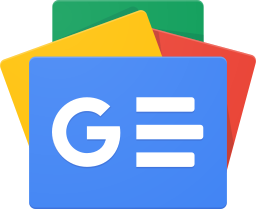 Stay up-to-date and support the site by following Bleeding Cool on Google News today!