Geoff Johns Teases Doom Patrol Appearance in New Titans TV Series
Geoff Johns just teased that the Doom Patrol will be making an appearance in the upcoming Titans television series that will debut on the DC theme streaming service. Johns wrote the episode himself and showed an image of the script title page where he wrote in the word "the" to go with the episode title "Doom Patrol". This is the fifth episode of the season and will be directed by John Fawcett.
The Titans have always been closely tied to the Doom Patrol because of a shared member, Beast Boy. The first appeared in My Greatest Adventure #80 in 1963, created by Arnold Drake, Bob Haney and Bruno Premiani. The characters have been published on and off for years from DC, always having a strong fan base but never quite becoming best sellers. They have appeared in two animated series so far, showing up on Teen Titans and Batman: The Brave and the Bold. This would be their first live-action appearance.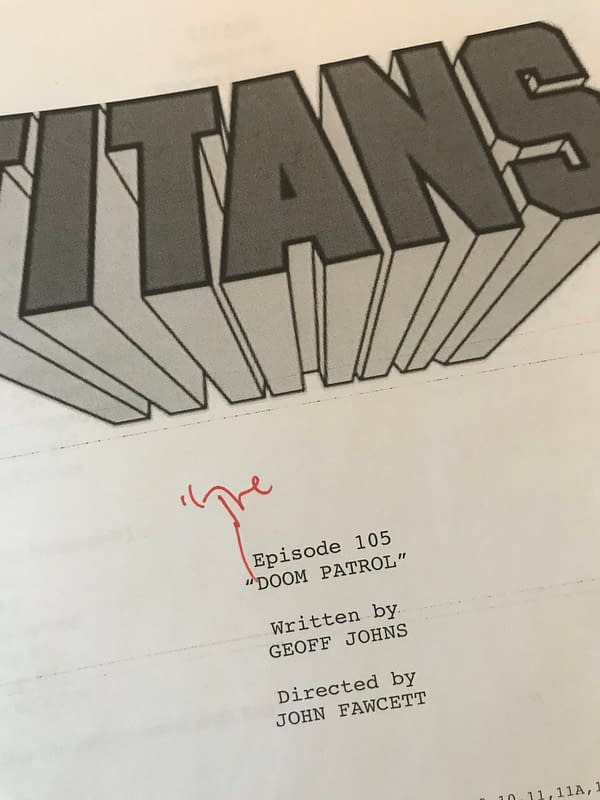 The series is from executive producers Akiva Goldsman, Geoff Johns, Greg Berlanti and Sarah Schechter. Already cast as Dick Grayson is Brenton Thwaites, along with Anna Diop as Starfire, Ryan Potter as Beast Boy, Teagan Croft as Raven, Minka Kelly as Dove and Alan Ritchson as Hawk. The series focuses on Grayson as he moves out of the shadow of The Batman and into becoming a hero of his own. We've seen images of Thwaites in a Robin costume, but I expect that we'll also see him as Nightwing.
The #Titans are getting some company… pic.twitter.com/KAkK7Gc4gA

— Geoff Johns (@geoffjohns) February 9, 2018