Gotham Season 4: While the Penguin's Away, the Sirens Will Play
After almost three full months, Gotham season 4 returns tonight on Fox. And while Penguin (Robin Lord Taylor) is in Arkham Asylum with his new best friend Jerome (Cameron Monaghan), the Iceberg Lounge is being reverted back to its original owners and name, the Sirens Club. In what almost looks like a late-night television ad, Barbara Kean (Erin Richards), Tabitha Galavan (Jessica Lucas), and Selina Kyle (Camren Bicondova) dance on a spinning platform and talk about how the club is back open as a metaphor for the series return.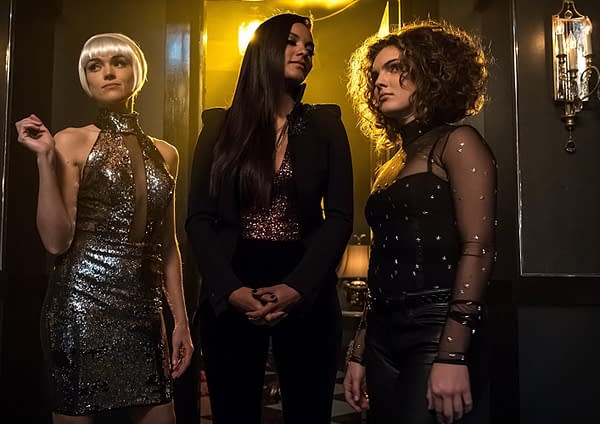 But the reopening of the club is so far down the list of things happening tonight, it's not even mentioned in the episode synopsis:
A Dark Knight: Pieces of a Broken Mirror: Gordon is called to the scene when the Toy Maker is hired to assassinate a doctor in Gotham; Lee tries to rebuild the Narrows with Nygma's help; Alfred's new life becomes complicated; Ivy shows Selina her new persona.
We get the introduction of the Toy Maker, and we are introduced to the latest incarnation of Ivy Pepper, aka Poison Ivy. Actress Peyton List (The Flash) become the third incarnation of the character after being originated by Clare Foley in the pilot episode and first two seasons then replaced by Maggie Geha up until earlier this season, where she took a mysterious elixir and disappeared.
Gotham returns tonight at 8 p.m. ET on Fox.