If you didn't catch the fifth and final season premiere of FOX's Gotham 'Year Zero'… stop reading this.
Seriously. Just stop.
Fire up your favorite televisual device and let the madcap story-juice of our Batman prequel series marinade your brain.
You'll be better for it, we promise.
Go ahead – we'll wait…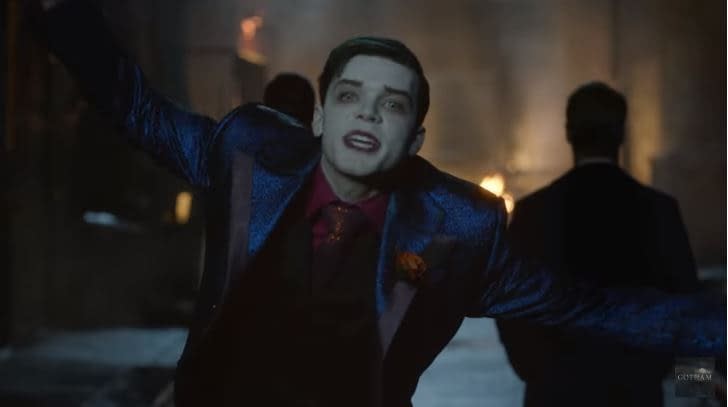 We really liked the premiere, but we do tend to take a slight "Stockholm Syndrome" approach to Gotham – it has that effect on people who watch it long term. With season 5 already careening on its merry way, we were hoping to find out what Jeremiah (Cameron Monaghan) has up his sleeve – and it looks like the season's second episode will be answering that question:
https://www.youtube.com/watch?v=qOHosSwlBPc
Jeremiah and Bruce (David Mazouz) look like they are headed for the climactic battle that "creates" the Joker, with an ominous confrontation that has been brewing between the two since the first season. Monaghan certainly has the acting chops needed to make this showdown one for the books – but with a series loaded with epic villainy, the writers have their work cut out for them. For instance, take the cannibalistic glee of Professor Pyg in season 4:
https://www.youtube.com/watch?v=zVdmzmBzx94
The fifth season of Gotham will serve as the series last, and we've already been teased with a "rogue's gallery" of classic Batman villains – including Harley Quinn and Bane. Seeing the Joker come into his own over the run of the series has been a blast, especially during the fourth season.
More things to look out for: Poison Ivy (Peyton List) is still on the loose, and can control plants now. Selina Kyle (Camren Bicondova) is paralyzed from Jeremiah's bullet, but there might be help from a mysterious witch. The Riddler (Cory Michael Smith) keeps waking up in strange places, and believes that Edward Nygma is taking over their body while he sleeps. The Penguin (Robin Lord Taylor) is sporting a brand new leg accessory courtesy of Captain James Gordon (Ben McKenzie), who is trying desperately to keep the abandoned people of Gotham safe. Mr. Freeze (Nathan Darrow) and Firefly (Michelle Vientimilla) have declared war on each other, and are battling for territory in the lawless regions of the city.
Whatever you do, don't miss the next episode of Gotham, 'Tresspassers'…
Same Bat time! Same Bat channel! Same Bat Thursday!
Enjoyed this article? Share it!