Gwendoline Christie on Brienne's New 'Game of Thrones' Experiences, THAT Heartbreak
If you haven't caught up on the most recent episode of Game of Thrones, you may want to do that before reading anything Gwendoline Christie had to say about season 8 episode 4, "The Last of the Starks".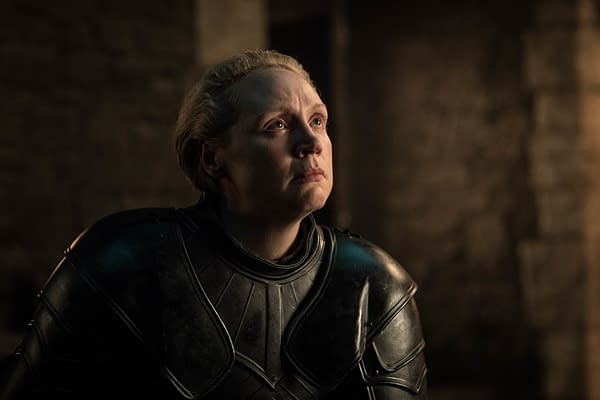 The aftermath of the Battle of Winterfell hit everyone differently, and perhaps none of them more unexpectedly than our newly-made knight of the Seven Kingdoms, Ser Brienne of Tarth (Christie).
A relationship we've been watching build and become what it is now between she and Ser Jaime Lannister (Nikolaj Coster-Waldu) became something even more.
"I haven't been certain of the relationship between Jaime and Brienne," Christie tells Entertainment Weekly about the characters. "It hasn't been a love story. It's been this strange relationship between a man and woman that's never been able to find it's true form. Brienne has also felt something of an obligation toward Jaime due to losing his hand to save her honor. It's something he chooses to do, but she's sensitive and aware of it. So there is something that seems tangible between them, but she's never had a relationship before and he's only had a relationship with his sister. So you're dealing with two people who are not terribly functional in the emotional world. I think going through sharing the experience of surviving the war together and saving each others' lives continuously proves to be a very heady combination. Physicality often releases emotion and I think that's what happens — working together unlocked them."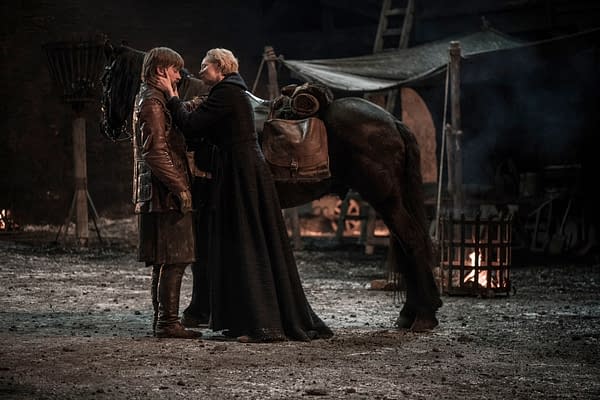 Physicality, yes, that's a good way of describing what happens, as the pair spend a night together. It's written wonderfully for them, enough humor and believable interaction to make the shift in their relationship work on screen. We all know the two actors have had tremendous chemistry throughout the series.
"What's always important to me is the 'how.' Not the 'what,' it's the 'how.' It's important to me how these things come about. I felt it was important to see a moment of choice from Brienne where she chooses to do this. Brienne is a virgin. As far as we know, Brienne hasn't had a sexual or romantic encounter before. In the books, the character sleeps in her armor to protect herself. It's important that she choose to explore life in that way and have that experience. I was pleased that if something happens between her and another character that she wants it. I like that she instigated it. As an unconventional woman that we've seen grown, I enjoy that she decided to grow in a different way," Christie revealed.
As to what happens AFTER that, Jaime choosing to leave Brienne at Winterfell and head on to Kings Landing to Cersei, Christie said:
"I was so upset for her. I know it's just a character and I'm an actor who's lucky to do her job. It's so heartbreaking. But it's life isn't it? Life is heartbreaking. I never assumed they would be together. I didn't think that would happen. And now I can feel a million hearts breaking.
I have no judgment of Cersei but their relationship is dysfunctional. That's when I went very red. I was very upset and I had to go for a walk."
EW presses on here, asking if the fact that Jaime left actually upset Christie more than the pair physically expressing their intimate emotions:
"Yeah. And I know it's silly. It's just a character, not a living human being, but I feel for her so deeply. I love that she doesn't crumble from it. She goes back to work. Because she always loves work — that feels refreshing, a woman can be happy without a companion. Woman don't have to be defined by their partner and that's good. But my god. That's the Game of Thrones, isn't it? Just when you think things are going to go well it punches you harder than ever in the guts…"
We're still kind of hoping the unsaid thing is that Jaime is going to Kings Landing because he wants to end Cersei's power over him, and that's why his use of the line "for Cersei" was important.
Game of Thrones continues for just two more Sundays on HBO before the end of the series.