This week edition of Food Network's Halloween Baking Championship brought us spirit guides, Dia de los Meurtos, and Zac Young dressed like a flamingo, John Henson doing his best Spanish impression, and judges Carla Hall, Katie Lee, and Young tasted alcohol-infused bee hives, mermaid tails and Zeus tarts.
At the start of the episode, the competitors didn't really deliver on scary, gory, or delicious. When I think 'Halloween spirit guides' I imagine ravens, spiders, Hekate the goddess of magic and The Morrigan, the shapeshifter; not so much Venus, Zeus, bees, and fairies. There was a bit of redemption in Round #2, where across the board we saw a lot more skulls – not entirely hide-in-a-corner scary – but at least I felt like I was watching a Halloween show.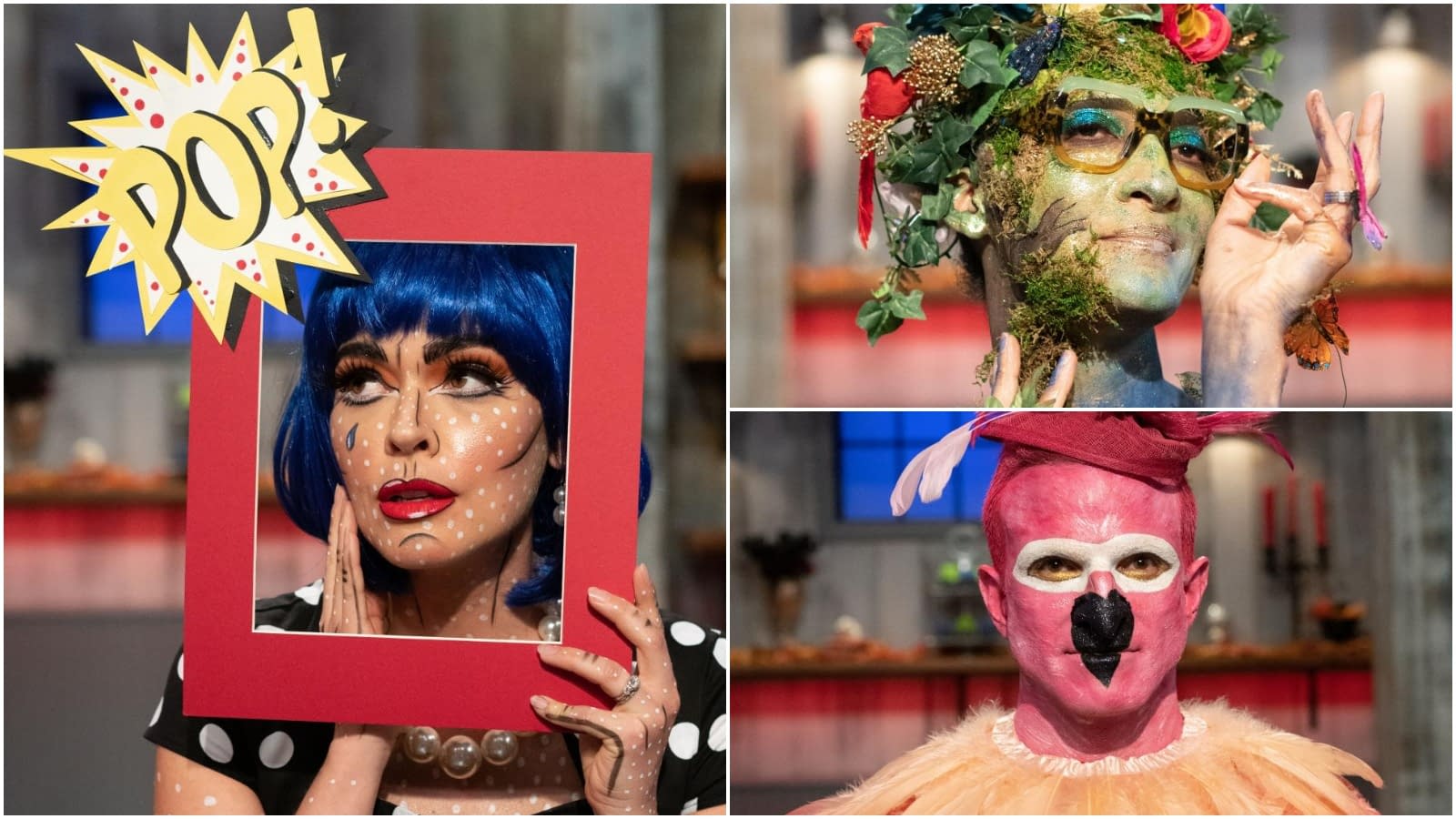 Halloween Baking Championship consists of two rounds:
● Round #1 – Pre Heat: Contestants are given up to two hours to create a small tasty treat. No eliminations this round, but the winner gets an advantage going in to the second round.
● Round #2 – Main Heat: Competitors are asked to create a cake to tell a spooky tale. The tastiest and scariest creation wins the challenge, the loser gets taken to the bathroom where the bonesaws, bathtub, tarps, and hydrochloric acid await… okay, not really: they're just eliminated from the competition.
Each episode, a losing contestant is given their one-way ticket to the underworld. The lone baking zombie left standing at the end of the season wins $25,000.
Here are some of my takeaways from the season's second outing, "Smells Like Halloween Spirit":
Round 1 'Halloween Spirit Guides': contestants had to bring spirit guides to life with an alcohol infusion. Creations included bees and baby bee hives, mermaids (was this a wedding inspired creation?), a Day of the Dead brownie, an undercooked Zeus tart, and fairies. Although the treats were pretty and the Irish cream mermaid made the judges salivate, there was just nothing spooky about them.
Young dressed up like a flamingo making it very difficult to take anything he said seriously, but absolutely hilarious to watch – while Hall wow'd me as mother earth.
"She made me like rice pudding even less that I do now."
Round 2: contestants were asked to honor the Day of the Dead and bring dead desserts back to life. The German chocolate cake made me salivate, had a beautiful skull on it and won; the coconut cream pie looked something my 5-year-old would make, apple brown betty looked like a disheveled graveyard, and the chess pie and rice pudding (the loser) left little to be desired in taste.
WINNER: The German chocolate cake.
This week definitely disappointed in the Halloween baking spirit but was saved by the pizazz of the judges and the backdrop of the show itself. Next week's episode – inspired by The Addams Family – will hopefully be its redemption.
Enjoyed this article? Share it!