'Happy!' Season 2, Episode 4 "Blitzkrieg!!!": Punching Nazis, Alien Poop Make Great Outing [SPOILER REVIEW]
Welcome back to Bleeding Cool's weekly review of SYFY's second season of Happy!, where this week we're taking a look at "Blitzkrieg!!!" – which met all of our geriatric-nazi-beating, alien-poop-fighting needs… and then some!
This week saw once-popular kids' show host Dayglo Doug (Curtis Armstrong) serving as a cautionary tale for those looking to deal with Sonny Shine (Christopher Fitzgerald); while Sax (Christopher Meloni) and Merry (Lili Mirojnick) tracked down present-day Dayglo to a "questionable" retirement home – where Happy (Patton Oswalt) was forced to face some uncomfortably adult truths.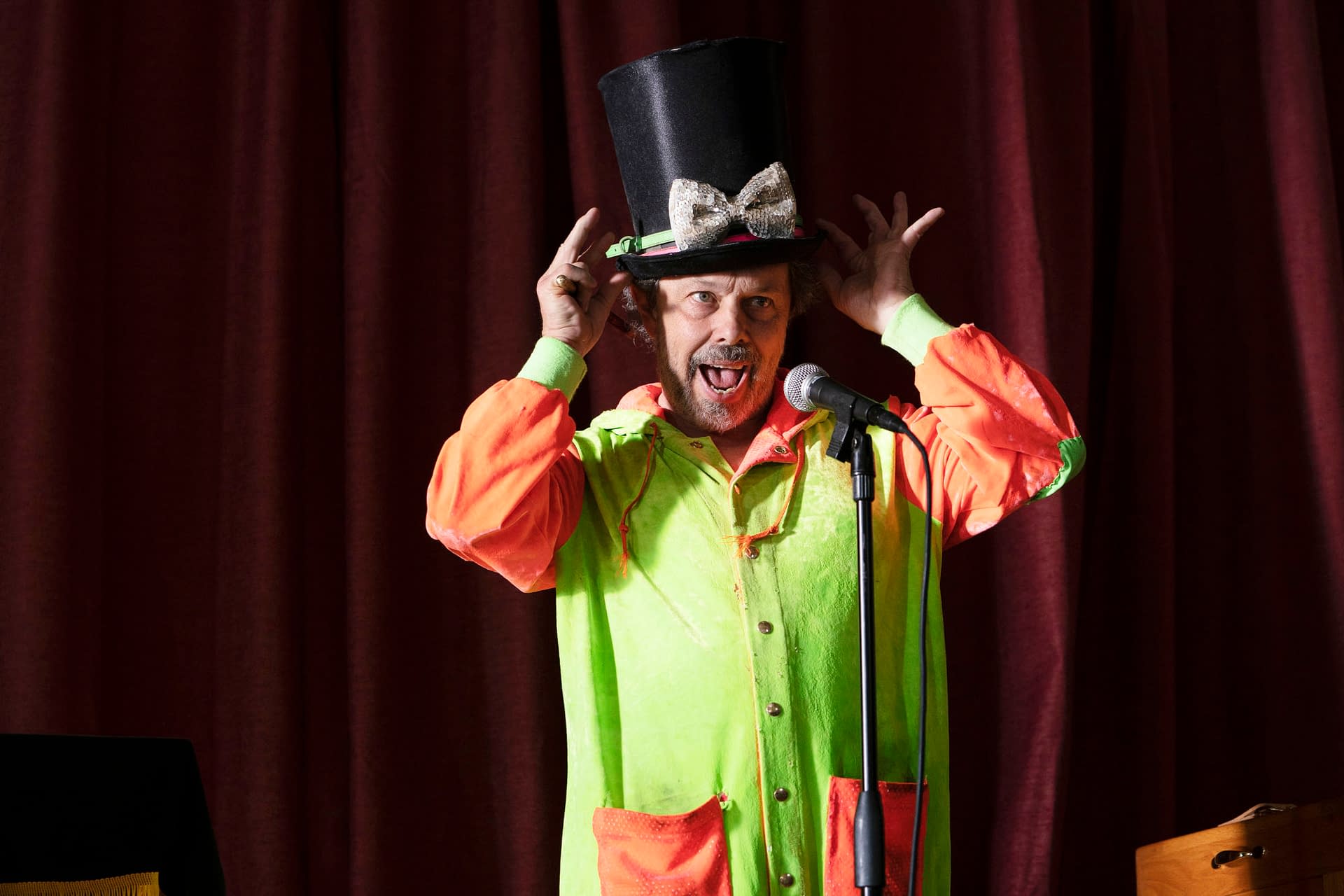 Meanwhile, Smoothie (Patrick Fischler) made the case that he might be the most "parental" person in Hailey's (Bryce Lorenzo) life. Sonny makes the case for his vision of "Easter v2.0" in front of a "captivated" audience, while Amanda's (Medina Senghore) been letting her freak flag fly a little too much lately and Blue (Ritchie Coster) made a move to consolidate power – and make up with Big Pink (Paul "The Big Show" Wight).
And don't forget… Sax fighting his own alien poop.
Happy! s02e04 "Blitzkrieg!!!": Who the hell is Dayglo Doug? Sax, Merry & Happy enter a geriatric death trap. Don't eat the jelly.
Look, I might end up getting a yellow card and stern warning for what I'm about to say since "right proper television critic etiquette" dictates that I get into some 1000+ word manifesto about the deed, meaningful nuances in the way Sax burried a hatchet in a guy's head. For a series that's impressed me with its balancing act of the absurd and the all-too-human, this was the guilty pleasure, balls/ovaries-to-the-wall mental palette cleaser that I needed.
Were there some things to scratch my head over? Sure! How could an entire old folks home be filled with young and old nazis and no one finds out about it? Who Cares? Sax and Merry killed them all – with prosthetic limbs and a colostomy bag, to boot! Then there's the "jelly" in Merry's fridge from last season – which isn't jelly but in fact and alien lifeform that Sax ingests… and then craps out and has to engage in a old-school Star Trek Kirk/Spock-like fight to the death.
Remember this is Sax, people – this man will bite his way ouf of a fight if he has to…
Major props to director Joseph Kahn and writer Ken Kristensen for an epsiode that popped with wit, electricity, and intensity – while also not losing a sense of meaning and importance. It was crude, rude, and obscene in all the right ways (Sax believes The Golden Girls is a "lesbian fairytale) – but avoided the one cardinal sin: not mattering. As over-the-top as what I saw was, I never lost sight of the fact that it will mean something as the narrative moves forward.
Now here's a sneak peek at this week's episode "17 Hours and 13 Minutes" as well as a brief teaser summary – and in the following clip, it looks like Amanda's got a new boyfriend – and a nasty new habit:
Happy! s02e05 "17 Hours and 13 Minutes": Sax eats the jelly and trips B, D, all of it, and all on Hailey's birthday; Amanda makes a breakthrough.

Season 2 begins with Easter on the horizon –a season of hideous pastels, dye-stained fingertips and a general "who really gives a f***" attitude. A newly sober-ish Sax finds himself struggling with the demands of family and fatherhood. He has sworn to do right by his ex-wife, Amanda, and his daughter, Hailey, which means no booze, sex, drugs or killing.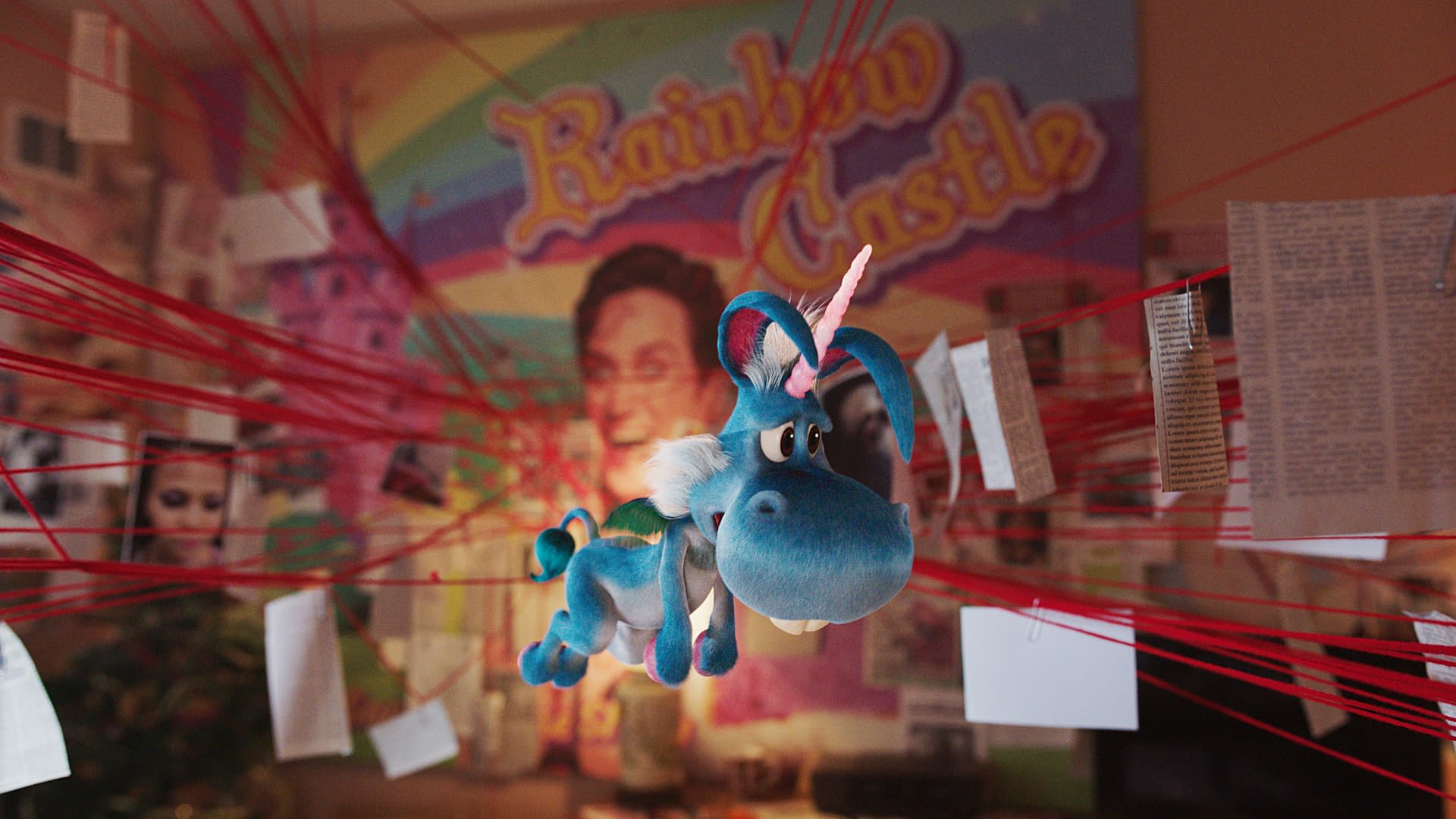 Happy, meanwhile, is resigned to keeping his partner on the straight and narrow while coping with the fact that a maturing Hailey can no longer see him. Sax's fresh start will be tested by a familiar enemy: Sonny Shine, who is on a mission to Make Easter Great Again (MEGA) with the help of his demented Easter Bunny henchman.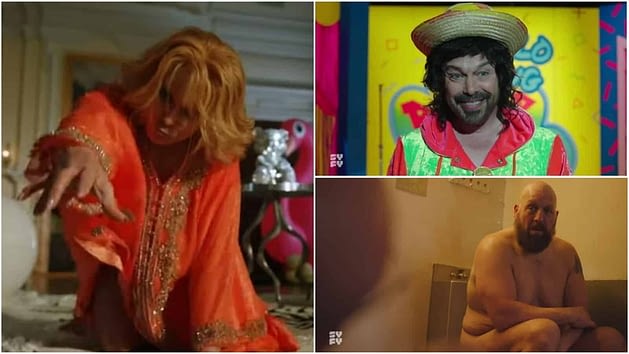 Written and executive produced by Brian Taylor and comic book writer Grant Morrison, SYFY's Happy! is based on Morrison and Darick Robertson's comic book series, starring Meloni, Oswalt, Fitzgerald, Fischler, Mirojnick, Lorenzo, Senghore, Coster – with Armstrong, Wight, and Ann-Margret joining the cast this season. Both Lorenzo and Fitzgerald were promoted to series regulars with the second season. Neal Moritz, Pavun Shetty, and Toby Jaffe of Original Film, Meloni and showrunner Patrick Macmanus will also executive produce; and the series hails from Universal Cable Productions (UCP).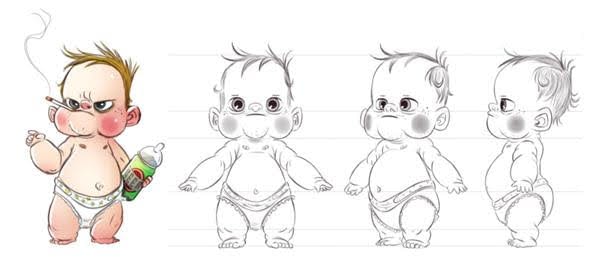 'Weird Al' Yankovic will voice Smoking Man Baby: toxic masculinity in a diaper, Smoking Man Baby is a jealous, volatile baby blowhard with full tats and a cigarette always dangling from his mouth.
SYFY's Happy! airs Wednesday nights at 10 p.m. ET.