Head of the Class Star Isabella Gomez Talks Leading HBO Max Reboot
Isabella Gomez has come a long way since making her debut on the El Rey series Matador in 2014 playing Cristina Sandoval. Since then she's become a staple on television appearing on ABC's Modern Family and lending her voice on the Disney animated series Big Hero 6 before her breakout role as Elena Alvarez on the Netflix/Pop TV reboot of One Day at a Time. While promoting her horror film Initiation for Saban Films, I spoke with the actress about her upcoming starring role on the HBO Max reboot of the ABC 80s sitcom Head of the Class, which was recently ordered to series following the pilot from Scrubs creator Bill Lawrence.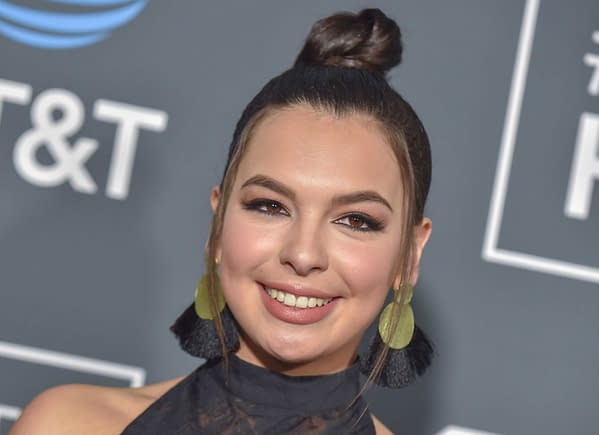 Despite only shooting the pilot, Gomez admits she'll need some catching up having not seen the original series that starred Howard Hesseman as Charlie Moore, a New York City teacher looking to get more life from his overachieving students. "I actually haven't had a chance to," she said."The audition process once so quick. Bill obviously read me through it. Phill Lewis, who directed the pilot, has been directing for years on One Day at a Time. So I kind of really leaned on them to help me through. This is on my to-do list before we start shooting the season."
Head of the Class: Who is Alicia Adams?
Gomez is now leading the way as teacher Alicia Adams trying to get the same out of her students as her predecessor did. "She is somebody who would not have normally been teaching, but certain things happened in her life that made her land here," she said. "She gets this group of students that are super smart and super into school, very involved. She sees that although they are setting themselves up for a really great future on paper, they're kind of missing the life aspect, living their youth, and getting to be kids. So she's kind of there to guide them along, be an example for them and show them that there's more to life than just grades."
Aside from Gomez's new leading role, the actor also had to adjust filming under new pandemic safety protocols. "COVID filming during a pandemic is a whole different ball game," she said. "It makes it difficult in its own different ways. This is my first time leading a show. It's the first time I'm number one, which you watch Justina Machado and Rita Moreno do what they do and they make it look easy because they're geniuses. Then you get on set and you're like, 'Oh my God!' Leading something is really tough especially with kids, because they're fantastic on their tiny professionals, but they're children. You have to be the teacher, which kind of works out because I am the teacher in the thing. It's been really lovely and I actually was very pleasantly surprised that a lot of the kids are kind of like mini-adults and were really there for me. The rest of my classmates are awesome. The whole production team and Bill Lawrence is everything and held my hand through it and empowered me so much. Man! It's not easy." Head of the Class also stars Jorge Diaz, Dior Goodjohn, Brandon Severs, Adrian Matthew Scalona, Christa Miller, Gavin Lewis, and Jolie Hoang-Rappaport. Initiation comes to theaters, on-demand, and digital on May 7th.