"High Fidelity": Rob Wants Us to Keep Listening – There Might Be More Here Than We Thought [OFFICIAL TRAILER]
Now that actress Zoë Kravitz's (Big Little Lies, Fantastic Beasts: The Crimes of Grindelwald) spin on High Fidelity – and a whole new generation of Top 5 lists – is done swapping streaming homes within the Disney family, Veronica West and Sarah Kucserka's (Bull, Ugly Betty) romantic comedy-drama series is offering viewers a look at Kravitz in full DJ-record store owner mode with the series' official trailer.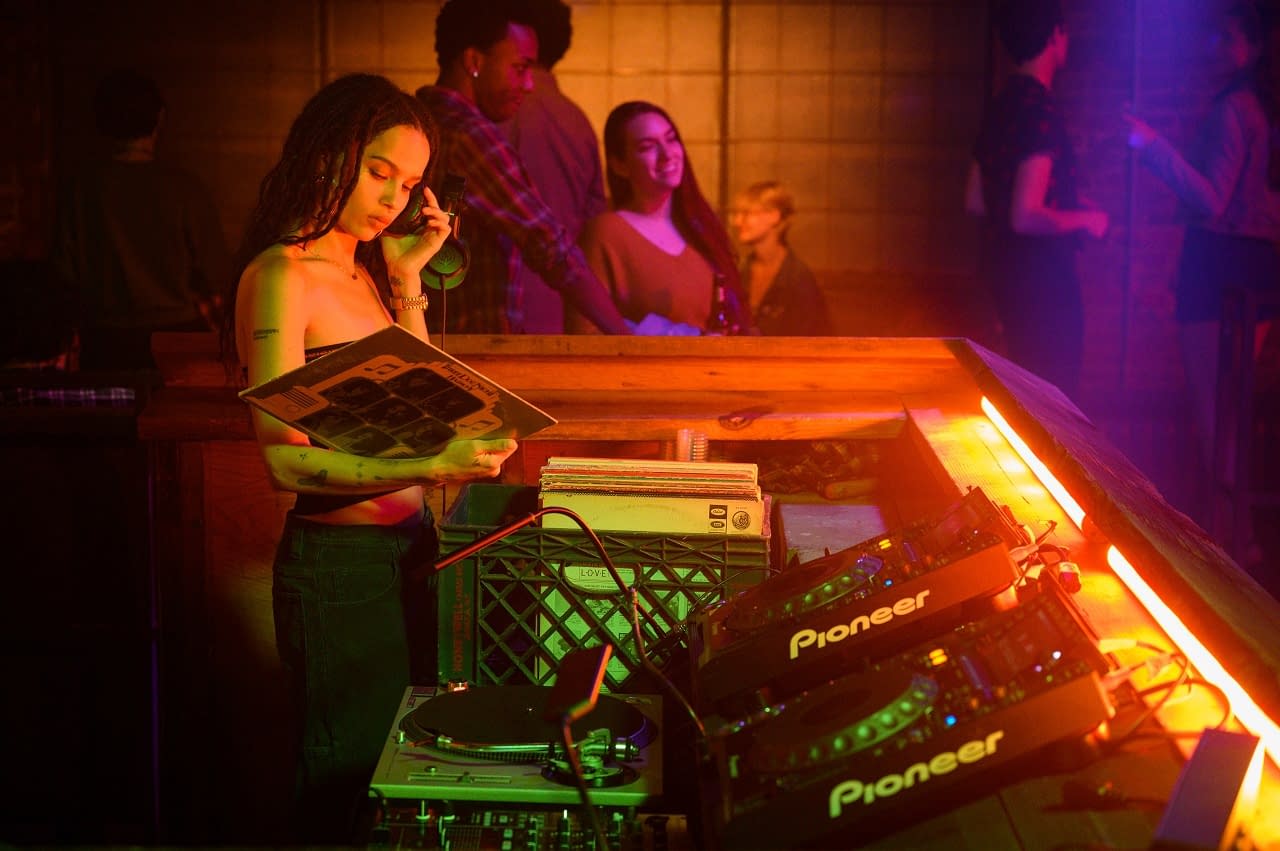 As someone who's a disgustingly huge fan of the original film, I'm all-in on this ten seconds in – check it out for yourselves below.
With the 10-episode first season set to debut on February 14, High Fidelity stars Kravitz, Jake Lacy (I'm Dying Up Here), Da'Vine Joy Randolph (On Becoming a God in Central Florida), David Holmes (Mr. Robot, Mindhunter), and Kingsley Ben-Adir (The OA: Part II).
A departure from Nick Hornby's 1995 novel and beloved 2000 film, Hulu's High Fidelity centers on Rob (Zoë Kravitz, who also serves as an executive producer), a female record store owner in the rapidly gentrified neighborhood of Crown Heights, Brooklyn who revisits past relationships through music and pop culture, while trying to get over her one true love.
Here's an updated overview of the cast:
● Kravitz's Rob is a record store owner who obsesses about music, pop culture, and top five lists – while trying to get a sense of herself and her life… and the "family" she's surrounded herself with.
● Lacy's Clyde is effortlessly cute, if not the coolest guy in the room. A recent NY transplant from LA, he's still trying to figure out how to navigate the city. Despite his lack of interest in music, he reveals a funny and open side that intrigues Rob (Kravitz). But he might prove to be just like all the other guys… or so it seems.
● Randolph's Cherise is boisterous, likeable, funny with an infectious energy and thinks she knows everything. Cherise is passionate about music, and passionate about telling Simon (Holmes) and Rob (Kravitz) their musical taste sucks. Born and raised in Brooklyn, she's still searching for her purpose in life – and will surprise everyone when she declares her own musical aspirations.
● Holmes' Simon is sarcastic and cranky with an attractive quirkiness. Simon loves to judge others and has an eccentric yet extensive musical knowledge. Simon and Rob dated years ago, but eventually came out, which put an abrupt end to their relationship but not their friendship. Simon still happily works for Rob at the record store. He presents as condescending and aloof, all the while leading a lonely personal life while he searches for Mr. Right.
● Ben-Adir's Russell "Mac" McCormack is charming, worldly, intelligent — though not at all pretentious — and was Rob's most serious boyfriend. Everything seemed to be great, then one day he moved to London, and a year later Rob is still getting over it. But Mac may not be gone from her life for good.
In early April 2019, it was reported that the series would swap streaming services after the project began to take on a more mature tone than wouldn't fit with a Disney+ audience. The company decided that moving the project to Hulu would "protect the vision of the creators and allow them to tell the story the way they envisioned."
"Developing High Fidelity with Zoe, Veronica, Sarah and the team at Midnight Radio has been incredibly exciting and we want to ensure they are able to make the show they are envisioning as Disney+ is dedicated to supporting our creative partners. To that end, as the series' creative evolved, our Disney+ team, collectively with ABC Signature, recognized that the show would be better suited for another platform. Given Disney's equity stake in Hulu, we're happy High Fidelity will continue as part of our extended family."

– Agnes Chu, SVP Content, Disney+
Kravitz, West, and Kucserka will executive produce alongside Midnight Radio's Josh Appelbaum, André Nemec, Jeff Pinkner; and Scott Rosenberg, who co-wrote the High Fidelity feature. Rosenberg and Midnight Radio will produce the series alongside ABC Signature Studios (SMILF).