Homeland Series Finale Preview Teases Final Saul, Carrie Face-Off
After eight tension-filled, bullet-ridden seasons of Showtime's Homeland, this Sunday marks the end of a cable television era with series finale "Prisoners of War." With how things look heading into the final hours, there's a very good chance that Sunday could also mark the end for Carrie (Claire Danes) or Saul (Mandy Patinkin), or both. With Yevgeny (Costa Ronin) in possession of the flight recorder, he's holding all of the cards and sending Carrie and Saul on a collision course. Carrie still doesn't know about Anna (Tatyana Mukha) being Saul's Kremlin asset, which puts her in the position of having to either find out real fast or eliminate the lines of communication between the mole and U.S. intelligence: Saul.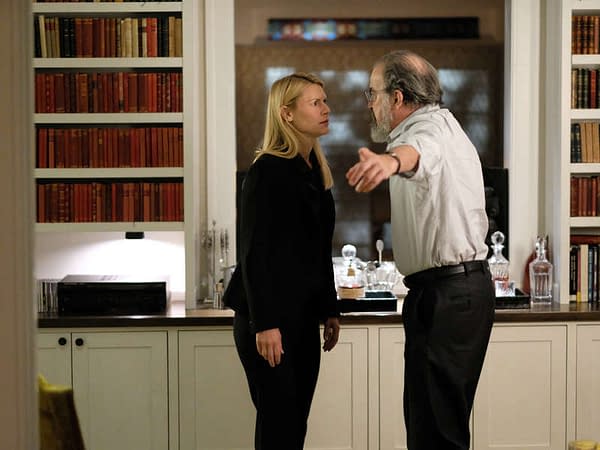 Turns out Saul's had a rather "colorful" way of communicating with Anna since the mid-80s, with Carrie establishing a timeline of intelligence tip-offs dating back over thirty years. All of this leads to the following preview for the series finale, as Carrie is faced with either having an answer for Yevgeny regarding the mile within the Kremlin ranks or having to pull the trigger on Saul. Following the clip (with preview image above), Danes, Patinkin, Damien Lewis, and Alex Gansa take a look back at the past eight seasons of the critically-acclaimed, award-winning series and the way it both reflected and impacted our culture.
The final season of HOMELAND finds Carrie Mathison (Danes) recovering from months of brutal confinement in a Russian gulag. Her body is healing, but her memory remains fractured – which is a problem for Saul (Patinkin), now National Security Advisor to the newly ascendant President Warner (Emmy and Golden Globe winner Beau Bridges). The top priority of Warner's young administration is an end to the "forever war" in Afghanistan, and Saul has been dispatched to engage the Taliban in peace negotiations. But Kabul teems with warlords and mercenaries, zealots and spies – and Saul needs the relationships and expertise that only his protégé can provide. Against medical advice, Saul asks Carrie to walk with him into the lion's den – one last time.
Along with Danes, Patinkin, and Ronin, the final season of Homeland also stars Maury Sterling, Linus Roache, and Tatyana Mukha, with Nimrat Kaur and Numan Acar also returning from season four in series regular roles. Produced by Fox 21 Television Studios for Showtime, Homeland was developed for American television by Gansa and Howard Gordon, and is based on the original Israeli series Prisoners of War by Gideon Raff. Along with Gansa and Gordon, executive producers for season eight include Chip Johannessen, Debora Cahn, Lesli Linka Glatter, Patrick Harbinson, Claire Danes, Michael Klick, Avi Nir, Ran Telem, and Gideon Raff.