"Hot Ones: The Game Show" As Nasty As We Want It To Be [SPOILER REVIEW]
If you enjoy watching others suffer intolerably, possibly soil themselves, and go catatonic, then truTV's Hot Ones: The Game Show (hosted by Sean Evans) is the show for you. This insane, sadistic game show has two teams competing for a chance to win $25,000 while answering trivia questions – but really? That's just an excuse for the real reason everyone's tuning in.
[rwp_box id="0"]
Wait, should probably mention that they also have their eyeballs roll back into their heads, sweat uncontrollably, and throw up; and an EMT on standby. Let's be frank, most of us are probably not watching this show for the intellectually stimulating questions, nor the players battle of wits, but rather we enjoy having to make bets on which contestant will be rolled to the hospital on a gurney.
Each round. a very enthusiastic Chef Willie prepares wings for them to consume and then they proceed to answer a variety of relatively simple questions. The wings dramatically get hotter and more unbearable as the rounds progress, almost penalty-like; in fact, if a team answers a question correctly in the third round, they get rewarded with more spicy.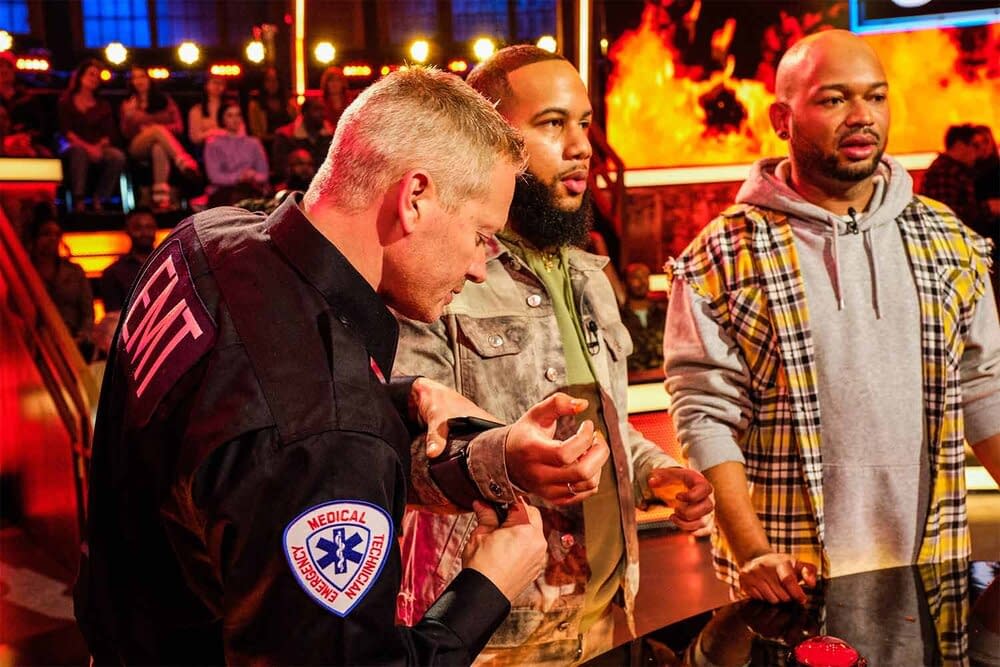 What follows is numbness, a scene straight out of The Exorcist, and multiple trips to the puke buckets – so I don't recommend eating before watching this show. The winning team gets to compete in a charades-type challenge with words and phrases like "booty shorts", "shaving cream" and "octagon" in ply. At the end of the torture – assuming everyone still has a pulse – the team is rewarded with an antidote milk shake to lesson the burn.
For the opener, two teams of two were welcomed into the "Pepperdome" – and from the start of the first round, the wet heaving began and didn't stop until the credits rolled. Impressive moment: one contestant who literally lost his sh*t within the first five minutes – yet somehow managed to not only stay standing… but win!
Why would anyone willingly endure this madness?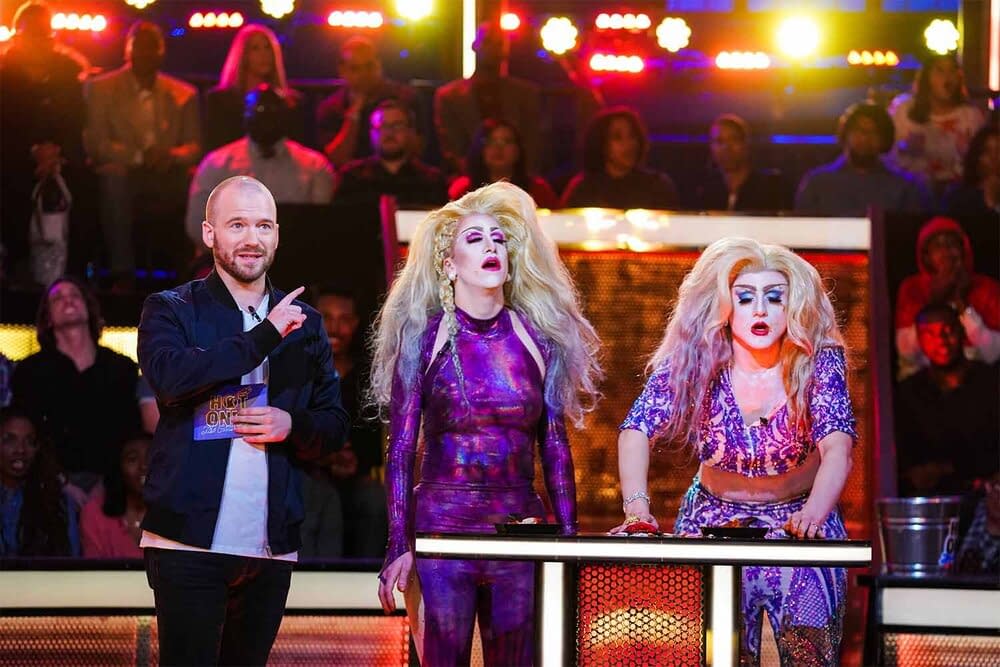 My tolerance level and nausea wavered considerably, and I kicked myself for having eaten just prior to screening-reviewing Hot Ones:The Game Show. Gaining a ridiculous amount of viewers, this show might not be for me because of my hatred for hot sauce, weak stomachs, and things coming of a person's every orifice – but I definitely see the appeal to our sadistic nature to watch others comically suffer… at least they get a prize (that's not a bleeding ulcer).