Inner Circle Vs The Elite: AEW Double Or Nothing Results
AEW Double or Nothing wrapped up with the big Stadium Stampede match pitting the Inner Circle (Chris Jericho, Sammy Guevara, Jake Hager, Santana, and Ortiz) against The Elite (The Young Bucks, Kenny Omega, and "Hangman" Adam Page) with Matt Hardy. Hardy debuted in AEW a couple of months back and instantly started a feud with Jericho and his Inner Circle cronies. After weeks of back and forth in vignettes and the death of Vanguard 1 at the hands of Jericho, these five look to beat the hell out of each other in what is sure to be a match of chaos and high spots.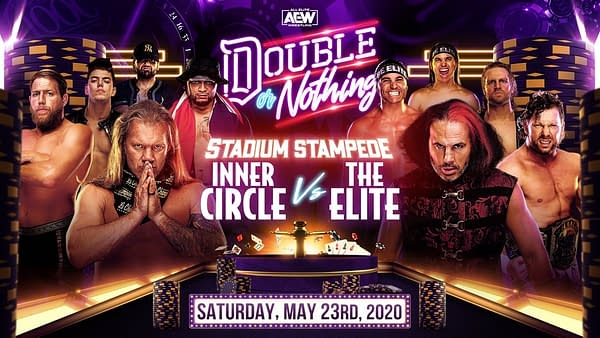 AEW Stadium Stampede Match
There is in fact a ring at centerfield. Everyone has a number and is wearing a football jersey as the Inner Circle enters the stadium like a football team. Nice XFL shot taken here. The Elite enter the same way, sans football jerseys. Hangman doe snot enter. The two teams charge at each other with weapons drawn and it is instant chaos. People are beating each other with footballs, brooms, and some are wearing football helmets. Quickly we have devolved into punches. The Inner Circle takes advantage of the 5-4 mismatch to start. Hangman makes his entrance….riding an actual horse. He chases Guevara into the back. He looks majestic on that steed.
The Young Bucks double team Jericho in the ring before Santana and Ortiz make the save and start double-teaming Nick Jackson. Kenny Omega with the save and he is cleaning house until Hager breaks that up, until Hardy enters and takes out Hager. Guevara returns and the Inner Circle stand tall in the ring. Now The Elite clears the ring and is taking turns punishing Guevara. More chaos on the outside as they all take turns diving on each other to the outside. Now the weapons come back into play as the action is spreading out all over the field. The Bucks take some huge bumps off the goalposts.
What the…
Watch the Double or Nothing reply NOW on all major cable & satellite providers / @BRLive / @FITETV (Intl Fans Only) #AEWDoN pic.twitter.com/7ZeoQepcSD

— All Elite Wrestling (@AEWrestling) May 24, 2020
They recover fast and start beating on Jericho and Ortiz. They set up a huge ladder and climb onto the goalposts, and Matt hits a moonsault off the goalpost for a two count. Omega, Santana, Hager, and Hardy are fighting in the stands using road cones to hit each other and slamming each other into seats. Hangman is still on his horse, looking everywhere for Guevara. Is that the official AEW horse now? He dismounts the horse to head to the bar. The four men from the stands are now just continuing to beat each other. Omega sets up a guardrail on two tables and tries to put Ortiz into it, but Santana throws salt in his eyes and they take him out by hitting a combo powerbomb through the barricade.
Santana and Ortiz now double team Hardy and toss him into the pool that is in the stadium. Ortiz is hesitant to enter the pool because he can't swim, and after they begin dunking him, other versions of Matt Hardy start appearing, including Matt Hardy Version 1.0, AEW version, complete with Matt Facts. They leave him for dead, and broken Matt Hardy is here now. He tells them they must pay for their crimes against Vanguard 1. Matt puts them both through a table, and then literally rings his bell. he puts Ortiz in a wheelchair and tapes him to it with duct tape. Hardy and Santana keep brawling while Ortiz follows in the wheelchair. Hardy deposits Santana into an ice machine.
Oh @sammyguevara…
Watch the Double or Nothing reply NOW on all major cable & satellite providers / @BRLive / @FITETV (Intl Fans Only) #AEWDoN pic.twitter.com/Lm0xaMHI60

— All Elite Wrestling (@AEWrestling) May 24, 2020
Hager then finds Hangman's horse and follows to the bar, where the AEW cowboy himself is drinking a beer. He sits down next to him and the two share a beer. They start going at it, with Hager throwing Hangman over a pool table. He breaks a pool cue over Hager who no-sells it. The fighting continues before Hager hits a big slam on the pool table. Hager clears the bar with Hangman. He then puts him through a table for a two count. Omega makes the save, and breaks a glass on Hager's head, and another, and another. So many bottles. Buckshot lariat over the bar. The AEW tag Team champs share a drink of whiskey and milk together.
Back to the field, where Matt Jackson and Sammy Guevara are at it. They trade shots, along with Jericho and Nick. Jericho starts shouting through a bullhorn at Nick, who throws a bunch of footballs at him. Jericho sends him into the mouth of the giant Jaguar, before also taking out the Jacksonville Jaguars mascot. Matt is still suplexing Guevara across the field. The former AEW champ pulls out Floyd and hits Matt for a two count, and Jericho challenges the call. They go to replay, the call stands. Matt makes it the full 100 yards for the suplex TD. He gets a flag for excessive celebration and superkicks the ref. Jericho continues to use Floyd, putting Nick on a table. Matt makes the save, and puts Jericho on the table. From a running start down the stairs, Nick hits a dive through the table from the stands.
Here's a Look at the Finish
Hangman shows up with a line marker and puts a white line down Jericho. Sammy is crawling and stops right on a sprinkler. He thinks he won because he is standing before Hardy and Omega show up in a golf cart. Yet again, they charge at him and give chase. This time he gets away. The Elite chase him into the stands, and they all pursue. As Guevara chokes Hardy, a new version of Vanguard 1 shows up, as Omega hits a One-Winged Angel from the seats to a huge drop below for the pin and the victory. That was insanity. Hard to call it a match, but boy was it fun. The Elite celebrates with a Gatorade bath for Omega, and AEW Double or Nothing ends.