AMC released the third season trailer for Into the Badlands at Wondercon this weekend. The story of survival and dominance in a future post-apocalyptic feudal society continues starting next month. In the new season, Sunny (Daniel Wu) is living off the grid, trying to take care of his infant son since the death of Veil. But when the boy contracts a mysterious illness, Sunny must team up with Bajie (Nick Frost) and return to the Badlands. But The Widow (Emily Beecham) and Baron Chau (Eleanor Matsuura) are locked into an on-going war that is tearing apart the region. The Widow is not longer backed by Waldo (Stephen Lang) or Tilda (Ally Ioannides), forcing her to make new allies with Lydia (Orla Brady) and Nathaniel Moon (Sherman Augustus). And all of this gets turned on its head when a nomadic leader called Pilgrim (Babou Ceesay) arrives to restore Azra and bring about a new era of peace, forcing old enemies to ally against this new threat and save the Badlands.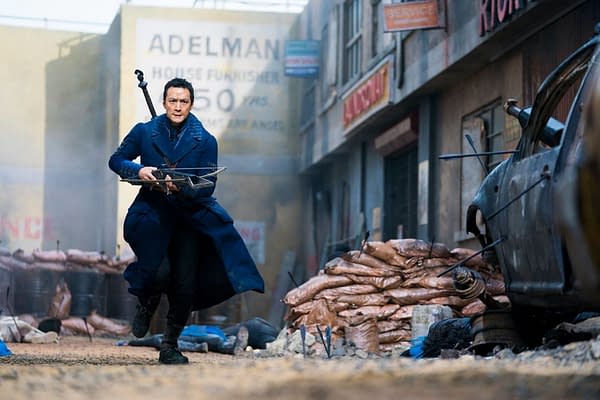 Joining the cast this season are Lorraine Toussaint (Orange Is the New Black) as Cressida, Babou Ceesay (Guerilla) as Pilgrim, Sherman Augustus (Westworld) as Moon; Ella-Rae Smith (Clique) as Nix; Lewis Tan (Iron Fist) as Gaius; and Dean-Charles Chapman (Game of Thrones) as Castor. Returning cast members include Wu, Beecham, Ioannides, Brady, and Aramis Knight.
Into the Badlands season 3 debuts on April 22nd on AMC.
Enjoyed this article? Share it!