Is James Gunn Directing Superman Legacy or Was Tom King Mistaken?
Based on an interview no longer available, Tom King either confirmed James Gunn was directing Superman Legacy or was social media-confused.
---
At the end of January 2023, DC Studios' co-heads James Gunn & Peter Safran unveiled "Chapter 1 – Gods and Monsters," their first wave of films & series comprising their vision of a new DCU. In addition, the duo revealed they had assembled a writers' room to assist them in formulating an 8-10 year plan that included Drew Goddard (The Martian), Jeremy Slater (Moon Knight), Christina Hodson (Birds of Prey), Christal Henry (Watchmen), and Tom King (Batman, Wonder Woman) – with some of those names expected to follow certain projects into development. As far as Gunn was concerned, we learned that he had penned the scripts for the animated Creature Commandos series and was penning the script for the next big-screen adventure for The Man of Steel, Superman Legacy. As for who would be directing? That had yet to be determined at the time that the announcement was made – but there's a very slight but also a very legit possibility that we know who's going to direct. Either that, or King got caught up in all of the social media excitement and let slip an assumption that folks are running as a fact.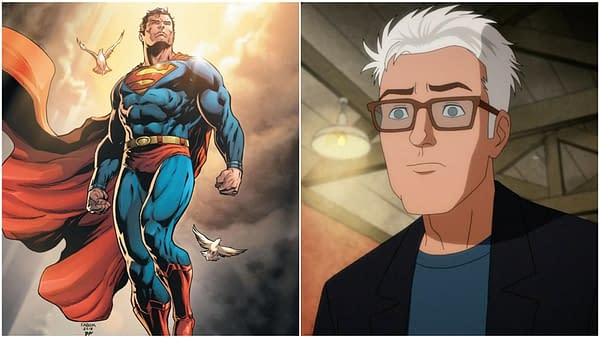 So here's what happened. As King was being interviewed by ComicPop Returns, the topic of King being part of Gunn & Safran's DC Studios writers' room/DCU brain trust came up. At around the 51:00-52:00 mark in the video interview, King mentions that Gunn is both writing and directing Superman: Legacy before continuing on. You see where the eyebrow-archer is there, right? Because up until now, it was confirmed that Gunn was only penning the script. Could Gunn be tackling both efforts to guarantee that the foundational film in the new DCU is a home run? Now, this is where it gets interesting because even though you can grab clips of the moment on social media – the episode itself has gone MIA.
In the interest of common sense & fairness? There are two ways this can be viewed. Either the video was pulled because King said more than he was supposed to and just leaked a big reveal about the film under the assumption that it was a known thing. On the other hand, it could've also been King hearing so many people speaking as if it was a given that Gunn was directing that King assumed he was directing. If our memories serve us correctly, something like that happened last year with Rosario Dawson and the rumor that Jon Bernthal was returning as Frank Castle, aka The Punisher. At the time (wow, things have changed), Dawson had heard it so much that she assumed that it was just a known thing at that point.