"It's Always Sunny in Philadelphia" Season 14 "The Gang Solves Global Warming" And Burns Everyone in the Best Ways Possible [SPOILER REVIEW]
With season 14 currently underway (and off to a strong start – check out our reviews below), FXX's It's Always Sunny in Philadelphia is now tied with ABC's The Adventures of Ozzie and Harriet as the longest-running live-action comedy series.
Now that's a title Mac (Rob McElhenney), Dennis (Glenn Howerton), Charlie (Charlie Day), Dee (Kaitlin Olson), and Frank (Danny DeVito) would be more than happy to hang behind the bar – and one they're expected to hold on their very own very soon.
Safe to say things are pretty good for The Gang from Paddy's Pub – and from the sounds of FX CEO John Landgraf, the network would like things to keep going "pretty good" for two more seasons (at least).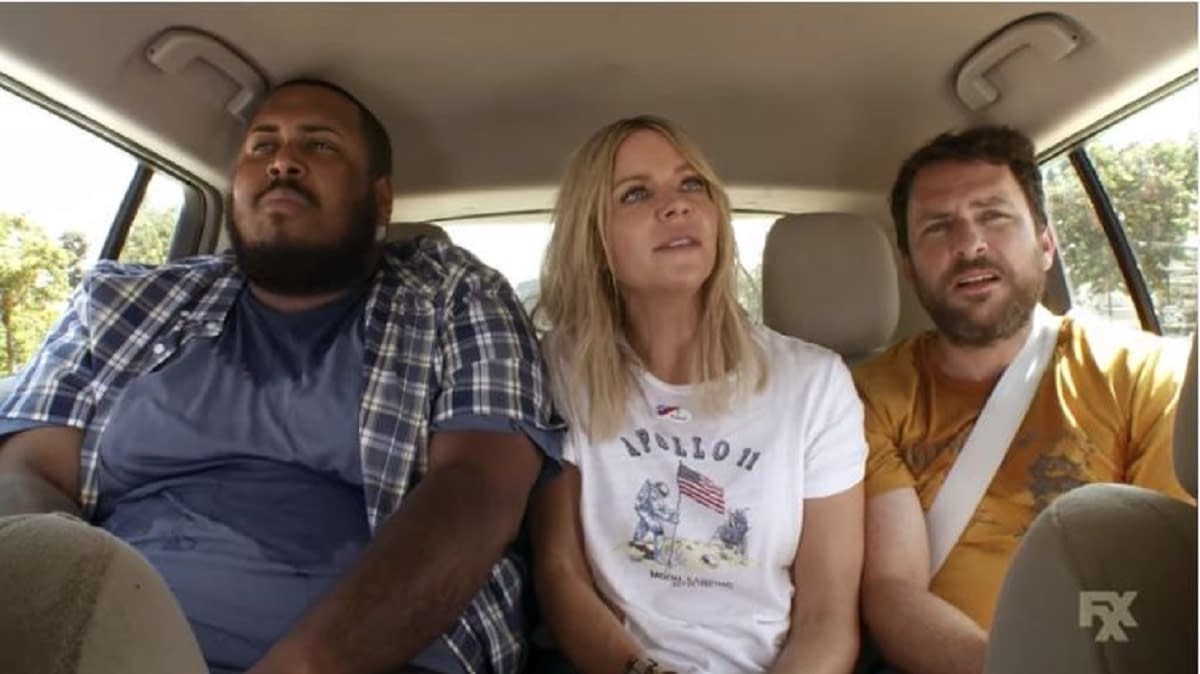 After a failed attempt at finding love (at least for some of them) and a successful (if not "scorched earth"-like) effort to "save" the Thunder Gun franchise, Dennis, Mac, Charlie, and Frank didn't want to waste time getting back to the scheming. Unfortunately for them (but big props to Dee), they ran face-first into the brick wall that was "Dee Day".
From there, The Gang had to deal with "sh*tting the bed" in a righteously bad way, just when Frank needed them most. But all was forgiven as The Gang headed out to the zoo. *cricket sounds*
Moving quickly on from there… the season got back on track as we travelled into Charlie's twistedly bizarre mind as he looks to crack the case of who "diarrhea-poisoned" Frank.
Now we're back to reality-ish, as The Gang looks to profit yet again off the suffering of others – but did we profit from "The Gang Solves Global Warming"? MAJOR SPOILERS ahead…
"It's Always Sunny in Philadelphia" season 14, episode 7 "The Gang Solves Global Warming": As a record-breaking heat wave overtakes Philly, the Gang plans to profit from global warming by pumping up the A/C so people will congregate at Paddy's and save energy at home. Directed by Pete Chatmon, and written by Rob McElhenney and Charlie Day.
After two "experimental" episodes in a row, McElhenney and Day brought the show back to its wonderfully cynical-yet-constructive roots this week. Taking the deceptively effective route of appearing to address a major issues (i.e. global warming), McElhenney and Day are able to convey the show's position (global warming/climate change exists so get over it) while still making sure everyone feels the heat.
With Mac, you have the utter absurdity of the "God argument" – and in his exchange with Dennis, probably the best breakdown of where the religious argument falls apart. God preordains everything, so Mac says there's nothing to worry about – as long as people exervise the right "free will". When Dennis points out that the two can't coexist – that it doesn't make sense – Mac has a quick fix for that: faith. In Mac's world, "faith" is what turns the question marks into holy exclamation points.
With Dee, you have the "social media eco-warrior", more concerned with looking good online – and making others feel bad in the process. Dee is an activist-by-convenience who sees a hashtag or Instagram post as her "going her part" without understanding what "sacrificing for the planet" really means. Once the eco-friendly shoes start to pinch or the guy's breath in the ride-share turns foul or a bus ride ends up being required, it turns to "f*ck the planet, jack up the A/C now!" pretty quickly. Dennis, Frank, and Mac learned that firsthand – and the hard way – once the party got hot and dry back at Paddy's.
Leaving us with Charlie, our piza-box-wearing eco-champion with trash bag armor and the understanding (even if he doesn't realize it) that planet-friendly change on the level needed means leaving your ego (and sense of fashion) at the door. Once again, Charlie serves as both the viewer's perspective and "Devil's Advocate" – though a flawed one.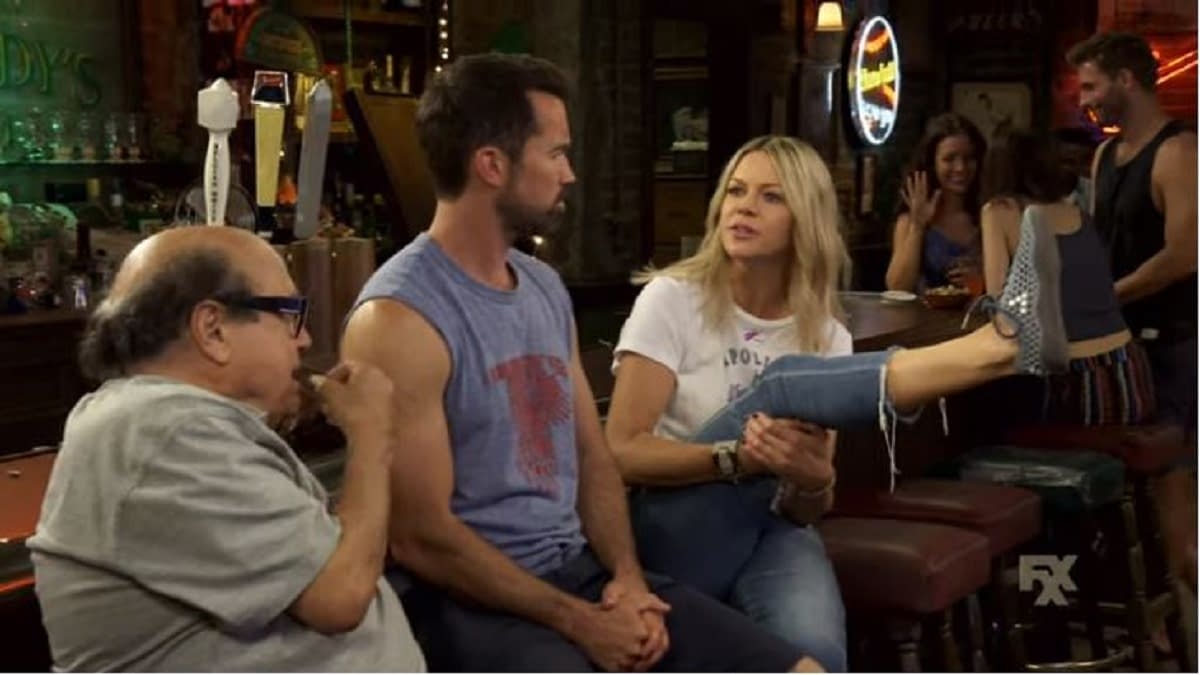 ● Having The Gang dancing to and opening the episode with the late Glenn Frey's "The Heat Is On" was a nice touch, and was a great way to demonstrate the beautiful arrogance and ignorance they were going into another adventure with.
● Charlie measures pollution in "pollutions", proving once again just how much of a pure genius he truly is.
● Two interesting facts from this episode: the fish factory guys go to Mac's church, and Mac worries about them snitching on him to God (???); and Frank knows the exact temperature to "erect nipples" (????).
● I like the way the show's been using the word "fuck": natural, makes sense, nothing feels gratuitous.
● If you ever take Dee and Charlie on a long car or bus ride? Put plastic down on the back seats…
https://youtu.be/n8wThkvUStc
"It's Always Sunny in Philadelphia" season 14, episode 8 "Paddy's Has a Jumper": Trapped inside Paddy's with a suicide jumper on the roof, the Gang wonders if they should bother intervening with an algorithm of their own – Could he, would he, should we? Directed by Kimberly McCullough, and written by Dannah Phirman and Danielle Schneider.