James Gunn: DC Studios Wants Wonder Woman in More DCU Animation
Clarifying an earlier tweet, James Gunn says DC Studios is "working on getting Wonder Woman into more animation" in the new DCU.
---
As we all know by now, DC Studios' James Gunn & Peter Safran rolled out "Chapter 1 – Gods and Monsters," their first wave of films (Superman Legacy, Swamp Thing, The Authority, The Brave and the Bold & Supergirl: Woman of Tomorrow) and series (Waller, Lanterns, Booster Gold, Creature Commandos & Paradise Lost) comprising their vision of a new DCU back in January. A few weeks after that, Gunn was responding to a question on Twitter about Wonder Woman's future status in the new DCU and if WW fans would have "a long time" to wait before she returns to the spotlight. The question came as Wonder Woman fans noticed that there were projects announced that focused on Superman and Batman, but the only Wonder Woman project announced was the prequel series Paradise Lost, set before Diana's time – and was answered in a way that reassured fans that Wonder Woman is definitely not going to be forgotten (more on that below). Now, Gunn has passed along some additional thoughts on Wonder Woman's future that should raise up excitement levels.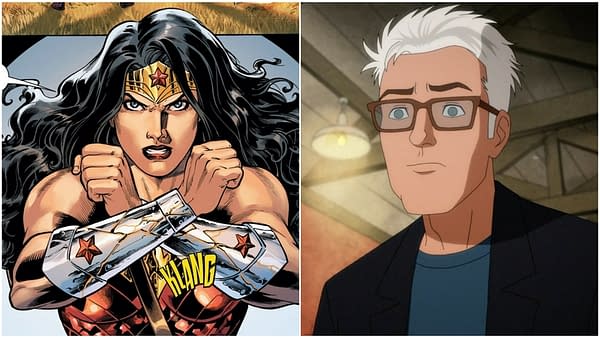 In response to a fan who tweeted, "Diana is a character with such a rich cast with so much untapped potential and stories, it's beyond past time for it to be explored. #WonderWomanAnimatedSeries," Gunn responded, "Agreed. Working on it." Now, some took that to mean that Gunn was informally announcing that a Wonder Woman animated series was on the way. Later, when another fan tweeted, "I don't think they're working on an animated show. They're working on expanding the mythos (Paradise Lost, etc.)," in an attempt to clarify Gunn's previous tweet. That when Gunn offered his own clarification, adding that they're "working on getting Wonder Woman into more animation." Gunn agreed that there hasn't been enough Wonder Woman in the field of animation, adding that the very issue "was one of the first things I brought up to the animation folks."
As you can see from the screencap below from February 19th, Gunn once again kept his response short, sweet & to-the-point when it came to reassuring fans out there that Wonder Woman hasn't been forgotten: