And the other shoe drops. Earlier when I reported that Jesse Rath was being promoted to series regular as Brainiac 5 on Supergirl, I'd mentioned a rumor that Jeremy Jordan would be leaving the show — which would explain them bringing Brainiac in to take over the role Winn Schott does at the DEO. Well, Jordan is not leaving the series, but he is moving down to being a recurring character.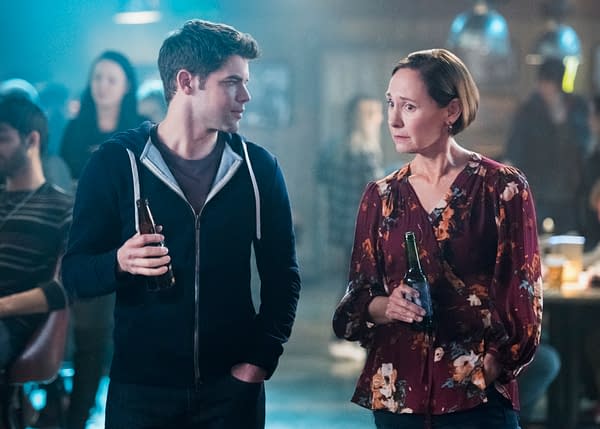 Executive producers Robert Rovner and Jessica Queller told TVline:
We love Jeremy, and even though he's [not going to be around full-time], we're not saying goodbye to Winn at all. We're already breaking big stories for him right now for the fall, and I think the fans will be excited to see what he has coming up.
Jordan has been a regular on the series since its debut on CBS back in 2015 and was originally intended to be part of a love triangle with Kara (Melissa Benoist) and James (Mehcad Brooks), but that story faded with the move to The CW, and even his alien girlfriend of season 2 seems to have vanished. His family has played apart in the series as well with his father being the DC villain Toyman (Henry Czenry) and just recently meeting his estranged mother (Laurie Metcalf) this season.
They're not saying what is going to be happening with Winn, but it's supposed to be revealed in the season finale. The producers are saying that his next steps will be true to his character and "fulfilling his potential". Winn to the future, anybody?
Enjoyed this article? Share it!