Jessica Parker Kennedy Promoted to Series Regular for The Flash Season 5
One of the big questions coming out of the season finale of The Flash season 4 was: just how big of a role would the mystery girl play in season 5? Revealed to be Nora West-Allen (Jessica Parker Kennedy) at the very end of the episode, the character introduces herself and tells everyone that she has made a big mistake.
The question was if it was going to be a mistake like Flashpoint, where Barry Allen (Grant Gustin) changed the past and then set it straight in one episode yet felt the ramifications all season, or would it be something that kept the new speedster around for a while? Today The CW announced that Kennedy has been promoted to series regular for season 5… so she'll be around.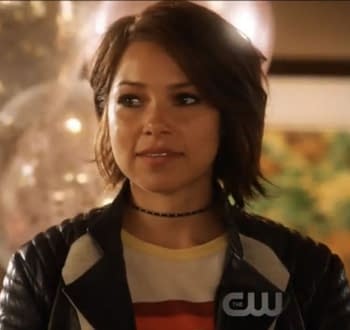 The character made her first appearance in the 'Crisis on Earth-X' crossover episode of Supergirl, approaching Barry just before his wedding to Iris West (Candice Patton). She then returned a handful of times, appearing at Jitters once to meet Cisco Ramon (Carlos Valdes) and Ralph Dibny (Hartley Sawyer) and another time to meet Caitlin Snow (Danielle Panabaker) and Harrison Wells (Tom Cavanagh). She showed up once more at the baby shower for Joe West (Jesse L. Martin) and Cecile Horton (Danielle Nicolet) but sped off before Iris could see her. At the end of the finale, she appeared to reset time and join the Flash in destroying a satellite that was plummeting towards Central City. It was after that she arrived at Joe's house and revealed her true identity and saw Iris for the first time.
Kennedy had previously been on Black Sails, The Secret Circle, and Colony.
Kennedy's promotion comes after having learned that both Sawyer and Nicolet were being promoted to series regulars as well. We also previously learned that Keiynan Lonsdale would not be back as a series regular to The Flash or DC's Legends of Tomorrow. It's not often you see a series add three regulars without losing a couple, and Lonsdale was already moved over to Legends… so perhaps there is still more news to come.
The Flash returns this fall on Tuesdays at 8 p.m. ET on The CW.