Joe Pera Talks Us Through the Tough Times with Relaxing Old Footage
"Hello, my name is Joe Pera, and don't worry: no one turned me into a cardinalfish. I just gave myself a bad haircut and prefer you watch this aquarium footage I had saved instead." If you don't know who Joe Pera is, it's alright, but just know that you're missing out. But we're here to fix that and calm any anxious thoughts and feelings, and not through ASMR. Pera is a comedian best known for his calm, nerdy persona and Adult Swim series Joe Pera Talks with You. His style is wholesome, relaxing, and…intended to put you to sleep? In an interview with Deadline, Pera discusses his influences, subdued comedy style, and his Emmy-hopeful pandemic series, Relaxing Old Footage with Joe Pera.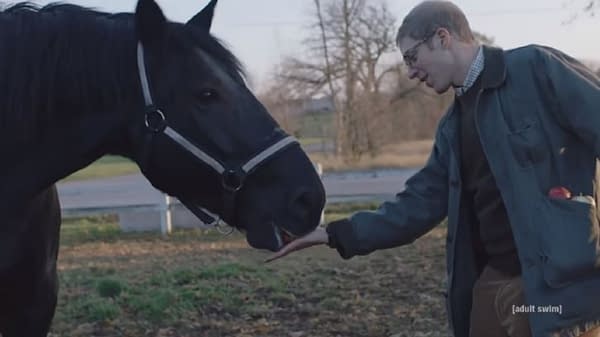 His idea behind it was to take unused footage from his Adult Swim show and put new narration over it, as a way to combat the growing worldwide anxiety over coronavirus. Pera aimed not to just make fluff or something that delivers a false expectation of hope, but something that meets viewers where they're at and helps them calm down and focus on the positives of life. The sincere and unique style of comedy is calming and wholesome, "calm-edy" would be a good name to give it.
Pera's holistic approach to comedy is apparent from his first show for Adult Swim; he pitched an extension of his stand-up routine, then feeling as though he didn't communicate his vision very well in the pitch meeting, sent them a proof of concept animation clip, which they green-lit for the 4 am slot and the rest is history. After the animated series, he created a live-action Christmas special centering around him selecting the perfect Christmas tree, which then grew into a natural extension of the world of Pera in the form of a live-action show, centering on the fictional life of Michigan music teacher Pera.
His new 22-minute special is available on Adult Swim's YouTube page in full and it is incredibly relaxing. It combines narration with b-roll of stock-footage type clips of soothing nature, animals, and soothing images, like pottery being made and coffee brewing. Enjoy your wholesome, relaxing slice of Pera as he narrates you through footage of trees and also not trees.