Jordynne Grace & Deonna Purrazzo Go to War: Impact Slammiversary
Impact Wrestling's Slammiversary PPV continues and so does Bleeding Cool's live ongoing coverage. This PPV has been eventful so far. The Motor City Machine Guns returned to take on The Rascalz in an open challenge. Moose had a hardcore match with Tommy Dreamer. A new #1 contender was decided in a Knockouts Gauntlet Match. Heath Slater invaded Impact. Chris Bey and Willie Mack put on what has been, so far, the match of the night. Heath Slater got kicked out of the building. Ken Shamrock and Sami Callahan took on The North in a decent match that devolved into chaos. And The Motor City Machine Guns showed up again to challenge the winners to a match. Next up is the Knockouts Championship match, which I think is the penultimate match of the night.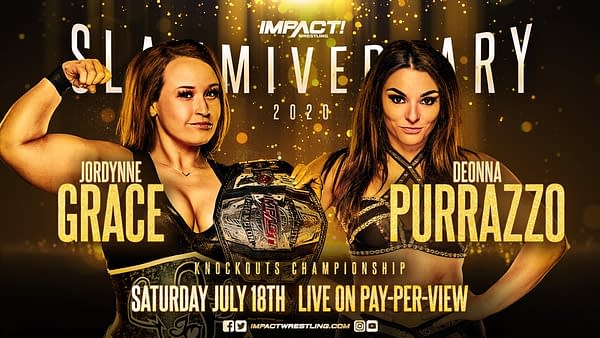 Impact has really been building up this match between Jordynne Grace and Deonna Purrazzo. More particularly, they've really been building up Deonna Purrazzo. I'm not sure if that means she's winning tonight, but if so, that kinda sucks for Grace who has barely had a run with this belt. There's a feeling-out period at the start of the match, and the feeling is that Purrazzo is no match for Grace in a battle of strength. Purrazzo's skills are more technical, and as soon as she gets a chance to take control, she starts going after Grace's arm.
This prompts Don Callis to go into a treatise on the history of technical wrestling. Purrazzo is working the arm hard, building up to her Fujiwara armbar. When she does get it the first time, Grace reverses to try for her finisher, but Purazzo reverses right back to a cross arm breaker. Grace makes it to the ropes but Purrazzo goes right back to the arm. Josh Matthews and Callis are playing up the greatness of Purazzo's technical wrestling, but the real skill on display here is Jordynne Grace's selling.
Grace gets a comeback and hits a few moves but keeps selling that arm hardcore. Grace gets Purrazzo in a sleeper and locks her legs around her. Purrazzo flips it into a pin attempt and Grace is frustrated. Grace wraps Purrazzo in a bow and arrow around the ring post. She's still selling the arm when climbing back in the ring. She manages to hit a Grace Driver but even though she hits it, she still sells the arm hurting. The move doesn't have as much power as a result and Purrazzo kicks out.
Grace goes for a powerbomb but Purrazzo gets another arm submission. Grace hits a spinebuster and both women are down. They get back to their feet and Grace is still in charge. She hits a series of slams. Purrazzo hits a German Suplex. Grace hits a German Suplex. Purrazzo goes after the arm again. She hits the Pendulum on Grace.
Grace slams Purrazzo's face into the turnbuckle and smashes into her a few times. She hits a Vader bomb, but it only gets a two-count. Grace elbows Purrazzo in the head about a dozen times. They exchange pins and Grace goes for a powerbomb, but Purazzo reverses into what looks like The Rings of Saturn. Grace taps out.
After the match, Josh Mathews and Don Callis sell preorders of the Slammiversary DVD and announced Bound for Glory on October 24th. I think Grace vs. Purrazzo may have overtaken Bey vs. Mack as the match of the night. This match crossed into epic territory. Both women went to war out here tonight and this could have been the main event match in any promotion. Can the fatal four-way that's the actual Slammiversary main event compete? I think we get to find out next.