Katheryn Winnick, actress behind our warrior queen Lagertha from HISTORY's Vikings, has some thoughts about the 6th (and reportedly final) season of the series, including the end for her character.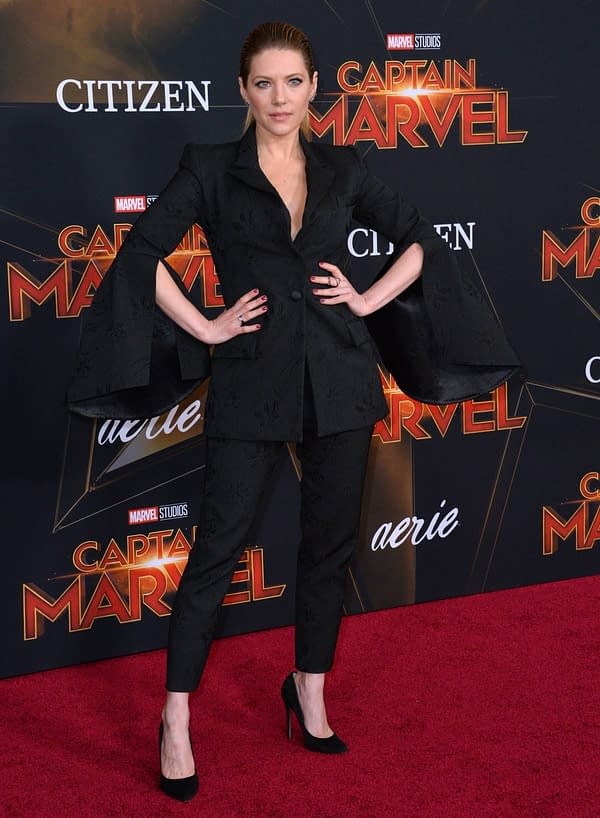 While talk of the series makes >this< reporter strangely emotional, we are indeed comforted by the notion that series creator and sole writer Michael Hirst hasn't really steered the longship awry yet. Sure, there were some heartbreaking losses along the way, but the story has continued strong. Winnick recently spoke with Entertainment Tonight about the looming end of the series, her confidence in Hirst's words and plans, and the need for strong female role models. Part way through the series, Lagertha's life changes drastically when her husband Ragnar (Travis Fimmel) comes home with a knocked-up princess, and is given the choice to stay and be a happy family, or to go off on her own. She choses the latter, and marries an Earl who ends up being incredibly abusive towards her. She deals with him on her own terms, of course, as she does with all the persons who wrong her during the series.
Of the abuse storyline, Winnick said:
"I actually remember having that conversation with Michael. Like, 'Michael, you can't make me a battered housewife like this. It's just not what I stand for. She's a shieldmaiden! She's done everything!' He explained to me why he was going to do it, and it actually, I think, a lot of people resonated with her.

I think a lot of girls and women around the world can relate to being in a situation where their voices are not as strong. But hopefully they will have the courage and the confidence to be able to get out of the situation, and become even stronger, just as Lagertha did.

A lot of relationships of domestic abuse, especially now with the #MeToo movement, you see a lot of it coming forward. These women are strong. They're just put in a situation where it's unfortunately based on power, and that's usually what any kind of sexual or physical abuse is. It's really a domination of power, and for [Lagertha], she always does come out stronger at the end."
She'll also be directing an episode in season 6, the only member of the cast to do so. Winnick called it "one of the most challenging yet most rewarding experiences of my life."
"For me, it was important to creatively test my skills outside of being in front of the camera… I've always had a desire to try to get behind the camera, and now we need more women filmmakers. I couldn't be more proud of my episode… it took a lot of time to earn the confidence from the powers at be to let me behind the camera, [but] I know I was the only cast member that has had that chance, and I'm grateful for that."
As to the ending of the series? Winnick recalled a conversation she had with Hirst back during the beginning of the pilot of Vikings in 2012:
"I did ask Michael one thing at the beginning of the pilot. I said, 'Michael, write me a character that will challenge me. Throw me everything. I will promise you, I will prove to myself that I will be able to fulfill your wish, and I will make something special out of Lagertha,'".

He wrote me, just recently, an email, and remembered that conversation, and it brought tears to my eyes. I'm just so blessed that I've had that opportunity to have a character that people worldwide recognize and look up to, especially right now, with everything that's happening with the #MeToo movement and Time's Up."
Thank you for giving us Lagertha, Katheryn and Michael, she's one in a million and we love her.
Vikings season 6 s set to premiere on History sometime later in 2019.
Enjoyed this article? Share it!