Kevin Maguire Has Drawn the Arrowverse Characters
Back in March of 2017 I had a silly thought and tweeted to Arrow and Legends of Tomorrow executive producer Marc Guggenheim that they should get a group shot of the Arrowverse characters done like Kevin Maguire's classic cover for Justice League #1. Guggenheim replied that we'd have to ask Maguire and that he'd commission it. Maguire replied it was doable and I wrote it up as an article here. Nine months later, Maguire posted the below image as "another commission I finished this week."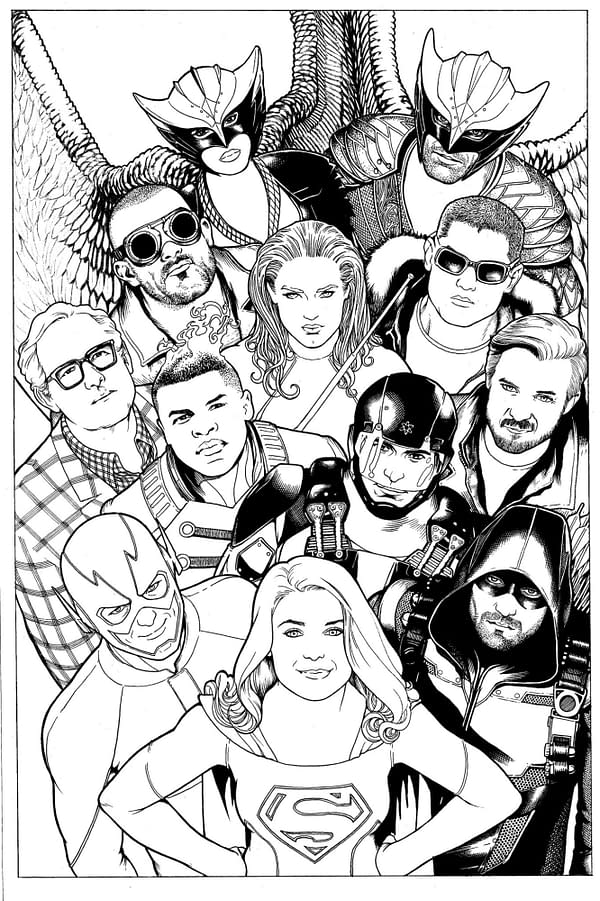 I'm not sure if this is the one he did for Guggenheim or if someone else commissioned a version. This group shot is done from what looks to be going into the first season of Supergirl and Legends of Tomorrow as the image includes the Hawks in the background. You have Supergirl (Melissa Benoist), Flash (Grant Gustin), Green Arrow (Stephen Amell), Atom (Brandon Routh), Firestorm (Franz Drameh), Professor Stein (Victor Garber), Rip Hunter (Arthur Darvill), White Canary (Caity Lotz), Captain Cold (Wentworth Miller), Heatwave (Dominic Purcell), Hawkgirl (Ciara Renee) and Hawkman (Falk Hentschel).
I'll admit that when I first tweeted to Guggenheim, I had a photo of the actors in that pose in mind. But the above is so much more awesome than that.