Is Krypton Setting Up a Major Change in Superman History?
There was a minor moment in last night's episode of Krypton that many may have glossed over as insignificant, and it very well could be… or it might be the set up for a major change in Superman lore. Either way, spoilers ahead…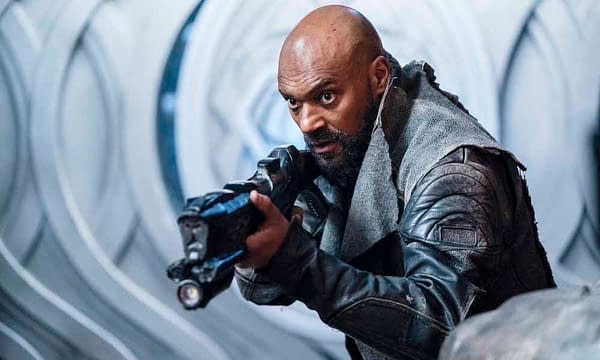 During last night's episode there is a moment when Jayna-Zod (Ann Ogbama) meets her grandson Dru-Zod (Colin Salmon) from the future (where we know him as the Superman villain General Zod). She asks him the question that I'm surprised Lyta (Georgina Campbell) didn't ask. Who was his father? Dru asks Lyta if she really wants to know before telling them that he never met his father and just knows he was a soldier that died in the battle for Kandor.
Dru could be lying to keep the timeline intact, but that seems odd since he's come back to stop Kandor City from being taken by Brainiac (Blake Ritson), so he doesn't seem that concerned about preserving the timeline. It makes more sense if it's true and that he never knew his father and that is what Lyta told him.
That's where it gets interesting. There were two men in Lyta's life when the series started — Seg (Cameron Cuffe), with whom she was in a secret relationship, and Dev (Aaron Pierre), who was her betrothed but died in this episode. And with Brainiac revealing himself, it seems like the battle for Kandor may be happening very soon. And from what we've seen of Lyta it doesn't seem like the type to sleep around or get involved with someone quickly — which means it is possible that Dru-Zod's father is going to be Seg-El. That would make Dru's best friend Jor-El his half-brother and making Kal-El his half-nephew.
It may be that they're going to drag out the battle with Brainiac for some time and the battle for Kandor will take place later. It's also possible that Dru's traveling back in time has affected the timeline in a way that his father was supposed to be Dev, but now that is changed. But if that was the case, wouldn't he have disappeared after Dev died? This is why time travel series are tricky.
And even if they do go down the path of Seg being the father, there's nothing that says it will filter into the comics — but it is an interesting twist on the history of Superman.