Krypton Season 1: Why the Best Episode was 'Transformation'
Today we're going to take a look at the single best episode of the season in each of the superhero-related shows I cover for Bleeding Cool. These are, of course, based on my opinion, and you are welcome to disagree in the comments below. What I look for in an episode is how it moves the characters, plot, and/or universe forward, as well as how memorable the episode is and how I felt about the series after having watched it.
Checking over the smallest of the series I cover, the 10-episode first season of Krypton had a lot of twists and turns, but at the top of the list is the episode called 'Transformation'.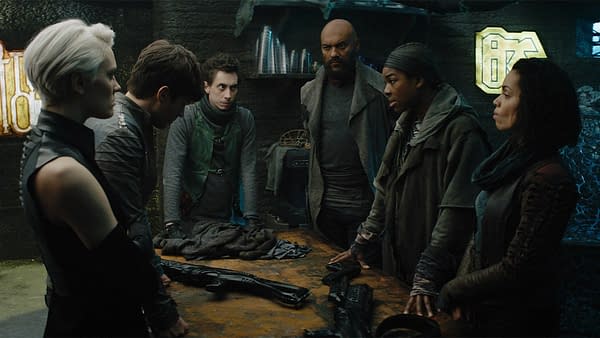 If you've been following my coverage of Krypton this season, you might have guessed the episode I was going to choose would've been 'House of Zod'. It was a close one, but 'Transformation' had so much more weight to it than any of the other episodes.
The coup has failed, Daron-Vex (Elliot Cowan) has sold out his conspirators including his daughter, Nyssa (Wallis Day), and what might be a growing rebellion is pulled in multiple directions. Seg-El (Cameron Cuffe) wants to help Nyssa while Lyta-Zod (Georgina Campbell) wants to find her mother, Jayna (Ann Ogbomo). Meanwhile Dru-Zod (Colin Salmon) is wounded and Kem (Rasmus Hardiker) is getting him a medic and Adam Strange (Shaun Sipos) ask the AI of Val-El (Ian McElhinney) to fix the Zeta Beam projector so he can go home. All the while the Voice of Rao (Blake Ritson) is transforming more and more into Brainiac.
This is where all allegiances are shuffled up. Nyssa is hurt to discover that her father would kill her to save himself and then stunned that Seg would risk his own life to help her. We find out what happened to Dev-Em (Aaron Pierre), and it's not good. And Val basically gives Adam a pep talk about him being a hero, which leads him to realize that if he is going to save Superman, he has to make sure Brainiac takes Kandor City. This leads him to go meet with Daron and eventually end up in the right place to save Seg.
But what might be the most important moment is when Seg comes up with a plan to attack the Voice of Rao when he is in public, forcing him to use his powers and reveal his true nature to all of Kandor. But before they can attack, one of his attendees calls out that he is no longer the Voice of Rao, and he tells the crowd that it is true, the he has ascended to godhood and will grant them all immortality… and he does this while standing in a blazing pyre to show off his powers. The people of Kandor believe him, and the chance Seg had to turn the people against the Voice of Rao is gone.
I was pleasantly surprised by how much was put into this series, how many twists they had, and how much they left open to carry on into a second season instead of trying to fit all the answers in just 10 episodes.