Legends of Tomorrow Star Dominic Purcell Sets the Record Straight
Following up on a whole lot of self-inflicted confusion over his status with the series and the studio that produces it (check out here for a recap), DC's Legends of Tomorrow star Dominic Purcell took to Instagram for what feels like the final time (at least for today) to set the record straight on what's real, what's not real, and how he's feeling about it all. So just to be clear? Purcell is leaving LoT on a full-time basis but has a "handshake deal" with Phil Klemmer to return to the series "periodically"- reaffirming that fans "will see me again next year on season 7." As for his previous posts, Purcell wanted everyone to know that a lot of that was emotion and venting and that he has "tremendous relationship" with his bosses and Warner Bros. TV. What follows is the text of his full caption, where he also addresses the strain of being "locked up in Vancouver for 9 months without going home" and other issues.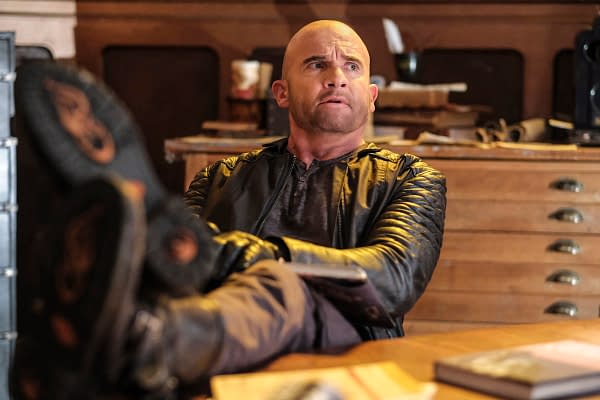 "AND NO BODY HAS FORCED ME TO MAKE THIS STATEMENT," Purcell began with the caption to his latest Instagram post. "God would everyone chill the fuck out. Why are people losing their mind because I'm leaving the show. Yes my tone was heavy straight to the point. I use cus words cause I do and I'm Australian🤣It's who I am. Do I have a beef with the studio at @warnerbrostv no. Yes I said they don't care. That's not correct of course they do— just me being emotional and over stuff. We work we all work in a big machine. Sometimes shit happens. It's life. …….. here are the facts. I am leaving @cw_legendsoftomorrow on a full time basis. I will come back periodically with a handshake deal with my boss Phil Klemmer. I have and always have had a tremendous relationship with the Bosses and the studio @warnerbrostv Peter Roth and I had a tremendous working relationship I was super sad when he retired."
Purcell continued, "My wording was aggressive in tone because sometimes I get frustrated and annoyed it's been a long long heavy year locked up in #Vancouver for 9 months without going home. Who doesn't and who hasn't lashed out. Im fuckin human. So for god sake chill on. "Dominic Purcell and the studio are beefing" total bullshit. It's simply not true. I haven't quit. My contract is up. 6 years not 7. I've never quit on a contract and never would. So to all the fans you will see me again next year on season 7 periodically. I hope this has clarified stuff. I must admit I was freaked the fuck out on how much press I got or this got. But hey @cw_legendsoftomorrow hasn't ever got as much press ever stoked!! cheers 🤣🤣🤣Apologizes for the ridiculous photo. It's Mick trying to smile."
View this post on Instagram
Here's your first official look at DC's Legends of Tomorrow, set to tackle time and space starting Sunday, May 2 (alongside Batwoman):
Here's an updated look at the episode line-up so far for the sixth season of DC's Legends of Tomorrow:
S06E01 "Ground Control to Sara Lance" (Directed by Kevin Mock; Written by James Eagan & Mark Bruner)
S06E02 "Meat: The Legends" (Directed by Rachel Talalay; Written by Matthew Maala & Morgan Faust)
S06E03 "The Ex-Factor" (Directed by David Geddes; Written by Grainne Godfree & Tyron Carter)
S06E04 "Bay of Squids" (Directed by Sudz Sutherland; Written by Phil Klemmer)
S06E05 "The Satanist's Apprentice" (Directed by Caity Lotz; Written Keto Shimizu and Ray Utarnachitt)
S06E06 "Bishop's Gambit" (Directed by Kevin Mock; Written by James Eagan & Emily Cheever)
S06E07 "Back to the Finale Part II" (Directed by Glen Winter; Written by Morgan Faust & Mark Bruner)
S06E08 "Stressed Western" (Directed by David Ramsey; Written by Matthew Maala)
S06E09 "This is Gus" (Directed by Eric Dean Seaton; Written by Tyron B. Carter)
S06E10 "Bad Blood" (Directed by Alexandra La Roche; Written by Grainee Godfree)
S06E11 "The Final Frame" (Directed by Jes Macallan; Written by James Eagan and Ray Utarnachitt)
S06E12 "Bored On Board Onboard" (Directed by Harry Jierjian; Written by Keto Shimizu & Leah Poulliot)
S06E13 "Silence of the Sonograms" (Directed by Nico Sachse; Written by Phil Klemmer & Morgan Faust)
S06E14 "There Will Be Brood" (Directed by Maisie Richardson-Sellers; Written by Ray Utarnachitt & Marcelena Campos Mayhorn)
DC's Legends of Tomorrow stars Caity Lotz as Sara Lance aka White Canary, Dominic Purcell as Mick Rory aka Heat Wave, Nick Zano as Dr. Nate Heywood aka Steel, Maisie Richardson-Sellers as Charlie, Tala Ashe as Zari Adrianna Tomaz, Matt Ryan as Constantine, Jes Macallan as Ava Sharpe, Courtney Ford as Nora Darhk, Olivia Swann as Astra Logue, Adam Tsekhman as Gary Green, Amy Louise Pemberton as Gideon, and Lisseth Chavez as Esperanza "Spooner" Cruz. Greg Berlanti, Phil Klemmer, Keto Shimizu, Grainne Godfree, and Sarah Schechter executive produce. Bonanza Productions Inc. produces, in association with Berlanti Productions and Warner Bros. Television.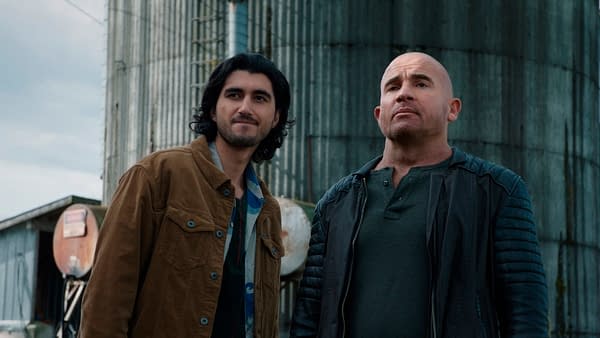 Lisseth Chavez (Chicago P.D., The OA) joins the long-running series in the series regular role of Esperanza "Spooner" Cruz. Tough and self-sufficient, Cruz is a tech whiz when it comes to detecting space aliens and providing defenses from them. Having survived a childhood encounter with an alien, Cruz now believes she can communicate telepathically with aliens. Aliyah O'Brien (Take Two, You Me Her) has been tapped for the recurring role of fearsome warrior Kayla. Known for her high body count and low patience for human incompetence, Kayla will be put through her paces working with and against our Legends as she's certainly not used to messing anything up much less for the better.