Legends of Tomorrow Season 3: Why Gideon is Taking Physical Form Again
We saw the trailer for next week's DC's Legends of Tomorrow, but one thing didn't show up… or rather one person. Next week's episode if the seasons bottle episode where they do everything on existing sets to save money. In a previous bottle episode, they introduced a physical form for the Waverider's AI, Gideon. This brought actress Amy Louise Pemberton who does the voice, on to the ship itself. In the episode Here I Go Again, the team is trapped in a time loop with only Zari (Tala Ashe) remembering what has happened each time. And in the photos released for the episode, we see Pemberton reprising her role as the physical form of Gideon.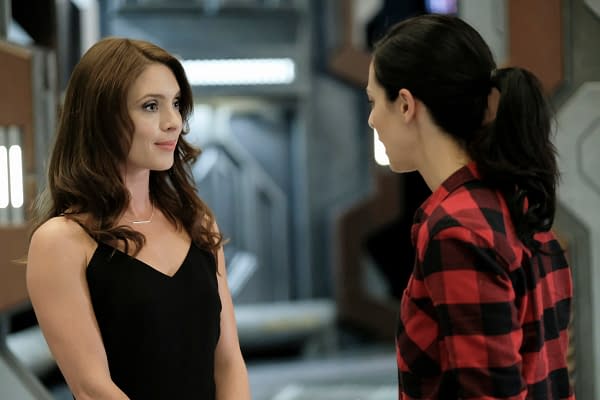 Now the question is, why? Pemberton told TVLine:
[It] is very much about Zari and her learning her place within the team, and Gideon's basically manifested herself to help her figure out where she fits in the team.
So it's all about Zari, but how does she take to meeting the physical embodiment of Gideon? Ashe told TVLine:
Given the context of [it], I think she will initially be quite pissed off…. The way that Gideon enters Zari's world is perplexing and makes her pretty mad at first!
Zari seems to be angry a lot.