Legends of Tomorrow Season 3: Is Jonah Hex Coming Back This Season?
Even though DC's Legends of Tomorrow has officially wrapped, we're still just now finding out about some casting like with John Noble appearing as himself in an upcoming episode. There may be another announcement coming soon, or at least we can hope. As an image posted to the CW_LegendsofTomorrow Instagram account might hint at the return of an 'unofficial' Legend for his third appearance: Jonah Hex.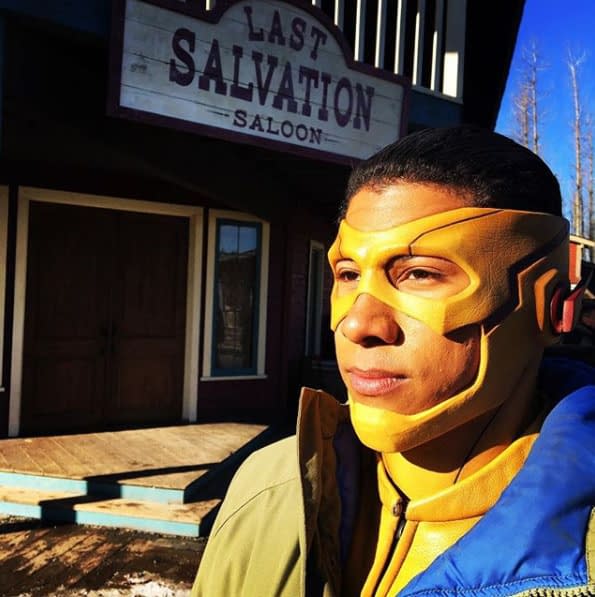 A behind-the-scenes image of Keiynan Lonsdale in the Kid Flash costume standing in front of an old west building was posted today. On the building is a sign that says "Last Salvation Saloon". Salvation is the name of the old west town that the team have visited twice before, both times meeting up with Jonah Hex (Johnathon Schaech). In season one it was the episode called The Magnificent Eight and season two it was in Outlaw Country. Hex has an established relationship with Rip Hunter (Arthur Darvill), who in the future names his son Jonas after Jonah.
Traveling to Salvation could be considered something the series did on an annual basis, and since he hasn't appeared yet, it would make sense for him to pop up again. Even though the series just wrapped, there's no way to tell if this image is from the season finale or an earlier episode. You can't really got to Salvation without coming across Jonah Hex.
This seems to be part of a Instagram takeover by actress Tala Ashe who plays Zari Tomaz.
DC's Legends of Tomorrow airs tonight at 8 p.m. ET on the CW.