Legends of Tomorrow Season 3: Why the Best Episode was 'Daddy Darhkest'
Today we're going to take a look at the single best episode of the season in each of the superhero-related shows I cover for Bleeding Cool. These are, of course, based on my opinion, and you are welcome to disagree in the comments below. What I look for in an episode is how it moves the characters, plot, and/or universe forward, as well as how memorable the episode is and how I felt about the series after having watched it. In the case of the Arrowverse shows, I'm skipping the Crisis on Earth-X crossover.
Moving on to DC's Legends of Tomorrow and why 'Daddy Darhkest' was the best episode of the season.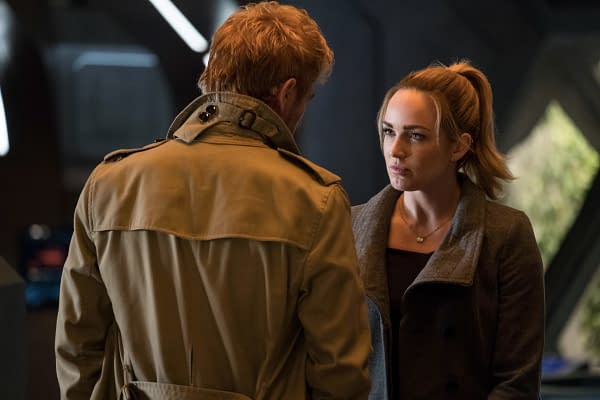 In truth, there were multiple episodes that stood out to me for different reasons. 'Welcome to the Jungle' for how it furthered Mick Rory's story, 'Phone Home' for the focus on Ray Palmer, 'No Country for Old Dads' because of how much we get of Damien Darhk, or even 'Here I Go Again' just for making Zari Tomaz likable and part of the team. But I settled on 'Daddy Darhkest' because it brought John Constantine (Matt Ryan) into the series, it gave us our first listen to the voice of Mallus (John Noble), it gave the team a connection to Nora Darhk (Courtney Ford / Madeleine Arthur), and it created a dynamic between Constantine, Sara (Caity Lotz) and Ava (Jes Macallan) that would pay off multiple times later in the series.
A lot of the episodes tended to sideline different characters for one reason or another, but this one was good at keeping everyone busy. It was written by Keto Shimizu and Matthew Maala and directed by Dermott Downs. This features a team that is still reeling from the death of Martin Stein (Victor Garber) and the departure of Jefferson Jackson (Franz Drameh). This is their first action since Jax left. They have the Earth-X version of Leonard Snart (Wentworth Miller) with them, and they go with Constantine to help a young Nora. Nate (Nick Zano) and Amaya (Maisie Sellers-Richardson) have to deal with Kuasa (Tracy Ifeachor), while Sara, Leo and Constantine are thrown into the past and Ray (Brandon Routh) and Zari (Tala Ashe) have to deal with modern-day Nora and Damien Darhk (Neal McDonough).
The episode includes that "moment" between Constantine and Sara, and we find out that the totems can hurt Mallus, which is a huge part of the rest of the season. Also, it symbolized a changing of the guard, taking the show from a more scientific series to something where magic and the supernatural exist. This happens with the removal of a science based character like Firestorm and the inclusion of a magic user. This episode had to work for the rest of the season to work… and it did.