FOX series So You Think You Can Dance is back for it's 15th season. The competition show starts with a series of auditions across the country where dancers are chosen to be sent forward to a semi finals at The Academy before making the actual top 20 performers.
Continually one of the most enjoyable reality shows (FIGHT ME), contestants often will go on to be featured prominently in national tours (like Lady Gaga) and films like The Greatest Showman.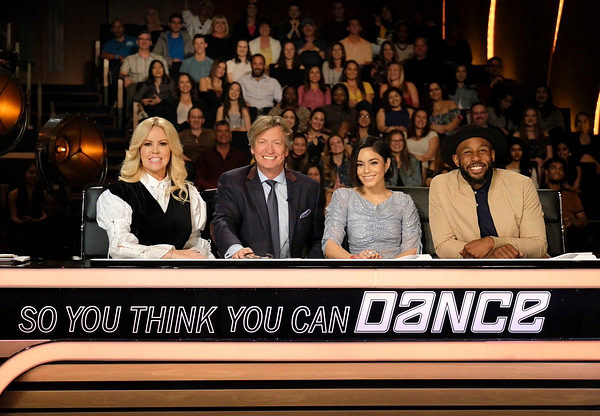 Judges for this part of season 15 are former So You Think You Can Dance contestant Twitch, actress/singer Vanessa Hudgens, ballroom champion and Hot Tamale Train conductor Mary Murphy, and series creator Nigel Lithgow. Longtime series host Cat Deeley is back as well.
If you want to know what happened and who we saw last week, you can catch up here.
This week sees the whittling down of the final 20 into a final 10:
(A reminder that the top 20 included (for the guys) Jay Jay Dixonbey, Cole Mills, Justin Pham, Slavik Pustovoytov, Peyton Albrecht, Dustin Payne, Evan DeBenedetto, Darius Hickman, Kyle Bennett, Jr., and Allen Genkin. For the girls; Genessy Castillo, Magda Fialek, Jensen Arnold, Stephanie Sosa, Dayna Madison, Sydney Moss, Brianna Penrose, Chelsea Hough, Emily Carr, and Hannahlei Cabanilla.)
The episode begins with Cat reminding the audience that they're gonna be cutting half the 20 finalists, so only 5 guys and 6 girls will continue on.
Each of the 10 female contestants will be pairing up with a past-season all star (Brandon, Jonathan, Fik-Shun, Lex, Paul and Robert)
First up is Hannahlei (contemporary), she's pairing up with Jonathan, doing a salsa routine
She's a little unsure in her performance, but she warms up to it and completes the tricks extremely well, extremely well!
Nigel calls the performance hot, spicy, and fearless.
Magda (ballroom) is doing contemporary with Robert, a piece by Mandy Moore
Her emotion and movements are coming across so so well in this routine, great feet too.
She made Vanessa cry, and Nigel got super sniffy too.
Dayna (jazz) is paired with Paul, and they're doing cha cha
Oh no, she's very heavy on her feet, and is losing some of the movement. She's not giving up though, I'll give her that.
Mary points out that she missed some holds, but that she looked like she was having fun.
Genessy (contemporary) is doing hiphop with Fik-Shun choreographed by Christopher Scott!
She's getting down with it pretty well, matched with Fik-Shun is hard to stand out and/or hold your own, but she's doing good
Nigel gets into it too, and is dancing at the table during the routine.
Brianna (tap/ballet) is doing doing a contemporary piece with Brandon, and I'm so so hoping she doesn't suck
Gosh it was going so well, and then a missed hold almost ended in disaster. She's letting it get to her though.
Vanessa says there were stunning moments, but there were missed tricks
Chelsea is doing a salsa with Jonathan
Started so strong, almost like she was rushing through the routine though
Mary compliments her style, Nigel says her hips didn't lie
Stephanie (ballroom) is doing contemporary with Lex (season 14's winner)
She's almost holding back here. Maybe the issue is the music, almost too slow.
Sydney (contemporary) is doing a cha cha with Paul, choreographed by Dimitri!
Her contemporary is really showing, too much liquid not enough force in some of the movements
Emily (contemporary) is doing hiphop with Fik-Shun
She's having so much fun doing this routine, it's really showing, she's turned her brain off to perform
Jensen (ballroom) is doing a jazz routine with Brandon
Ok so with routine, I finally like Jensen. I hadn't liked her all during auditions, but I'm sold on her ability here. Her hips, her follow through, such strong movement.
It's time for the cut, and the top 10 ladies are brought on stage.
Brianna gets cut, Sydney gets cut, Hannahlei makes it, Jensen makes it, Emily gets cut, Madga makes it, Genessy makes it, Stephanie gets cut,Chelsey makes it, and Dayna gets cut.
Which means the top 5 ladies are Hannahlei, Jensen, Madga, Genessy, and Chelsey.
***
So You Think You Can Dance airs on FOX on Mondays.