Let's Talk About The Americans Series Finale- Season 6 Episode 10, "Start"
The 6th and final season of FX's Cold War era spy drama series The Americans draws to series completion with the very last episode we'll ever get of the show. Season 6 ends with episode 10, "Start", and I'm so torn between saying goodbye and the relief of finality.
Last week, Elizabeth (Keri Russell) came to some drastic conclusions as to her place in the cog of the work she's been doing all these years. Philip (Matthew Rhys) was almost made by FBI agents, and just barely managed to get away. Stan Beeman (Noah Emmerich) continues to try to get to the bottom of the Russian spies' plans- and, he's positive that Elizabeth and Philip ARE the causality of all the recent espionage issues.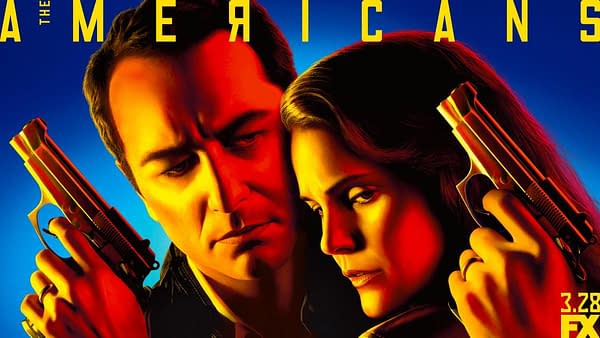 If you missed what happened last week in s6e9 "Jennings, Elizabeth", you can catch up here.
S6e10 is titled "Start", and the synopsis reads:
"The Jennings face a choice that will change their lives forever.."
FX is asking fans to send them video reactions of them watching the finale, so if you feel strongly for this show, you totally should send one.
Things that happened in s6e9: (reminder that we update live)
*The episode begins with a catch up of this season
*Philip has made it to one of the safe houses, and he takes a BEAUTIFULLY framed moment against the brick walls to breathe deep
*Elizabeth is on the move, ditching her car and wearing a baseball cap
*Stan and a partner are in driving around, and Stan pulls over to use a payphone.
*He's calling the Travel Agency, asking for Philip, who of course isn't in.
*He calls the house, where no one answers but the machine.
*Stan's spideysense is confirming his earlier fears- that The Jennings are the couple he's been looking for these past several years.
*Elizabeth made it to the safehouse, Philip tells her the Priest has been found out
*She tells him she wants to get Paige, that they need to pick up Henry and make haist for the Canadian border.
*Philip wants Henry to stay, because of how much he 'belongs here'
*This is the most distraught and emotional we've seen adult Elizabeth I think in the entirety of the series.
*Aderholt is interrogating Father Alexi the Priest, showing him photos taken of the last meeting in the park
*The Jennings are boosting a car- complete with some of the new plates she'd brought from their hideyhole
*Stan leaves his partner on the stakeout, it's a good bet he's going to check the Jennings house
*Elizabeth tells Philip about the KGB officer she killed in last week's episode, the one she took out rather than letting her target be killed
*Back in Russia- Oleg's father Igor is informed of Oleg's arrest. He says he'll talk to Gorbachev- hopeful as only a parent can be.
*Stan, Stan, where are you going.
*I'm so torn between wanting them to get away and Stan not finding them, but knowing there will be a showdown and it'll be Stan or Philip that makes it out
*Back in holding- Aderholt is trying to turn Father Alexi, promising that anyone he gives up will "not come to harm"
*They compare notes on those who have faith in them as men, in their positions
*"There are two of them. I don't know their American names, only their Russian names."
*Shit. Stan's found them. He's watching them walk into Paige's building, because he knew they'd go for her.
*Elizabeth and Philip tell Paige right out that they've been made, and that they have to leave and go 'home'.
*Philip tells Paige that Henry is staying, and she has almost the same reaction Elizabeth did
*Paige fights for grabbing Henry, for telling him, but she loses
*Stan watches them leave Paige's building, and rushes to get to his car
*OH GOD HE DIDN'T GO FOR HIS CAR HE'S CONFRONTING THEM IN THE GARAGE OF PAIGE'S BUILDING
*Stan asks what happens if he calls in the plate on the car.
*He pulls his gun on Philip, and orders everyone on the ground
*"It's over. It's all over," Stan says
*"We had a job to do," Philip tells him.
*"You were my best friend." "You were mine, too."
*Philip tells Stan that in his entire life, Stan has been his only friend
*Paige admits that she's known since she was 16, but that Henry doesn't know anything.
*"I would have done anything for you Philip. For all of you," Stan says.
*….Philip is going to bumrush Stan so the girls can get away. I bet you. (A bet I lost)
*Philip tells Stan that the KGB is trying to get rid of Gorbachev, how they were going to fake Elizabeth's reports
*They implore Stan to send Oleg's deaddrop through- for the future of their country
*Stan is questioning everything right now, because however he feels about this lie, he knows the truth in Philip's words to him too
*He stands there silent and shocked as the Jennings' get into the car.
*Philip's last words to Stan are about him being unsure of Renee being one of them or not
*Stan moves away from the exit, and allows them to leave
*After the commercial break, he's still standing there in the parking garage.
*The Jennings' come to the conclusion that calling Henry is something they need to do
*Stan goes back to his stakeout, and says nothing to his partner about what just happened
*Dire Straights "Brothers In Arms" plays
*We get a shot of Oleg's father telling Oleg's wife, a flash of Elizabeth, Philip, and Paige burying their passports- one of which is Henry's
*Elizabeth tosses her cyanide pill into the whole, which now has their wedding rings and Paige's bag in it.
*She pulls their 'real' wedding rings from her pocket, the ones that Father Alexi gave them when he did their ceremony
*Disguised to the 9's, the family gathers round the ol' payphone to call Henry
*"You know how proud of you we all are, and how much we love you," Philip says to him. "Just be yourself."
*Stan is back at the FBI, talking slow and off compared to his usual purposeful gait
*Aderholt takes him into the control room, and shows him the sketches rendered from Father Andrei
*Stan's reacting now to these drawings, but it's for show. He says he went by Paige's apartment, but 'no one was there'.
*While sitting in a random McDonald's parking lot, Philip postulates that maybe he should stay, to keep an eye on Henry.
*U2's "With or Without You" plays, and we get flashes of Philip getting food, and Stan arriving home to a quiet house with a Christmas tree where Renee sleeps
*Beautiful beautiful use of this, because it's both Philip's feelings towards Henry and Stan's feelings towards Philip
*The next morning, the FBI is tossing the Jennings' house with Stan there
*The Jennings' are on a train, which gets boarded by law enforcement at a stop and everyone is asked for their indentification
*Paige jumped off the train, Philip and Elizabeth only see her as the train starts to leave the station
*Stan goes to Henry's hockey game as Paige sits there at the station
*Elizabeth wakes from a dream on a plane, one where she's with her old boyfriend, and the room she's in is filled with paintings, one of which is of Henry and Paige
*Paige goes to Claudia's, and finds it empty.
*She takes the bottle of vodka from the freezer and a single glass, pours herself a tot and downs it
*Meanwhile, Philip and Elizabeth have made it to the Russian border.
*They're in a car, waiting for their turn at the gate, and they hesitate for a moment before proceeding
*We don't get to know what she said to the guard at the gate, but he goes in to his booth and makes a call, eventually waving them through
*After driving all night, they meet with Arkady, who shakes their hands and opens the car doors for them
*Philip and Elizabeth are asleep in the back of the car, but Philip wakes up as they get into the outskirts of Moscow
*He asks Arkady to pull over, and they get out of the car to have their first look at 'home' in decades
*They talk about what their lives would have been had they never left Russia
*They talk about the kids, Elizabeth assures Philip that they'll "be ok"
***
THAT WAS IT? What the hell. They seriously just Soprano'ed one of the best written shows on tv SINCE The Sopranos. I have so many issues with this ending. I will be addressing them in a future piece. I need to process this.
Oh. My heart.