Liam James Skips 'Deadly Class' to Talk Acting, Comics, and THAT Vegas Trip [BLEEDING COOL INTERVIEW]
Bleeding Cool had the opportunity to interview several of the cast members of SYFY's Deadly Class, their fantastic new hour long drama based off of Rick Remender and Wes Craig's comic book series.
Liam James stars on Deadly Class as Billy Bennett, a conflicted punk-rock kid who is working off his dad's gambling debts to the mob… by training to be an assassin. James is raw and angry at times, and others incredibly vulnerable in his work as Billy, and he plays his character like an outsider who has no choice but to fit in.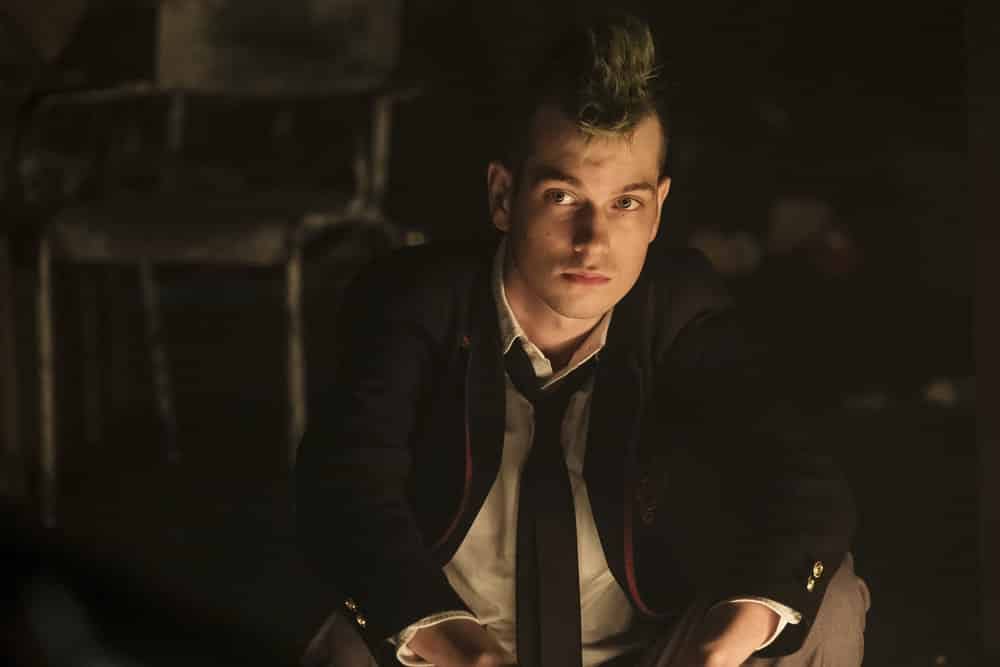 Bleeding Cool: Hey, Liam! How are you?
Liam James: Good, how are you doing?
Bleeding Cool: Fantastic! Hey congratulations on Deadly Class.
Liam James: Oh, thank you so much.
Bleeding Cool: It must be must be quite the trip seeing that show take off from its comic book origins to what it's turned into. What brought you want to Deadly Class in the first place?
Liam James: Well, for me I've been acting for a little while now, about 11 or 12 years, and so the script for a Deadly Class landed in my lap and I immediately fell in love with it. I was left with this kind of buzz after reading it, this kind of adrenaline which is always a really good sign.
Oftentimes we read a lot of these things and there's no feeling afterwards, that feels like homework, and so this just inspired me and I went out and bought the comics, which is really cool because it's the first time I ever got to work with that source material.
So yeah, I went out and I saw who the character was, which was so weird for me because usually the character's just this thing floating in my mind that isn't really there and tangible, and to get to bring something like Deadly Class to life is the coolest thing ever.
It's actually been really really inspiring to me as getting a little bit older now, I've been starting to get interested and wanted to tell my own stories in the medium of comic books… what Rick (Remender) has been able to do with it has actually just blown my mind.
It's helped me to get out of the screen world for a little while and back into books, which is really awesome.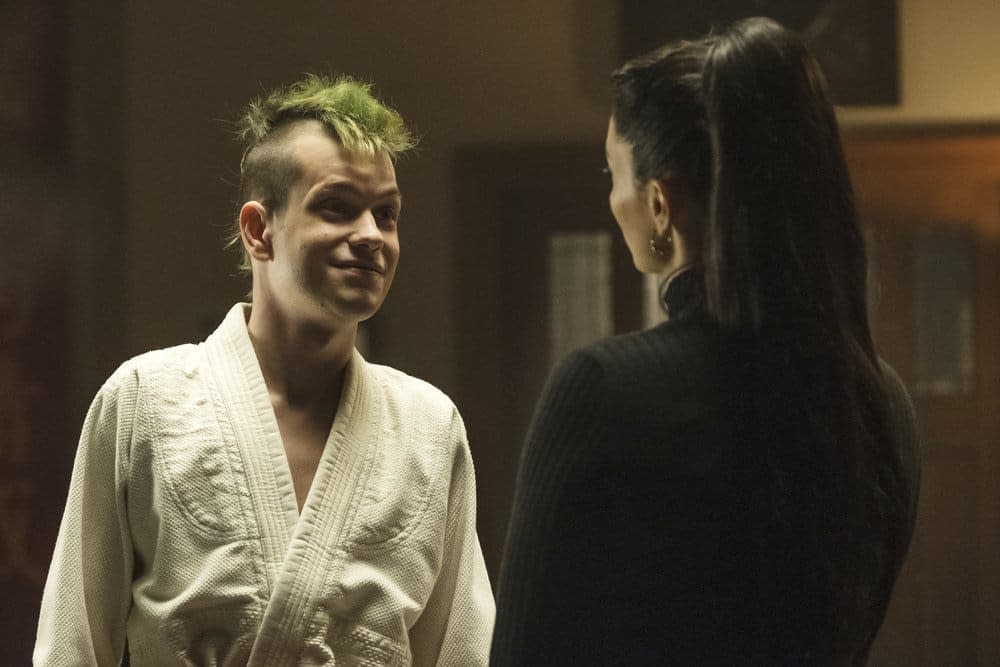 Bleeding Cool: It's kind of amazing too because he's he's writing what, five thousand other comic books while show-running Deadly Class?
Liam James: Oh yeah, it's true. It's ridiculous man. I try not to think about it too much because it makes me feel worried, and so I just try to enjoy the books and not think about him as a person too much. But he's a person whose got some things to say, and that's kind of his path and and he uses all of these incredible mediums to say them. He's a really inspiring, cool dude, and a good dude.
Bleeding Cool: Deadly Class is literally my favorite show on TV right now, so I'm really excited to be able to talk to you about it.
Liam James: Thank you. It's my favorite, too.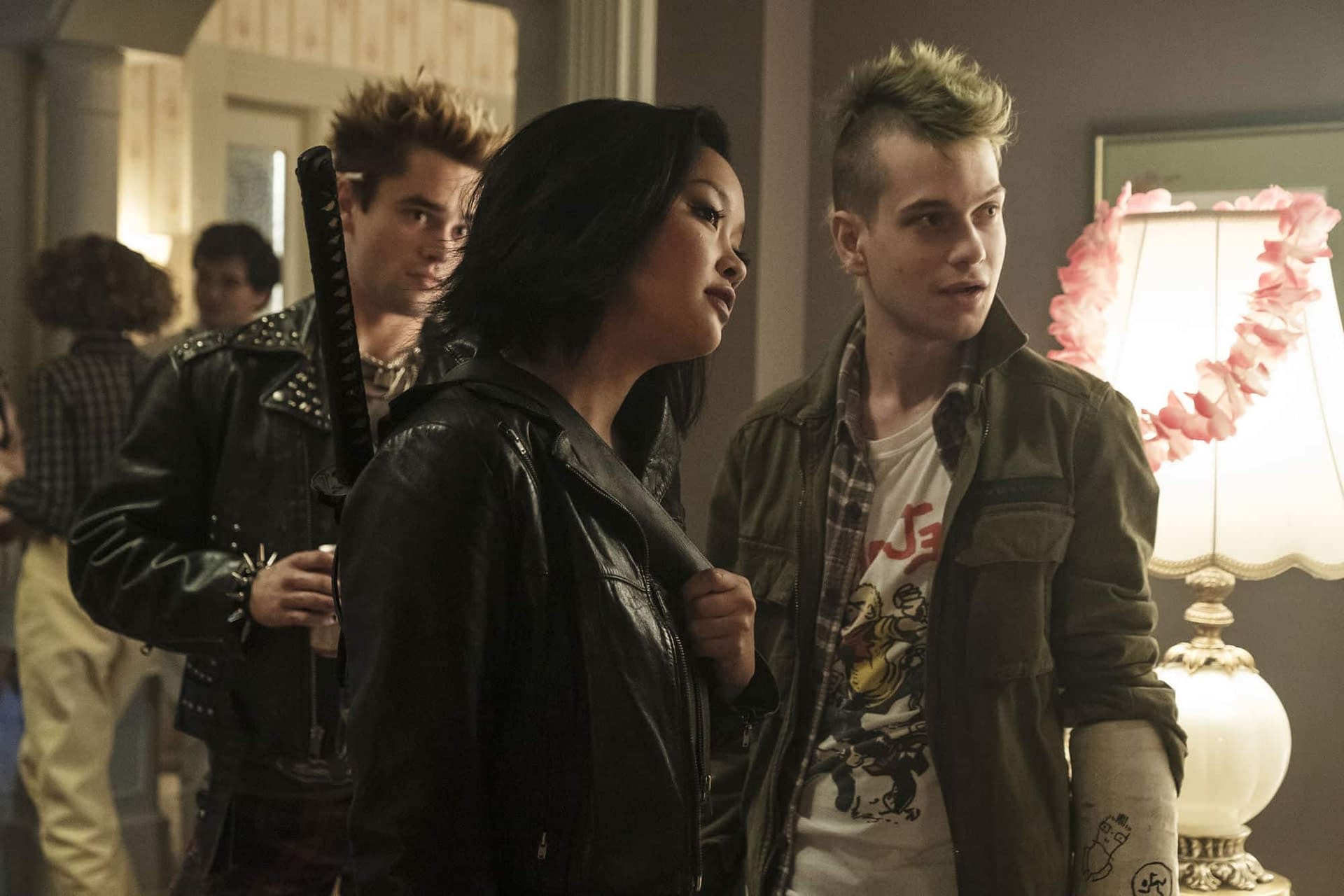 Bleeding Cool: I love how it's not just two or three characters that are fleshed out on on Deadly Class; you've got Marcus, Billy, Maria, Willie, and Saya, and they're really well fleshed out, but so are the tertiary characters, the fourth and fifth line characters… they're all very real- that's got to be like a ton of fun to be able to come on set and realize that the world your acting in is so well lived in and everything.
Liam James: I've been lucky to work on some really cool projects with some really nice people, but at a certain point… I don't know why my mind decides to do this, but I said "do you know what? I think I have to choose my favorite thing that I've ever been involved in." If I had to go overall it's it's definitely Deadly Class.
All of the young cast is so talented and I don't know if that was intentional, or they just got super super lucky because everyone is super down to earth. They're really smart people, which is important when the language that is being said is complex, meaningful stuff, and if someone who can't really understand that dialogue… I'm sure it wouldn't sound right coming out of their mouth.
So there are really, really smart, very kind people who are part of the show, and it also really helps to build this kind of… I don't know if this was Rick's intention, but it really helped to build the community of the people that I work with.
I'm very close with all of them in different ways. Each of our relationships have had this flux of a real journey between one another, and there was no sort of classism, or feeling like someone was better than someone else. It's like everyone wants to bring one another up, and everyone feels like they have a purpose. And that's kind of what Deadly Class talks about, helping the underdog and having everyone feel like they have a purpose.
So I think that all supersedes that, right? You know it's not all just talk. With Deadly Class it's taking those actions to really make everyone feel on a concrete level like they matter. So, it's really cool.
Bleeding Cool: Oh yeah. It carries across. It seems like all of you guys, even though some of you are playing adversaries, it really feels like you are super tight and it's neat to see that kind of camaraderie and chemistry with everybody.
Liam James: Oh, yeah yeah yeah.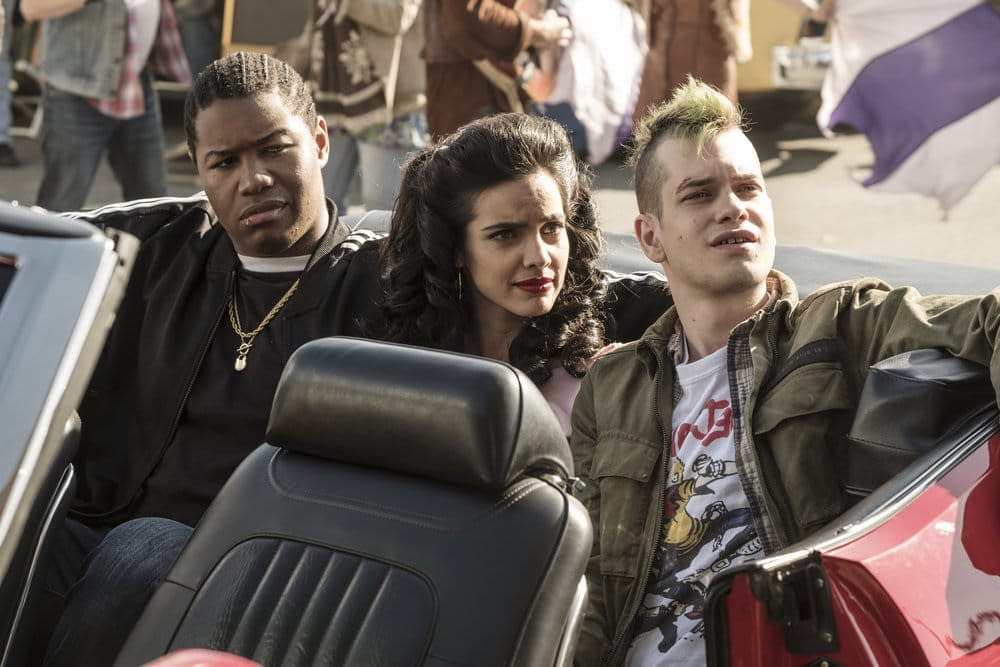 Bleeding Cool: I have to ask you about the Las Vegas episode. You had a scene where Billy and Marcus kill Billy's dad, and you had this breakdown afterwards- and I have to tell you it was some of the most primal acting I've seen in a long, long time. My my wife and I were watching that episode and both of us are just like "oh my god, what did he tap in to to get to that?"
Liam James: Thank you very much, I appreciate that! And I think for me it's kind of hard to pinpoint exactly what might be the triggering thing. For me it's it's more than one thing, and I think it kind of also goes back to what we were just talking about; this kind of sense of belonging, and the sense of of community and family within the larger part of the series itself, and you know what it all means.
It's become more than a job for me because it's become kind of like a family. So having those people around me who really supported me, and really cared about me was important for that I think. And you can't really understand loneliness without having the community to have something to show you that how much better life could be, and that's what makes life so tough. It's not just that everything is bad when you die, or when you lose someone or something. It's because it was so good when when it was good. And so that's really special to have people who are there to make you feel larger than life. I think that's why we're able to have such great acting on the show.
Bleeding Cool: It really comes across in your performances! In last week's episode you got to hold the leash for French Stewart's Scorpio Slasher. Can we talk about that for a minute?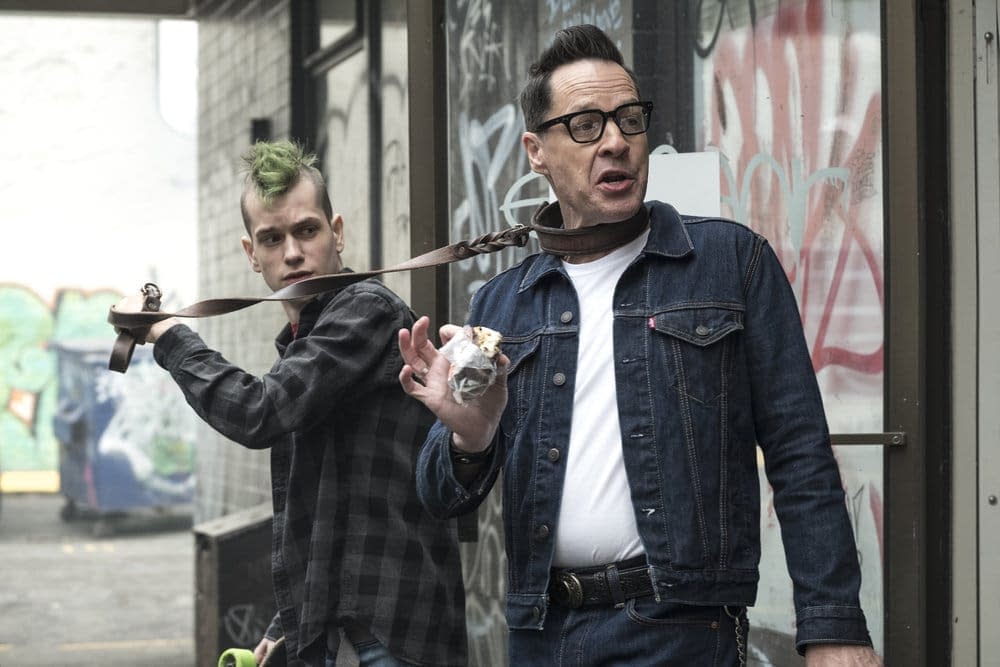 Liam James: Yeah. Yeah! That was just an incredible surprise. I really hope we get to do a season two because I just had the most fun!
I'm from Vancouver, where we were shooting, but I never felt like I was at home. I always felt like I was on an adventure… like the best kind of vacation which is the coolest thing in the world, right? You know, getting to travel around on your own, and also feel like you're at home is really special. But it was made special by the fact that French… this part was never supposed to be even that big, he was just another teacher and they thought, "oh maybe we'll do something with him!"
French came, and he came to play, man. He just took off with the role and what they gave him. I don't even know how it all worked out, it was kind of that perfect storm. But he was so incredible and and we just had so much fun; like I'd be carrying him on the leash and then he'd start turning around and he'd grab something off the shelf and start hitting me with it… It's pretty hard, like he grabs a dog ball thrower and starts hitting me with it, and I'm like in my head "you know you can't say anything" that's part of the fun of acting- you realize you're supposed to stay in the scene, and then you realize oh, there's all these limitations on you that aren't usually there. And I'm thinking in my head "hey, you can't do that! You know, you're the guy who's on the on the leash". And then it dawns on me while I put him on a leash, what was that supposed to do in the first place?
It might have stopped him from running forward, but it wasn't much of a restraint on him from turning around and biting me in the neck. So just to put these little fun dynamics into place- that's the cool thing about Deadly Class, that we will always just do things to have fun.
I always keep coming back to saying whatever Deadly Class wants to be, it'll be… you know it has no qualms about going 100 percent into comedy, in the slapstick, and then also showing the the extremes of life. And it's really just a fun roller-coaster ride. I'm such a lucky guy.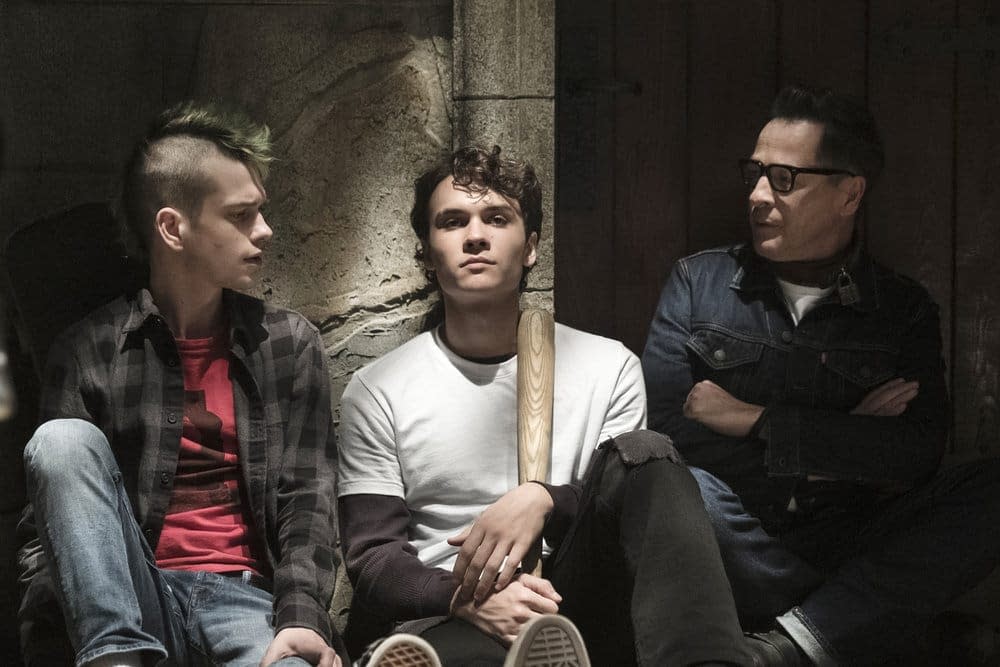 Bleeding Cool: It's a beautiful show. And you and your cast mates have done some beautiful work. What's what's been your favorite scene so far?
Liam James: Right, yeah… that's a tough one. I think I can say the Vegas episode… it got to show a new side to all of the characters, to show that they aren't these one dimensional things that we we thought they were, they all have the power to change, and grow, and to get to play that was really special because you don't even notice it until you go in there and you're in that space but you realize "Oh this is what they've been crafting, and this is what I want to craft".
I didn't know that that Billy wanted to be more than just this guy who's had to laugh at everything because he's trying to make his way through this world without having a breakdown. And then I realized "oh he wants to be able to take control of his life, and he wants to be able to be chagrined when he wants to be chagrined, and to feel powerful when he wants to feel powerful.
I think getting out of the school and getting them into Vegas really shows that, and and of the scenes that Benjamin (Wadsworth) and I got to do together were really cool, because he did such a fantastic job playing that kind of just out of this world person. That helped me to get out of my own body and and try to just show that there's like a lot more to life than your day to day. It kind of really helped shift your perspective and which is a testament to the whole world they built and and his acting. So that was really cool.
Bleeding Cool: That whole episode it was so transformative. It's like the catalyst that sets the characters on a whole new path. You can definitely see the changes that were brought about for all of you- every single one of the characters seem like they're completely different and changed now.
Liam James: Yeah, and also at the same time it's like we we get out of the school, and and you see this side of us that is maybe empowering or beautiful or whatever, it's special to see, and then you can also see them go back to school and kind of revert back to their old ways.
It's actually really interesting to see that it's not just this linear upward progression that we all like to think life is- we go back you go where is the old person, and where is this person I thought they were at this time… but sometimes there's just a moment and a place and you have to appreciate that moment while you're there.
It's kind of like what Marcus says in that episode; "here and now all we have is here and now". That was a cool message.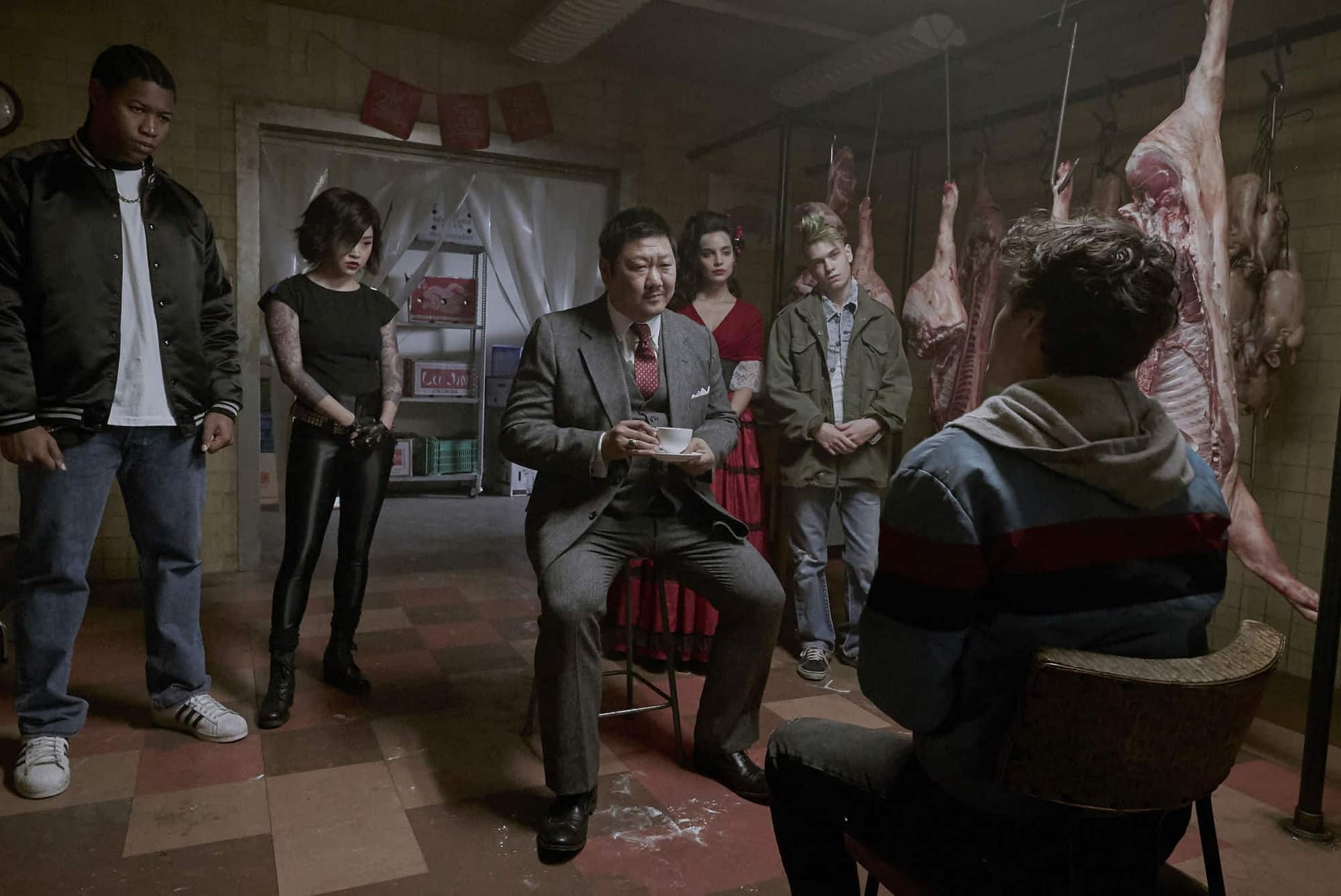 Bleeding Cool:It's a great message about family overall. One of the things that I love about the show was that it is about family being more about the family you find than the family you're born to, and that's a pretty neat message.
Liam James: I agree! I think I think we're very, very lucky, and a lot of it rests on the shoulders of all the hard work that's been put forward, and it's inspiring to want to create your own story.
Bleeding Cool: Liam, I appreciate you taking the time to talk with Bleeding Cool today!
Liam James: I really appreciate your great questions, so thank you!

Deadly Class is nearing the end of its first season, and airs Wednesday nights on SYFY. The series has not yet been renewed for a second season, but perhaps you can be the hero that binge watches the show enough to spark that renewal. Be the hero, watch the show! It's really good!
From Sony Pictures Television and Universal Cable Productions, Deadly Class was adapted for television by original comic book series writer Rick Remender and Miles Orion Feldsott, who will serve as executive producers alongside Joe Russo and Anthony Russo (Avengers: Infinity War, Captain America: Civil War), Mike Larocca (Spy) and Mick Betancourt (USA's The Purge, Shots Fired). Remender, Feldsott, and Betancourt will also share showrunner duties on the series.